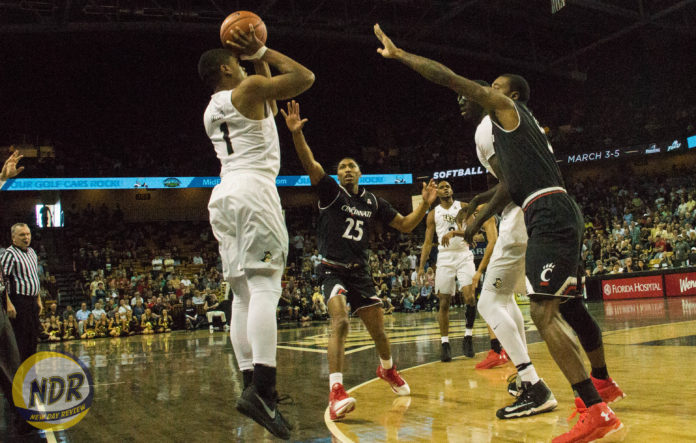 (Photo by Tommy Cardinal / New Day Review)
Game Recap
ORLANDO, Fla. – Sunday afternoon's bout between the University of Central Florida and the No. 15 Cincinnati Bearcats was not any ordinary matchup. It was a Senior Day game for three UCF players, and the Knights were looking to best a ranked team for the fourth time in school history.
The stage was never too big, though, for redshirt sophomore B.J. Taylor. He led the Knights (19-10, 10-7 in American Athletic Conference) to a 53-49 win over the Bearcats (25-4, 14-2 in AAC) at CFE Arena in front of an announced crowd of 5,763.
"Well, I saw B.J. had it going in the first half. And so at that point, the main thing is I wanted to make sure B.J. stayed aggressive but picked his spots," first-year UCF head coach Johnny Dawkins said after the game. "When you're a point guard, the ball needs to touch other people's hands as well. So, I wanted him to stay aggressive, but I also wanted him to keep it moving."
After Cincinnati's Jacob Evans drained a three-pointer with 13 seconds left in the game, Taylor missed the first free throw of a one-and-one opportunity. Cincinnati stormed down the court and found Tre Scott on a wide-open alley-oop attempt. Scott missed dunk, and sophomore center Tacko Fall stepped to the line to make two free throws, giving the Knights a four-point cushion and the win.
"What's going through my mind is we knew the only thing that would beat us was a three. So if he makes that, we're going into overtime," Dawkins said. "It was going to be that simple for us. It was going to be overtime, and we weren't going to change our mindset… That's the only thing that went through my mind was it wasn't a three, so it'll be overtime at home, at UCF—we're going to overtime.
"But, fortunately, he didn't make the play… I think Tacko, his presence may have had something to do with it, just being around the basket, just being there with that type of size. He was affecting so many shots, especially that second half. I'm sure they may have thought about that a little bit while he was up in the air."
Said Fall on his free throws to put the game out of reach for Cincinnati: "I work on those free throws every day, regardless of the situation. It's the same shots I take every day on the same court, so it was just a routine shot. I just tried to make those shots and win the game."
Taylor, who finished with a game-high 27 points, pushed the Knights' lead to five when he nailed a step-back three with 32.5 seconds left in the game. For Taylor, it was about embracing the moment.
"I knew we were up by two, and I knew that there was about a minute left, and when those moments come, I embrace those moments," Taylor said after the game. "So, I mean, that's what I work so hard for in the offseason just to be prepared for those moments. And my teammates, like Tacko and everybody in the locker room, looks for me in those moments. They're yelling, 'Go B.J., go. Go do what you do.' So, I mean, I couldn't do it without them 'cus they encourage me to do it every game.
"Their support is everything to me, and I don't want to let them down. I do it for the team."
Entering halftime, the Knights led by just three points. That came courtesy of Taylor's personal 6-2 run he had in the waning minutes of the opening half.
With both teams trading leads, Taylor started his run with two free throws with just under two minutes to play. Cincinnati's Kyle Washington responded with a layup before Taylor hit jumpers on consecutive possessions, including a fall-away shot with three seconds to go.
"i had it going early on," Taylor said. "I know they have a great defensive team. I know they're another team that likes to rely on their defense. So, I mean, being a good offensive player, I wanted to go out there and test it. I wanted to see if it was as good as it's supposed to be."
Player of the Game: B.J. Taylor
In addition to Taylor's game-high scoring, the point guard also went 4-for-5 from the free-throw line and 3-for-7 from deep range. He added three rebounds, two assists and a steal while teasing ejection with four personal fouls. Taylor played all 40 minutes of Sunday's win.
What's next?
UCF will travel to face the USF Bulls on on Thursday at 7 p.m.
"I expect them to play well 'cus they have a really good coach," Dawkins said. "I expect them to play well because it's a rivalry game. And we have to prepare for it that way. I have a lot of respect for them and their program, and, like I said, whenever you have a rivalry, it doesn't matter. You can throw the records out the window."
USF is 7-20 overall and 1-15 in the conference so far this season.
Williams' Defense, Not Shooting, Was Instrumental to the Win
Redshirt senior shooting guard Matt Williams' is mostly known for his ability to shoot from beyond the arc. In Sunday's win, though, Williams shot just 1-for-11 from the field and 1-for-8 from three-point range.
Williams, however, made more of an impact on the defensive end for the Knights; his effort didn't go unnoticed either.
"He was huge just having the game that he had," Taylor said. "Knowing that he wasn't getting his shots going, that's just maturity to know that he can still help us win and that he can still impact the game on the defensive end. That's what our culture is—playing for each other, playing defense the way we play.
"We don't want to let each other down. Tacko doesn't want to let me down. I don't want to let Tacko down. Nick [Banyard] doesn't want to let Matt down. Matt doesn't want to let Nick down. I mean, we fight for each other on the defensive end because that's where we hang our hat."
Said Dawkins on Williams' defensive performance: "You look at the numbers and say, 'Well, Matt didn't have his normal scoring night,' and he didn't. But he defended so well for us tonight. He was active. He had a lot of energy. Whether we were in man or zone, I thought he did a great job for us defensively."
UCF's Defense Outshines Cincinnati's
Sunday's game between the Knights and Bearcats saw two of the best defensive teams play each other. Entering the afternoon battle, UCF held teams to a nation-best 36.3 percent while Cincinnati held teams to a sixth-best 38.2 percent.
"What can I say? You're talking about just a defensive battle between both teams," Dawkins said. "I think you see why both teams are ranked as high as they are defensively, and it was so hard to score against them. They probably felt the same thing. It was hard to score against us as well."
Fifty-three points was the fifth-lowest scoring total the Knights put up all season. For the Bearcats, their 49 points was the lowest they had recorded all season.
Tacko Fall Doesn't Back Down
When Fall went up for a rebound in the latter end of the first half, he came down with a smack on his face and a jagged tooth. Play had to be stopped to tend to his bleeding. As Fall walked back onto the court to resume play, he gave Cincinnati's Nysier Brooks, the player who hit Fall in the mouth, a shoulder bump.
"That was intentional," Fall said. "That wasn't really nice. I understand being physical, but there are just some things where you just—I'm used to people being physical. That's how it is every night; I just don't complain about it.
"But I can be physical too. I just try to avoid refs giving me cheap fouls because I'm bigger than everybody. But, still, that don't mean I'm just going to let people just do whatever they want."
Fall finished with seven points, eight rebounds and four blocks in 29 minutes of play.
Fans Rush Court, Matt Williams Goes Crowd Surfing
Following the Knights' fourth-ever win against a ranked opponent, fans rushed the court and treated Williams to a crowd-surfing experience. For Fall, this was the most exciting game he's ever been a part of.
"For me, definitely [the most exciting game] because I haven't been playing that long," Fall said half-jokingly.
Said Taylor on the fans' turnout on Sunday: "I love our fans, and I love the way the city came out and supported us tonight. I really do. A lot of people say what they want to say about this place, but until you come here, and you see it for yourself, you don't know."
Highlights
What a career it has been for the Orlando native! #ChargeOn pic.twitter.com/kDAtjXHZzM

— UCF Men's Basketball (@UCF_MBB) February 26, 2017
3J Taylor in the house!#ChargeOn pic.twitter.com/T7B0VTXSef

— UCF Men's Basketball (@UCF_MBB) February 26, 2017
BJ Buckets! pic.twitter.com/aoYb4Hzwc5

— UCF Men's Basketball (@UCF_MBB) February 26, 2017
The friendly bounce! 28-27 Knights with 44.7 left in the first. #ChargeOn pic.twitter.com/x8g6dG1mcX

— UCF Men's Basketball (@UCF_MBB) February 26, 2017
BJ had 17 including this buzzer beater in the first half.

Second half coming now on @CBSSportsNet! #ChargeOn pic.twitter.com/rhjPqvBIkN

— UCF Men's Basketball (@UCF_MBB) February 26, 2017
Bank. Is. Open!

42-35 Knights. #ChargeOn pic.twitter.com/fj5hNSYwDi

— UCF Men's Basketball (@UCF_MBB) February 26, 2017
Let's goooo!!!!! pic.twitter.com/XX2dVKdV6h

— UCF Men's Basketball (@UCF_MBB) February 26, 2017
Under 4️⃣min with the 48-42 lead…LET'S GOOO!! pic.twitter.com/djazjeydrM

— UCF Men's Basketball (@UCF_MBB) February 26, 2017
We've reached 🔟!!

3J!!! @UCF_MBB with the 51-46 lead!#ChargeOn pic.twitter.com/qvej43VqT7

— UCF Knights (@UCFKnights) February 26, 2017
It. Is. Lit!!!!! 🙌 pic.twitter.com/OgC5s3bTh6

— UCF Men's Basketball (@UCF_MBB) February 26, 2017
March, is that you?! @UCF_MBB takes down No. 15 Cincy, 53-49!! #ChargeOn pic.twitter.com/UG0j7A0nyy

— UCF Knights (@UCFKnights) February 26, 2017
Hey Knights fans. The 27-point man has some words for you! #ChargeOn pic.twitter.com/mSeUVquP6u

— UCF Men's Basketball (@UCF_MBB) February 26, 2017
Coach on Tacko's game-clinching free throws: "I wasn't even surprised." pic.twitter.com/bSwjPljkia

— UCF Men's Basketball (@UCF_MBB) February 26, 2017
NDR Notes
Sunday's win was the Knights' fourth-ever win against a ranked opponent.
The last time the Knights won 10 conference games was in the 2011-12 season. That season, UCF went 22-11 overall and 10-6 in Conference USA play.
UCF, the nation's leader in opposing field-goal percentage, held the Bearcats to 29.6 percent from the field. Cincinnati entered Sunday's game shooting 47 percent.
Cincinnati scored a season-low 49 points against the Knights.
Scoring
| | | | |
| --- | --- | --- | --- |
| | 1st Half | 2nd Half | Final |
| University of Central Florida | 30 | 23 | 53 |
| University of Cincinnati | 27 | 22 | 49 |
Statistics and Starting Lineups
Team Leaders
| | | |
| --- | --- | --- |
| | University of Central Florida | University of Cincinnati |
| Points | B.J. Taylor (27) | Jacob Evans (17) |
| Rebounds | Nick Banyard (10) | Kyle Washington (9) |
| Assists | A.J. Davis (3) | Jarron Cumberland (5) |
| Blocks | Tacko Fall (4) | Jacob Evans (2) |
| Steals | Matt Williams (2) | Troy Caupain (3) |
| Turnovers | Matt Williams (4) | Troy Caupain (4) |
| Minutes | B.J. Taylor, Matt Williams (40) | Jacob Evans (40) |
Team Statistics
| | | | | | |
| --- | --- | --- | --- | --- | --- |
| | Rebounds | Assists | Blocks | Steals | Turnovers |
| University of Central Florida | 37 | 8 | 4 | 6 | 16 |
| University of Cincinnati | 334 | 13 | 3 | 6 | 12 |
Shooting Percentages
| | | |
| --- | --- | --- |
| | University of Central Florida | University of Tulsa |
| FG% | 39.6% | 29.6% |
| 3FG% | 23.8% | 29.2% |
| FT% | 66.7% | 71.4% |
UCF starting lineup: B.J. Taylor (G), Matt Williams (G), Nick Banyard (F), A.J. Davis (F), Tacko Fall (C)
Cincinnati starting lineup: Jacob Evans III (G), Troy Caupain (G), Kevin Johnson (G), Gary Clark (F), Kyle Washington (F)