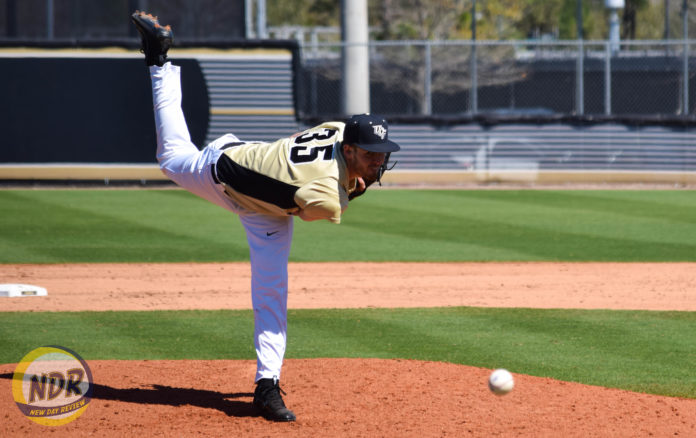 Game Recap
ORLANDO, Fla. – The Greg Lovelady Era is off to a hot start. On Sunday, the University of Central Florida (7-0) completed its second series sweep of the season, downing Manhattan College (0-3) 7-2 at Jay Bergman Field.
Jason Bahr (1-0) got the win on the mound with 5.1 innings pitched, allowing two hits, two walks and one earned run with nine strikeouts. Marc Galvan (0-1) earned the loss with 0.2 innings pitched, allowing two hits and an earned run with a strikeout.
"It was [Bahr's] first start last week. He was up in the zone a lot," Lovelady said after the game. "Today, he was much better. He only elevated when we were supposed to late in the count. Got some big strikeouts on elevated fastballs but was much better with his control, which has been a big mainstay of his since we got here is his fastball command."
Manhattan tied the game at 2-2 in the top of the sixth inning, courtesy of a bases-loaded walk and an error by Knights first baseman Rylan Thomas. But the Knights would retaliate and take the lead again in the bottom half of the inning.
Second baseman Ryan Crile's lone hit of the game powered the Knights to a 5-2 lead when he hit a bases-clearing, three-RBI double to left field. Bryce Peterson, Kam Gellinger and Brennan Bozeman all scored.
"I was pretty sure it was getting down," Crile said after the game. "You know, just thinking two out of the box. Like I said, bases loaded in that situation, less than two outs. I was just trying to get the ball to the outfield, trying to get the runners in."
UCF added two insurance runs in the seventh inning. Redshirt sophomore Kyle Marsh doubled down the left-field line to drive in Luke Hamblin from first base after he walked. Bozeman grounded out to the shortstop that allowed pinch runner Josh Moser score from third.
Sunday's bout with the Jaspers was the Knights' most challenging of the weekend. Despite putting up two runs on two hits in the first, UCF managed only two hits until the bottom half of the sixth.
"I thought we played well late in the game," Lovelady said. "I thought we slept-walked a little bit early in the game, just offensively again… We gotta be better offensively, I think. I think we showed it late in the game. We did what we needed to do. We had some tough at-bats."
Player of the Game: Jason Bahr
Bahr improved significantly from his last start. In a win against Siena College, he pitched 4.0 innings and allowed five hits and two earned runs with five strikeouts.
What's next?
UCF goes on the road for the first time this season when they take on the No. 2 Florida Gators on Tuesday at 6:30 p.m.
"We go into every game thinking that we're going to win. We have the ability to win," Bahr said after the game. "[UF's 3-2 loss to Jacksonville University on Feb. 21] kinda just lets us know that anyone can beat 'em."
Knights Getting Picked Off
During the Manhattan series, UCF had four runners picked off. In Sunday's win, the Knights were picked off three times. For Lovelady, it's an issue of replicating game-like reps.
"We do this new base-running stuff that we've implemented," Lovelady said. "A lot of times in practice, it's hard to get game reps. In a game, it's just not the same. But it's part of the process. That's part of growing and getting better at it. Can't be scared to fail.
"We'll continue to do it. If we're halfway through the season, and we're still having these types of issues, then we'll have to reevaluate. But, for now, we'll continue to try to get better, work on it in practice and use the game reps as an opportunity to try to master it."
NDR Notes
Outfielder Eli Putnam continues his hitting streak with another base hit in Sunday's win. He finished the game 1-for-3 with a run and a walk.
Scoring
| | | |
| --- | --- | --- |
| | University of Central Florida | Manhattan College |
| Runs | 7 | 2 |
| Hits | 10 | 5 |
| Errors | 1 | 2 |
| Left on Base | 5 | 6 |
| | | | |
| --- | --- | --- | --- |
| Inning | Team | Play | Score |
| B1 | University of Central Florida | Brennan Bozeman singled up the middle, 2 RBIs; Luke Hamblin scored; Eli Putnam scored | 2-0, UCF |
| T6 | Manhattan College | Evan Brown walked, RBI; Michael Pfenninger advanced to second; Fabian Pena advanced to third; Jose Carrera scored | 2-1, UCF |
| T6 | Manhattan College | Richie Barrella reached on an error by first baseman, RBI; Evan Brown advanced to second; Michael Pfenninger advanced to third; Fabian Pena scored, unearned | 2-2, T |
| B6 | University of Central Florida | Ryan Crile doubled to left field, 3 RBIs; Bryce Peterson scored; Kam Gellinger scored; Brennan Bozeman scored | 5-2, UCF |
| B7 | University of Central Florida | Kyle Marsh doubled down left-field line, RBI; Luke Hamblin scored | 6-2, UCF |
| B7 | University of Central Florida | Brennan Bozeman grounded out to shortstop, RBI; Josh Moser scored on throw | 7-2, UCF |
Statistics and Starting Lineup
Pitching
| | | | | | | | |
| --- | --- | --- | --- | --- | --- | --- | --- |
| Player | Team | IP | R | ER | H | BB | SO |
| Jason Bahr (1-0) | University of Central Florida | 5.1 | 1 | 1 | 2 | 2 | 9 |
| Marc Galvan (0-1) | Manhattan College | 0.2 | 1 | 1 | 2 | 0 | 1 |
| Joey Rocchietti | Manhattan College | 5.1 | 4 | 4 | 5 | 2 | 2 |
Hitting
| | | | | | | | | | |
| --- | --- | --- | --- | --- | --- | --- | --- | --- | --- |
| Player | Team | AB | H | R | HR | RBI | SB | BB | SO |
| Brennan Bozeman | University of Central Florida | 4 | 2 | 1 | 0 | 3 | 0 | 0 | 0 |
| Ryan Crile | University of Central Florida | 3 | 1 | 0 | 0 | 3 | 0 | 0 | 0 |
| Luke Hamblin | University of Central Florida | 3 | 2 | 2 | 0 | 0 | 0 | 1 | 1 |
| Fabian Pena | Manhattan College | 3 | 3 | 1 | 0 | 0 | 1 | 1 | 0 |
UCF starting lineup: 1. Eli Putnam (9) 2. Luke Hamblin (8) 3. Kyle Marsh (7) 4. Brennan Bozeman (6) 5. Kam Gellinger (5) 6. Bryce Peterson (DH) 7. Ryan Crile (4) 8. Rylan Thomas (3) 9. Dallas Beaver (2)
UCF starting pitcher: Jason Bahr (0-0)
Manhattan starting lineup: 1. Jose Carrera (6) 2. Fabian Pena (2) 3. Matt Forlow (4) 4. Michael Pfenninger (3) 5. Ryan Gronlier (DH) 6. Paul Genners (9) 7. Jason Patnick (7) 8. Alex Cerda (5) 9. Brendan Bisset (8)
Manhattan starting pitcher: Joey Rocchietti (0-0)