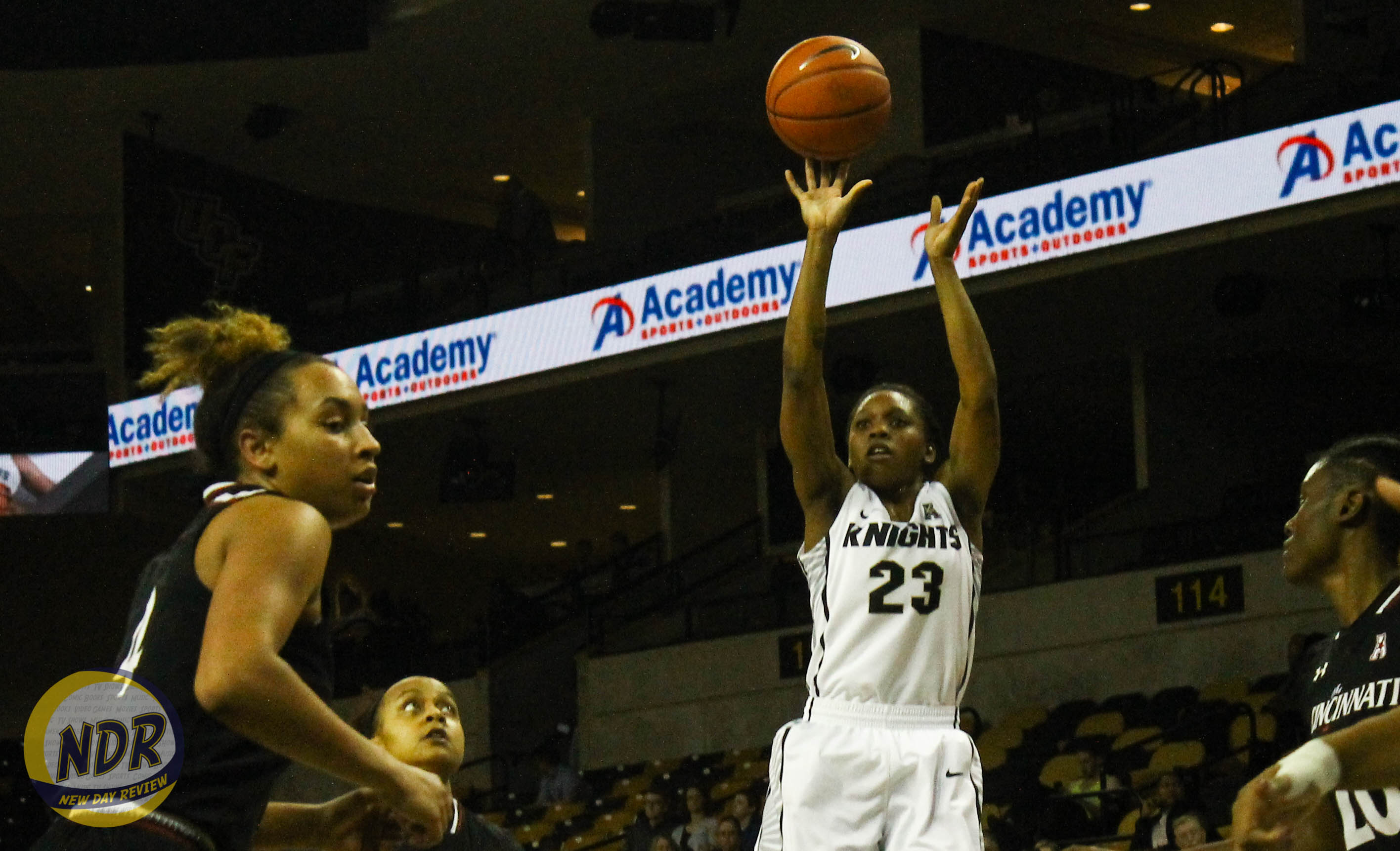 (Photo by Daniel Castrillon / New Day Review)
Game Recap
ORLANDO, Fla. – The University of Central Florida won in dominating fashion over Southern Methodist University Saturday. The Knights dropped the Mustangs 63-37 at CFE Arena in front of an announced crowd of 2,348.
"We've been playing together all season now, so we know each other's strengths and weaknesses," junior Aliyah Gregory said after the game. "So we set each other up for success at all times."
Forward Fifi Ndour began a 12-4 run for the Knights at the 5:33 mark in the second quarter that helped UCF establish a 37-13 lead entering halftime. Senior guard Zykira Lewis added an and-1 layup, true freshman point guard Korneila Wright hit a rare three-pointer, and Kayla Thigpen added four points of her own in the run.
Alicia Froling led the way for the Mustangs in a second-half comeback effort, scoring eight of the team's19 third-quarter points. That made the score 50-32 at the end of the third.
Though, UCF's defense in the first two quarters helped keep the Mustangs at bay. SMU scored just seven points in the first quarter and six in the second.
"We work on team basketball all the time and in having ball movement," head coach Katie Abrahamson-Henderson said after the game. "The thing we're doing differently is before we could get one, pass and try to score, get two and try to score. That's not how you win games especially against great teams."
Lewis, Gregory and Ndour all scored in double figures tallying 24, 12 and 11 points, respectively. Wright had a game-high six assists, and Nyala Shuler had a game-high nine rebounds.
"We're moving the ball a lot more. I think it's great that Fifi is scoring. Great that Zy and Aliyah are still there," Abrahamson-Henderson said. "They are now double teaming on Aliyah every time she tries to penetrate, and they should. But it's great to see that our post players are stepping up and other people are stepping up."
Player of the Game: Zykira Lewis
Lewis shot 5-for-9 from the three-point line and had four assists and three rebounds in 32 minutes of play. She also became the Knights' all-time leading three-point scorer.
What's next?
UCF takes on the Temple Owls at 7 p.m. Monday at CFE Arena for Senior Night.
Highlights
Let's go! #ChargeOn pic.twitter.com/vSsk2pPY1j

— UCF Women's Hoops (@UCF_WBB) February 25, 2017
OH YEAH ZY!

Spoiler alert – she made the free throw too! pic.twitter.com/AKaxGugn8H

— UCF Women's Hoops (@UCF_WBB) February 25, 2017
There it is!

With this shot, Zykira Lewis has now made more three-pointers than any Knight in UCF history (M or W)!#ChargeOn pic.twitter.com/T6hLXnKIEp

— UCF Women's Hoops (@UCF_WBB) February 25, 2017
✋️We interrupt your timeline for this special message from @_TheAnswer22 ✋️#ChargeOn | #MissionInSight pic.twitter.com/NsAEqjPfea

— UCF Women's Hoops (@UCF_WBB) February 25, 2017
Defensive Work Pays Off
For the first-year UCF head coach, her team's success wasn't a consequence of over-night training. In fact, she believes the team has progressed the way it has because of the coaching staff's constant emphasis on defense.
"They bought into the hard work, and the hard work worked," Abrahamson-Henderson said. "Because we trained really hard, and we really pushed them. And if we're not wining right there at the start, they would've been, 'Why are we working this hard if the hard work is not coming to fruition?' So I think now they've really bought into defense. They knew that I wasn't joking around with that; that if you were not going to play defense, you were not going to play."
Scoring
| | | | | | |
| --- | --- | --- | --- | --- | --- |
| | Q1 | Q2 | Q3 | Q4 | Final |
| University of Central Florida | 17 | 20 | 13 | 13 | 63 |
| Southern Methodist University | 7 | 6 | 19 | 5 | 37 |
Statistics and Starting Lineups
Team Leaders
| | | |
| --- | --- | --- |
| | University of Central Florida | Southern Methodist University |
| Points | Zykira Lewis (24) | Alicia Froling (17) |
| Rebounds | Nyala Shuler (9) | Stephanie Collins (4) |
| Assists | Korneila Wright (6) | Stephanie Collins (2) |
| Blocks | Fifi Ndour (2) | Alicia Froling, Klara Bradshaw (2) |
| Steals | Zykira Lewis (6) | Kiara Perry (3) |
| Turnovers | Zykira Lewis, Aliyah Gregory, Korneila Wright (4) | Alicia Froling (5) |
| Minutes | Zykira Lewis, Aliyah Gregory (32) | McKenzie Adams (33) |
 Team Statistics
| | | | | | |
| --- | --- | --- | --- | --- | --- |
| | Rebounds | Assists | Blocks | Steals | Turnovers |
| University of Central Florida | 33 | 21 | 3 | 11 | 19 |
| Southern Methodist University | 23 | 7 | 6 | 10 | 21 |
Shooting Percentages
| | | |
| --- | --- | --- |
| | University of Central Florida | University of Tulsa |
| FG% | 52.0% | 31.0% |
| 3FG% | 54.5% | 7.7% |
| FT% | 83.3% | 55.6% |
UCF starting lineup: Ashley Polacek (G), Zykira Lewis (G), Aliyah Gregory (G), Joslyn Massey (F), Tolulope Omokore (F)
SMU starting lineup: McKenzie Adams (G), Morgan Bolton (G), Alicia Froling (F), Stephanie Collins (F), Kiara Perry (G)