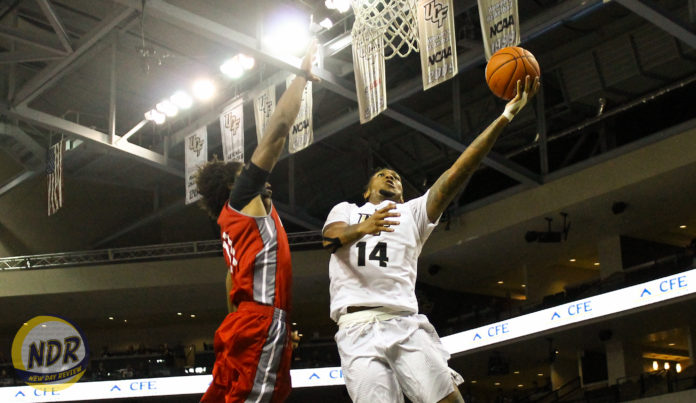 Redshirt senior Nick Banyard was a late addition for the University of Central Florida's 2016-17 squad. In fact, he missed the summer workouts heading into the Knights' preseason. But that hasn't stopped the first-year Knight from helping his team become less sensitive. He won't say it himself, but Banyard's been a leader in that regard.
"We've been less sensitive. We can get on each other about anything, and we don't take it to heart or whatever," Banyard said before practice Friday. "We just kinda take it, roll with it, listen to 'em and then improve as a team."
For fellow redshirt senior Matt Williams, Banyard has been the driving factor in making the team less sensitive.
"At the beginning of the year, everybody was kinda trying to get used to everyone, and we was trying to get used to demands from everybody. Trying to get used to everybody's demeanor, things like that." Williams said before practice Friday. "At first, it was very rough. Guys really didn't adjust well to being talked to a certain way.
"You know, Nick's very outspoken, outspoken dude. He speaks his mind freely no matter the time of day it is. He probably the one that stirring it up. Because of Nick, we're better with that."
That heightened sense of maturity from the Flower Mound, Texas, native did not go unnoticed either. First-year UCF head coach Johnny Dawkins made Banyard a captain midway through the season because of it.
"Well Nick's brought a sense of maturity to our program. I made him one of the captains as the season progressed because I liked his spirit," Dawkins said before practice Friday. "He [has a] high basketball IQ, and he competes, and he competes. And I think he's kinda brought those things with him here, which have been some good traits… It takes time to kinda immerse yourself with new guys, and I think…they're starting to get more comfortable with each other, and I think that's helping their play as well."
Now the Knights prepare for their most important home game of the season: a senior-night rematch against the No. 15 Cincinnati Bearcats. When both teams met in Cincinnati on Feb. 8, the Knights lost 60-50.
This time around, Banyard said it's about not straying from each other's respective roles.
"Stay within our role. I know I got a little away from our role," Banyard said. "I was a little nervous out there. And definitely just have no reason to be nervous. Definitely just go out there, take care of business. Do what i do, which is take care of the defensive end and rebound, and that'll get me going offensively."
Like Banyard, Williams placed a heavy emphasis on defense as well, focusing on transition defense.
"Going into this game, we've just been working on our transition defense," Williams said. "Trying to make sure that we get back because Cincinnati's a very good team. They push the ball very well. We're just trying to make sure we get back and set our defense. When we get back and set our defense, we'll be successful."
The Knights host Cincinnati at CFE Arena on Sunday at 3 p.m.