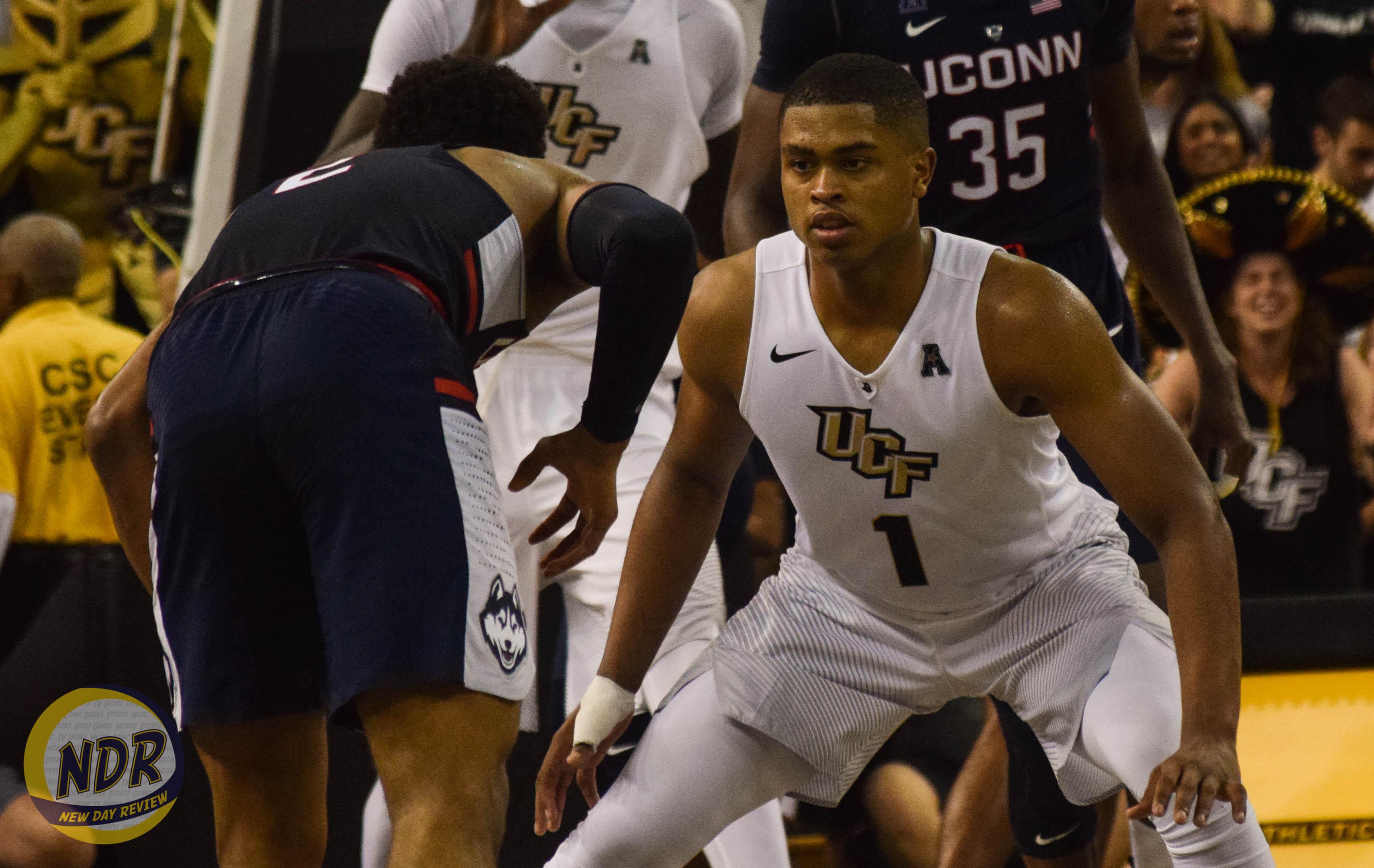 Feb. 13, 2017 at CFE Arena
HC Johnny Dawkins
The University of Central Florida have five more regular-season games to play.
We still have a lot to play for. Our message has been pretty consistent that we still have a lot to play for. We still have a lot of opportunities to still make a run in our conference, to finish as high up as we possibly can. But we need to seize the moment. We need to go out there and seize the moment.
When asked if this is what he expected going into the season, Dawkins said his expectations for his team haven't changed.
I came in with high expectations as always, and my expectations haven't changed. We have to keep working, we have to keep getting better, which we're gonna do. And I love our guys. They compete. They gonna give us what they have, and that's what we want from them. Like I said, with five games remaining, we have to take advantage of each one of these opportunities remaining.
The Knights currently have seven scholarship players on their active roster.
We have seven scholarship players. It is what it is. They're gonna have 13, we have seven. So we're a little bit shorthanded, but we're not gonna use that as an excuse. We've been in games and had opportunities, and that's what it's about. We just have to make the most of those situations. We have to be better in those situations, where we execute properly, or where we get the big stop that we may need. Those are things that we have to do, and I'm a firm believer in accomplishing those things, and the rest will take care of itself.
UCF lost to the University of Connecticut 66-63 on Saturday night.
We need 40 minutes. We've been playing, in the last few weeks, probably 30 minutes of our type basketball. And that 10 minutes that we're not playing UCF basketball has hurt us. We need to get out there for 40 minutes playing a certain way, and that's what we want. And when we haven't, like I said, it's been a let-down for us. And when we have, we've been successful. So that's what we gotta get back to doing—playing 40 minutes of UCF basketball.
When asked about the last five games of the regular season, Dawkins said the lead-up to the conference tournament is big for his team.
This is big for us. These last few weeks are big—these last five games. One, you wanna go into the conference tournament with some momentum. And that's kinda the best way to go. And you want to have gotten better throughout this process so when you do get to the conference tournament, you kinda know what you're doing. It's kinda more of a well-oiled machine with what you want to do. So that's kind of how we're approaching it.
When asked about his team's response to the recent losing stretch, Dawkins said it has been difficult.
It's been difficult. No matter what, when you've been winning like we're winning earlier, you hit a road block like we've hit, then it becomes difficult. Young people, you try to make sure they stay positive. You make sure they stay confident. Those are all things we're working to do along the lines of understanding we have to have a sense of urgency that we have to change course. And that's something that we have to make happen. We have to make it happen on the floor, and that's kind of our message.
Dawkins said the next step in Fall's development resides in his ability to be consistent in a stretch of games.
Barring foul trouble, I think he's been fairly consistent. The only thing that's really slowed him down has been when we have to sit him on the bench for extended minutes. But other than that, he's given us a lot. I think he's really growing as a player. For he and B.J. [Taylor] and for those guys who didn't play as much last year, this is getting longer into the season for those guys. So for these guys to play that type of minutes, I think it's real beneficial for them to see just how hard you have to keep staying focused, how hard you have to concentrate throughout an entire season when you're playing 25 to 30-plus minutes a game. So that's something that I think he's adjusting, speaking of Tacko, right now. And, of course, B.J. is probably going through a little of that himself because he sat out all of last year as well.
UCF lost to the Tulsa Golden Hurricane earlier this year 77-66.
They're a very active team. They're an undersized team. With that poses challenges because, for us, we're a big conventional team. So they got some match-up issues there. They really spread the floor well. They spread the floor well for penetration and kick, for open threes. They did a good job of that. They did a good job of penetrating and getting into the paint. We have to make sure we do a better job of keeping guys in front of us.
With regard to shooting guard Matt Williams' development, Dawkins said he needs to learn how to put the ball on the floor when his three-point shot is taken away.
He's getting there. It's a process for him 'cus he's never had to do that before. So it's new, but I do like his approach. Watching him in practice, he's mixing that in more. Even in some of the games, he's mixing that in where I think he can do even more of it because he's such a weapon. He's such a really good shooter that people have to respect him. And that gives him a chance to put the ball on the floor and go by a defender and make plays for himself and his teammates. So that's what we're working with him on, and he'll be able to do it.
PG B.J. Taylor
For Taylor, he's been saying his team needs to play a full 40-minute game.
I think we gotta play better just throughout the whole game. Gotta play strong for 40 minutes. I mean, I've been saying that for the last couple months, but it's coming time, and we gotta have a sense of urgency moving toward the end of the season. So I think if we come tomorrow and play a full 40 minutes, we'll be good.
When asked about what he thought was wrong with the team, Taylor said there wasn't any one problem that's been the cause of the losing.
I mean, I don't think there's been one thing that has been the problem. I think over the course of different games, it's been certain things. So I think us putting together a full game is the most important thing. I mean, this late in the season, the teams making a run are the teams who are putting together consistent games, and everybody's buying into their roles and doing what they're supposed to do to help their team win. So I think everybody on this team has to just com together and be more together than we've been throughout the whole season just because we're going through a tough patch, but we're gonna fight out of it.
The American Athletic Conference tournament is a little more than three weeks away.
We gotta keep growing, but it's getting close to the end of the season, so we gotta have a sense of urgency in what we're doing. And we gotta get ready for the conference tournament.
When asked about how he thinks the team is responding to the losses, Taylor said his team has to accept the challenge.
It's been tough. This team hates to lose, and we have a lot of guys in here who don't come from that. It's been tough, but that's what's gonna make us stronger moving towards these next five games is that we gotta play better, and we gotta accept the challenge. You can't just dwell on the past because the past is what it is. So we gotta do what we can, move forward to win out, win these last five games.
With so few scholarship players available to play, Dawkins and the Knights have brought on walk-ons, pulling from the team's managers.
I feel good. Like you said, it's been a long season, but at this point in the season, everyone's banged up, bruised up. Everybody has little nicks, and everybody can feel better than they feel right now. There's nobody in the conference right now who probably feels 100 percent, any of the guys who play a lot of minutes, so it's about the guys who are going to fight through it and push through the stretch that we got going into the conference tournament.
Apart from A.J. Davis, Fall and Taylor, the starting lineup varies, including Tanksley Efianayi, Nick Banyard and Chad Brown.
We have a lot of guys who come in and contribute depending on the matchup, depending on which team we're playing. So our problem hasn't been consistency in the starting lineup or anything. It's just getting out there, and the guys who are on the floor gotta play better.
C Tacko Fall
With five regular-season games left to play, Fall reiterated what Dawkins said.
I mean, Coach says every day we still have a lot to play for. We just gotta finish the season strong. Five games left of the season, it's not over yet.
When asked about how he feels his team his playing, Fall said he thinks the Knights can do "a lot" better.
I mean, we can definitely do a lot better. Some of those games have been really close games where we could've closed out better. A lot of them we're actually winning the games with a few minutes left, and we just let it slip. So we just gotta learn how to close out games. We can definitely do better. Like I said, there's still a lot to play for. We just gotta look forward to the five games left.
When asked about the challenges Tulsa will present in Tuesday night's matchup, Fall said it's not about what other teams do; rather, it's about what they're doing.
It's always about what we do here. So it's about us and what we can do. Like I said, we're a great defensive team, and that doesn't change regardless of who we play. We just gonna come out here and play hard, play good defense and the rest will take care of itself.

[Against UConn], I would say the second half we picked it up pretty good. We cut the lead. It was pretty close. We made it close because we locked up on defense. That's what we do. When we take care of defense, offense is gonna take care of itself. Some nights, people are going to shoot well. Some nights, they won't. Defense is all about effort. So if we bring that every night, the rest is gonna take care of itself.
The Knights have played every team in the conference already.
It kinda gives us a great perspective of where we can be. Playing those teams, I think, shows all of our guys how good we are, how good we can be. Learning from that experience with the remaining of the season is really going to be helpful for us.
When asked about his development and comfort level, Fall said he's learning every game.
I feel like every game I'm just gaining a lot of experience of learning every day and just gotta keep getting better.

I'm learning a lot, and through these last couple games, I definitely did learn a lot about myself and a lot of things I can do better and a lot of things I can do good. So that has really helped me.