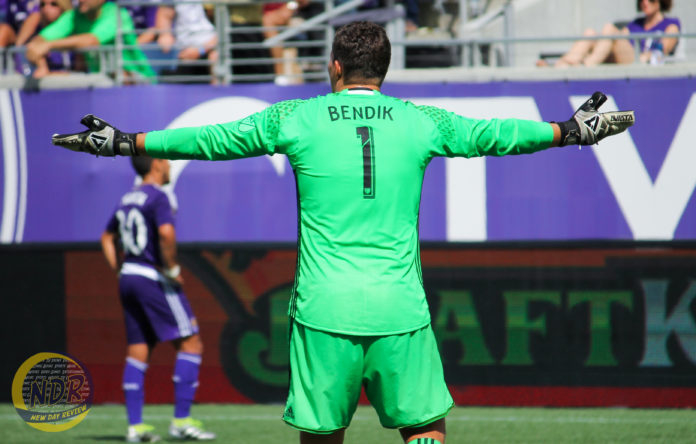 It's been less than a day, and Orlando City SC has acquired another goalkeeper. On Thursday, the club traded City mainstay Kevin Molino and freshly acquired goalkeeper Patrick McLain to Minnesota United FC.
Now, on Friday, the Lions traded its natural fourth-round pick of the 2019 MLS SuperDraft to New York City FC for Josh Saunders.
Saunders, who played under City head coach Jason Kreis in NYCFC's expansion season, has played the past two seasons in the Big Apple. In 2015, he posted a league-leading 123 saves.
"Josh is a veteran MLS goalkeeper that will add championship experience, leadership and depth to our side with 125 appearances in 11 years in the league," Lions general manager Niki Budalic said, per the release. "Jason Kreis is very familiar with Josh from his time in New York and Real Salt Lake and is looking forward to working with him again."
In addition to playing in New York under Kreis, Saunders also played under Kreis at Real Salt Lake in 2013, starting three matches.
Saunders is a proven winner in goal, having been the primary goalie for the Los Angeles Galaxy during the team's back-to-back MLS Cup wins in 2011 and 2012.
The 35-year-old will join goalkeepers Earl Edwards Jr., Mason Stajduhar and Joe Bendik. Despite City having surrendered a league-high 60 goals in 2016, Bendik proved himself to be a stalwart defender in goal. Last season, he finished with a 9-11-14 record, recording a career-high 114 saves in 34 starts.
City's newest goalie addition will eventually make his way to Jacksonville with the rest of the team during the Lions' 10-day trip, according to a club spokesman. Kreis said on Wednesday that the team will focus primarily on defense during the trip. The team's time in Jacksonville will conclude with a training scrimmage against Jacksonville University on Saturday, Feb. 4 at noon.