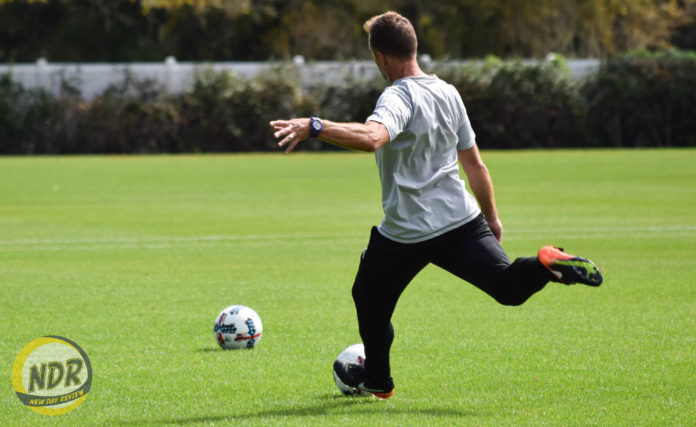 Feb. 23, 2017 at Sylvan Lake Park
HC Jason Kreis
Entering Orlando City SC's 10-day trip to Jacksonville, Fla., in late January, Kreis said his team's focus would be on defense. Now, after a 3-1 friendly loss to Toronto FC, the Lions are back to defense.
The last two days, we've spent—[defense] has been the focus of our trainings, and I think the energy and the spirit has been great. So, from my point of view, there's disappointing that're gonna happen along any season and even along six-week preseason you're gonna have some setbacks. I feel like that was a setback for us on Sunday, the performance. Not so much dying about the result because it is preseason, but the performance wasn't good enough. And the response to that is critically important. So we have a disappointing occasion, we have a disappointing day, but the guys come back and respond to it in very positive fashion over the last two days of training, and then they'll have another opportunity to show us this weekend that we've learned something from it.
Orlando City is hosting its third-annual kickoff weekend with player appearances and club-sponsored events.
It's always a concern of—I think every MLS coach has the same concern to go into any MLS season because they understand that there are lots of public appearances that need to be made, and guys getting pulled in different directions. So I think you just do your best to help to corral it. You think your best job to remind the players what's the most important thing. And also I think you have to realize that that's an important aspect of our sport still in this country. We still have to sell ourselves, and we still have to sell the sport if we want to get it to the place that we all want it to be.
Right-back Rafael Ramos sustained hamstring injuries in the Lions' loss on Sunday.
We were looking at Rafa to be our main guy at right-back. We were looking for him to be there with Kevin Alston competing every single day and every single week. And both are injured, so it isn't just about Rafa. It's about both of our right-backs are now injured. And so we look for different solutions. We look for different solutions within the team.
In Ramos' absence, Kreis used Donny Toia and Jules Youmeni at right-back.
I think those are probably two of the best options. We've got a guy like Will Johnson as well. At [Real Salt Lake], he played for us at right-back quite a few times. That could be an opportunity. It also could be an opportunity for Tommy Redding when he gets back 'cus he played right-back for us already a couple times in our short time last year. So we've got guys that can play a little bit out of position and get a job done.
Redding has been away with the United States U-20 men's national team, competing for a spot in the U-20 World Cup.
We had him for about five or six days preseason. He looked really sharped, really fit. Looks like he's growing as a player. That's exactly what we want. These types of experiences are critically important for developing players. And I think it's a chance for him to gain a different level of confidence playing against players his own age. I know he's got a big role on that team, and he's had pretty solid performances in both the games. So we'll hope that they get the job done in their next match and they move on and continues to gain some valuable experience.
When asked about his top concerns before the end of preseason, Kreis harkened back to defense.
I want to see us defend better. I want to see us defend better on Saturday and really have all the players buy into our defensive philosophies and what we're trying to accomplish when we don't have the ball. That's, I think, the first and foremost thing that you have to get right. And felt like we were in a really solid place when we left Jacksonville, and I feel that we've gone from away that over the two weeks since. So, now, this weekend, should be an opportunity to show that they understand what we're asking for and to be committed towards that effort.
As part of the kickoff weekend, the club is hosting a ribbon-cutting ceremony for the new stadium on Friday at 10 a.m.
Maybe this comes through being experienced, maybe it comes through having a stadium opening before—I'm not sure what it is, but the fact that the stadium opening isn't providing any extra stress or extra anxiety for me. It's about having the players ready regardless of what building we're gonna play in. Obviously, we're all extremely happy that we're gonna have a brand-new stadium. And we're all, I think, gonna relish the opportunity to be in there and to soak up the experience of being in there for the first time ever. But we can't put too much weight in that. We can't put too much thought into that because we need to be focused on our jobs.
DF José Aja
Orlando City opens its season with a 5 p.m. home match against New York City FC.
We're preparing very well. We've been getting better as the weeks have come along, and now we're waiting for the friendly this Saturday so we can adjust some other details and be ready for next Sunday.
When asked about what details he and his team need to focus on after the Toronto friendly, Aja said it's about focus in the end of the game.
We have to focus more on our concentration in the last 10 minutes of the games. When the team is more exhausted, we need to make sure we keep the focus. And organize ourselves better tactically to avoid any mistakes.
Aja signed a four-year contract with the Lions during the offseason.
I said last year I was looking forward to that objective, and I got it. I was very happy because of that. My main goal was to stay here, and now that I stay, I'm very happy to be with the team and to be included in all these big things that the team is doing. Very excited. Looking forward to the season and hoping that we have a big year.
When asked about how the defense changes without Ramos, Aja said he thinks the club has signed good players to replace him.
I think that Rafa's a big part of the team, specifically in the defense. But I think that the club has signed very good players like Donny, like Tony [Rocha]. And I think that both of them can do a good job there. We feel the absence of Rafa there, but I think that whoever fits that role will do a great job.
GK Earl Edwards Jr.
Orlando City added goalkeeper Josh Saunders to its roster during the offseason.
I think it's been great. Again, I've just been provided another opportunity to work with a veteran goalkeeper in [Major League Soccer], and year after year, that seems to happen with me with this club, and I like to take every advantage that I can. And Josh is willing to help me. We've had a lot of meaningful conversations, and he's an open book, willing to help me. Joe's [Bendik] been the same. We have a great relationship, and I think adding another keeper like Josh to the puzzle is good for everybody.
When asked if he was content about still being in a learning role, Edwards Jr. said he's itching to be a starter.
I would say I'm always itching. I think, since day one, since I've been here, I've had that urge about me. But being a young goalkeeper, I understand the position, and you just gotta buy your time, keep your head down, and when your chance comes, take advantage of it. So can't get caught up in what the depth chart is, and I know I got opportunities at OCB this year, and I want to take advantage of that. And if the opportunity presents itself for an MLS game, I'd like to take full advantage of that, and I'll do everything I can to be prepared for that.
When asked about what Saunders has passed on to him, Edwards Jr. said he's given knowledge about playing out of the back.
I just think his playing at New York City last year they had a high demand on him from playing out of the back. So, his concept of that, I think, is a more extreme than what most people are used to, having played in that system. So I think his comfort level and talking to me and Joe, for that matter, about angles, how guys should plays ball into you, where you should try to play out of the back when maybe it doesn't look like a good opportunity. Obviously, New York City does that o an extreme, so he's used to that. So I think he has maybe a higher comfort level of doing that than we do having said that New York City does that more than most teams in the league. So, his experience there, I think, can help us a bit playing out of the back and learning from him in that sense.
In addition to Saunders, Edwards Jr. has now played behind four veteran goalkeepers: Bendik, Saunders, Tally Hall and Donovan Ricketts.
I think, similar to all the veteran goalkeepers I've dealt with since I've been here, it's just a day-in, day-out mentality. And I think being a young goalie, that's a difficult thing to wrap your head around, not to get too high, not to get too low on yourself. And no matter what their warm-ups look like as they translate into stuff with the team, they look the same. Some days, they might be way better than others. But other days, they might be a little lower, but they seem to stay right in that range of a seven, eight out of 10, if not higher. So I think the consistency thing is a piece I can take from them and all the veteran goalkeepers I've been able to work with since I've been at the club.
The Lions hired Tim Mulqueen as their new goalkeepers coach this offseason after the departure of former City goalkeepers coach Stewart Kerr.
I think [Mulqueen] is very different. I think Stewart—just different philosophies. During his training sessions—this is my second time in my career I've gotten to work with him; I worked with him when I was in residency program for a few months, and we had a good experience then. To see what he's like now, based off—what is that? Almost 10 years ago now. He's changed quite a bit, and…at the time I worked with him, I was 15, 14 years old. So the way he worked with me then and now is very different. And it's just cool to see how he's adapted to the situation and able to work with all of our personalities and provide what all of us need.
Bendik earned multiple Save of the Week honors and Save of the Year for the 2016 season.
I mean, I think our fans are ones that even through ups and downs, they seem to stay extremely loyal. Obviously there's times where we might not have a great game, and they'll be upset about it but come back home, they're there in full support and never really turn their backs on us. So I think the support from our fans is motivation and exciting for everybody. So I think how they've taken to Joe, I think, is incredible, and I would say he's a fan favorite at this point. I think he's earned that, and I think we're very fortunate to have such a great fanbase.