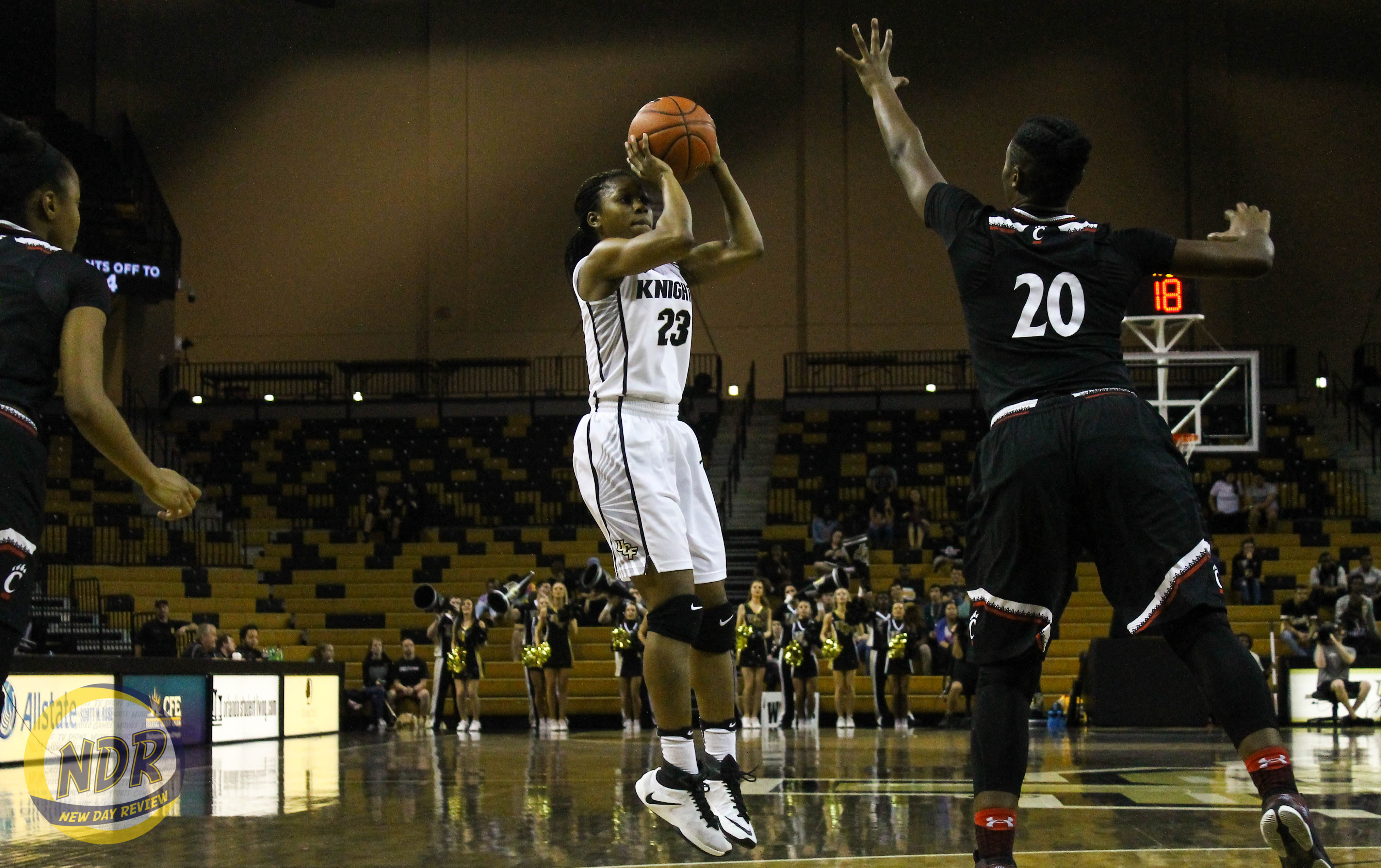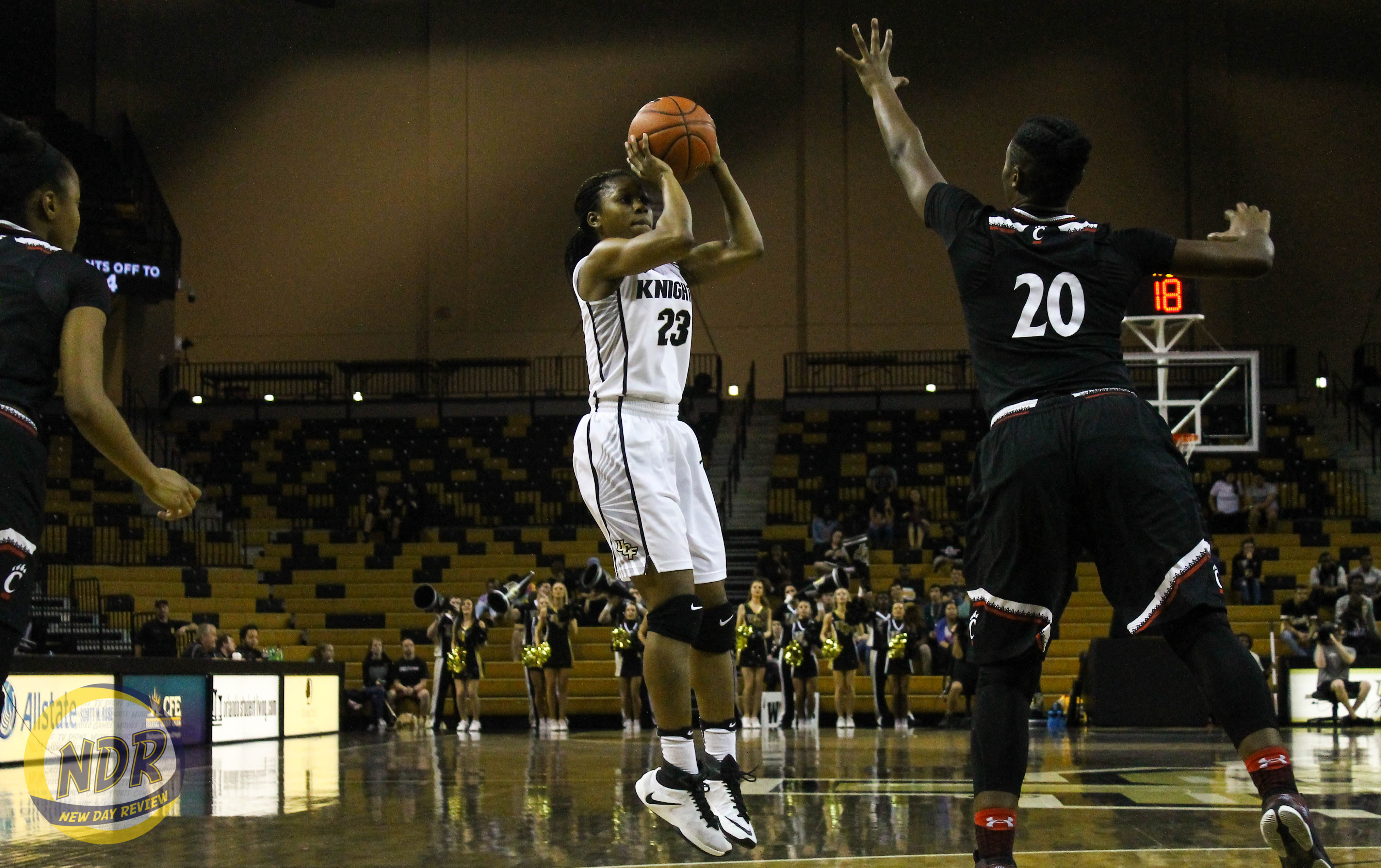 Game Recap
ORLANDO, Fla. – Entering the fourth quarter, the game was still very much in question. The University of Central Florida led by six points, and the Cincinnati Bearcats would get the ball at the beginning of the quarter.
But the Knights would close the door on any potential for a come-from-behind victory, though, as they locked Cincinnati down to a six-point fourth quarter. That helped UCF (13-7, 3-4 in American Athletic Conference) to a 64-44 win over the Bearcats (14-6, 5-2 in AAC) at CFE Arena Tuesday night.
"Going [into the fourth], I just said, 'We're winning,'" Knights head coach Katie Abrahamson-Henderson said as she pounded the desk in front of her after the game. "When we're up, I said, 'We are winning the game, but we gotta get defensive stops, and we can't let No. 3 hit threes.'"
UCF broke the near-even halftime score in the third quarter when the Knights out-scored the Bearcats 16-11. Redshirt senior Joslyn Massey said her team came out of halftime with the same message Abrahamson-Henderson had entering the fourth quarter.
"When we came out the second half, we just wanted to go out, go hard, and we told ourselves that we weren't going to lose the game," said Massey after the game, who recorded five of her game-high nine rebounds in the fourth quarter. "New half, new us—we need to go out there, go hard, get stops on defense, and we were defensive-minded."
And defense was what sealed the Knights' victory. Cincinnati shot just 37.8 percent from the field, including 1-for-10 from three-point range. UCF's stalwart defense in the fourth was established by a shot-clock violation on Cincinnati's first possession of the quarter.
"We're defensive-minded all the time," Massey said. "So us getting that shot-clock violation right off the jump in the fourth quarter, it just fueled us for the rest of the quarter."
Junior shooting guard Aliyah Gregory closed the game out in the fourth, scoring 10 of her game-high 22 points then. This is her second-consecutive 20-point game and her second of the season. But for Gregory, the win is all that matters.
"I'm not a person that's worried about scoring a lot of points," Gregory said after the game. "Of course, it feels good to score points, but that's not what I go into any game [thinking]. But whenever we come out victorious, that's all I care about, and we came out victorious tonight. I think everybody played hard and played their role, and, tonight, my role was really knocking down free throws and knocking down shots that I had."
Free throws were a big factor for Gregory, as she went 12-for-12 from the charity stripe. Eight of her free throws came in the fourth quarter.
Player of the Game: Aliyah Gregory
Gregory utilized screens to get open mid-range jump shots the entire game. Abrahamson-Henderson has lauded her pull-up jump shot all season, but after the win over Cincinnati, the first-year UCF head coach praised her intangibles.
"She's the most unselfish person we have on our team," she said. "But when I came in here, and I first got the job…everybody was saying [Zykira Lewis] is our best player, but I kept saying, 'Aliyah Gregory could be like a stud 'cus she's got the height, she's got the athleticism. She's got a phenomenal pull-up jumper.'"
Lewis is still the team's leading scorer, averaging 15.0 points per game, but Gregory is right behind her with 13.9.
What's next?
UCF will travel to face the University of Memphis on Saturday at noon.
Ashley Polacek Starting
Sophomore point guard Ashley Polacek has seen minutes sparingly this season, but when she's come into the game, she's made her minutes matter. In Tuesday night's win, Polacek found herself in the starting lineup for the third time this season (the Ottawa, Canada, native started the first and third games of the season). For Abrahamson-Henderson, that's partially about giving true freshman point guard Korneila Wright some rest.
"Every game that we aren't successful, and people aren't doing what they need to do defensively, I'm gonna make changes," Abrahamson-Henderson said. "So, I made that change, and I really thought that Ashley stepped up and did a really good job… To be honest, [it gives] [Wright] a little bit of a break.
"But it didn't bother her too much. She wanted Ashley to do really well."
Polacek finished with two points and a team-high three assists and no turnovers in 17 minutes of play.
Consistency in Starting Lineup
With Polacek getting her first start since the beginning of the season, it appears Abrahamson-Henderson is still willing to shake up the starting lineup despite having less than half the schedule remaining.
For Abrahamson-Henderson, that's a matter of effort.
"I think it's good to mix it up a little bit," she said. "But I'm gonna watch film, and my thing is whoever plays the hardest deserves to start. And whoever plays the hardest is going to stay in the game and finish the game. It's the same thing… But I don't really concentrate so much on starting."
The mix-up in the starting lineup has also seen Lewis come off the bench in the past five games. Before that, the Knights' leading scorer had started the team's previous six games.
Scoring
| | | | | | |
| --- | --- | --- | --- | --- | --- |
| | Q1 | Q2 | Q3 | Q4 | Final |
| University of Central Florida | 11 | 17 | 16 | 20 | 64 |
| University of Cincinnati | 16 | 11 | 11 | 6 | 44 |
Statistics and Starting Lineups
Team Leaders
| | | |
| --- | --- | --- |
| | University of Central Florida | University of Cincinnati |
| Points | Aliyah Gregory (22) | Bianca Quisenberry (14) |
| Rebounds | Joslyn Masssey (9) | Angel Rizor (8) |
| Assists | Ashley Polacek (3) | Ana Owens (4) |
| Blocks | Nyala Shuler, Joslyn Massey (1) | Chelsea Warren, Brandey Tarver (1) |
| Steals | Zykira Lewis (3) | Bianca Quisenberry, Nikira Goings, Antoinette Miller, Maya Benham (1) |
| Turnovers | Joslyn Massey, Korneila Wright (4) | Ana Owens (4) |
| Minutes | Zykira Lewis (36) | Ana Owens (40) |
Team Statistics
| | | | | | |
| --- | --- | --- | --- | --- | --- |
| | Rebounds | Assists | Blocks | Steals | Turnovers |
| University of Central Florida | 40 | 7 | 2 | 5 | 13 |
| University of Cincinnati | 19 | 7 | 2 | 4 | 13 |
Shooting Percentages
| | | |
| --- | --- | --- |
| | University of Central Florida | University of Cincinnati |
| FG% | 40.0% | 37.8% |
| 3FG% | 22.2% | 10.0% |
| FT% | 72.2% | 75.0% |
UCF starting lineup: Ashley Polacek (G), Aliyah Gregory (G), Nyala Shuler (F), Tolulope Omokore (F), Joslyn Massey (F)
Cincinnati starting lineup: Ana Owens (G), Brandey Tarver (G), Bianca Quisenberry (G), Angel Rizor (F), Chelsea Warren (F)