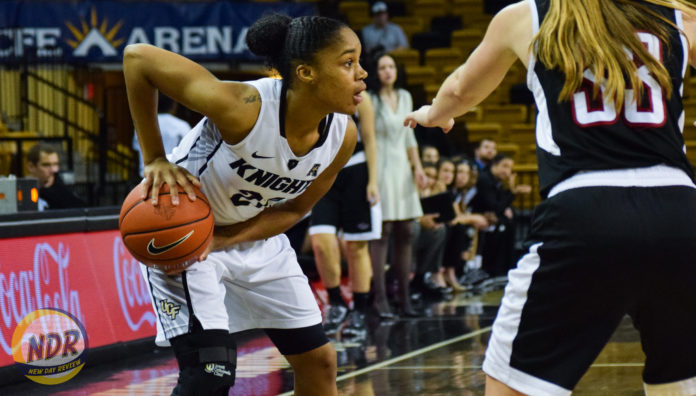 Game Recap
ORLANDO, Fla. – Conference play hasn't been kind to the University of Central Florida this season. After starting the season 10-3 in non-conference play, the Knights have since lost four of its last six games with their most recent loss coming against the University of Tulsa. On Saturday afternoon, UCF (12-7, 2-4 in American Athletic Conference) fell 73-62 to the Golden Hurricane (6-13, 2-4 in AAC) at CFE Arena.
"[The AAC is] way better than everybody we've played," Knights head coach Katie Abrahamson-Henderson said after the game. "Obviously, our team knows that. I know that watching film, also. So I think, it's kind of like, in a coach, you win so many games at first, maybe it's not so good. As a coach, you're juggling, 'Now we're in the conference. Now we gotta prepare all the time.
"And that's why I talk all the time about our next biggest game is the next biggest game. We don't care about what's coming, and we can't worry about what just happened. We gotta worry about the next biggest game because every team in the conference is good."
The Knights would nearly complete a comeback in the final minute of the fourth quarter after Kayla Thigpen dropped two three-pointers on consecutive possessions, bringing the score to 66-60. But fast-break opportunities and clutch free-throw shooting by the Golden Hurricane closed the door on any chance of a Knights victory.
"I think we always feel like we're in a position to win a game," junior Aliyah Gregory said after the game. "Of course we look at the scoreboard, but we don't really focus on that. We focus on one possession at a time, getting a stop. If we're on offense, taking care of the ball, getting a good possession. Get in the paint, getting a really good shot.
"Kayla came in and knocked down two big threes, and, from there, we were just worried about getting stops in the press, getting stops at halfcourt defense and being able to execute on offense."
Gregory finished the first half with 15 points on 6-for-9 shooting. She would finish the game 9-for-21 with a game-high 25 points.
"Our post players were setting really great screens [in the first half]," Gregory said. "We were running offenses where we getting a lot of screen-and-rolls, and I was just getting pull-up jumpers easy.
"I was still getting open looks [in the second half], honestly. Our posts were still setting good screens. But, honestly, it was just—I gotta knock 'em down. I gotta use my legs. I was getting a little tired, so, of course, I wasn't elevating as high on my shots, and a lot of my shots were short."
Player of the Game: Shug Dickson
Dickson finished the game with a team-high 22 points and a game-high five assists. She finished with an efficient 8-for-11 shooting from the field in 35 minutes of play.
Underestimating the Competition
For the Knights, the loss against one of the worst conference opponents wasn't a matter of underestimating the Golden Hurricane. Gregory said that it was a matter of not being mentally ready.
"I think we respect every opponent that we go against," she said. "It was just a mindset that a lot of people came out not ready, and we let them out-play us. And that's something that shouldn't happen, especially on our home court."
As a team captain, Gregory wants Saturday's loss to hurt before Tuesday's game against Cincinnati.
"Really, we have to focus on this one and make sure it hurts a little so that we can go out with a vengeance when we play Cincinnati," Gregory said. "But we have to really move on from it. We're gonna watch film tomorrow, of course—learn from it, grow from it and not make the same mistakes when we come play Cincinnati."
What's next?
The Knights will host the Cincinnati Bearcats on Tuesday at 7 p.m.
Scoring
| | | | | | |
| --- | --- | --- | --- | --- | --- |
| | Q1 | Q2 | Q3 | Q4 | Final |
| University of Central Florida | 14 | 16 | 12 | 20 | 62 |
| University of Tulsa | 19 | 10 | 17 | 27 | 73 |
Statistics and Starting Lineups
Team Leaders
| | | |
| --- | --- | --- |
| | University of Central Florida | University of Tulsa |
| Points | Aliyah Gregory (25) | Shug Dickson (22) |
| Rebounds | Fifi Ndour (6) | Kendrian Elliott (6) |
| Assists | Ashley Polacek (3) | Shug Dickson (5) |
| Blocks | Fifi Ndour (1) | Shug Dickson (1) |
| Steals | Fifi Ndour, Joslyn Massey (2) | Tyjae' Scales (3) |
| Turnovers | Korneila Wright (3) | Kendrian Elliott, Erika Wakefield (3) |
| Minutes | Aliyah Gregory (40) | Erika Wakefield (39) |
Team Statistics
| | | | | | |
| --- | --- | --- | --- | --- | --- |
| | Rebounds | Assists | Blocks | Steals | Turnovers |
| University of Central Florida | 36 | 7 | 1 | 7 | 12 |
| University of Tulsa | 34 | 14 | 1 | 7 | 14 |
Shooting Percentages
| | | |
| --- | --- | --- |
| | University of Central Florida | University of Tulsa |
| FG% | 36.2% | 49.0% |
| 3FG% | 50.0% | 50.0% |
| FT% | 72.0% | 71.4% |
UCF starting lineup: Korneila Wright (G), Nyala Shuler (G), Aliyah Gregory (G), Fifi Ndour (F), Tolulope Omokore (F)
Tulsa starting lineup: Erika Wakefield (G), Ebony Parker (G), Shug Dickson (G), Kendrian Elliott (F), Liesl Spoerl (F)