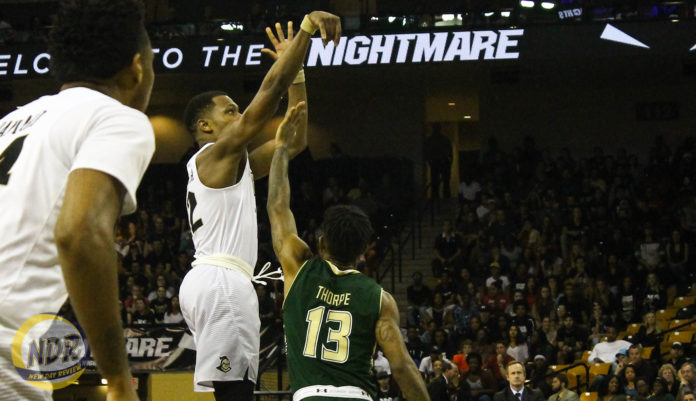 Game Recap
ORLANDO, Fla. – It was the Matt Williams three-point shooting show Tuesday night. His UCF single-game record helped the University of Central Florida (14-4, 5-1 in American Athletic Conference) defeat the University of South Florida (6-11, 0-6 in AAC) 86-64 at CFE Arena.
"Just hard work," Williams said after the game about subbing out for the final time. "Just lot of nights in the gym, lot of early mornings in the gym. You know, just all the training we did this summer. It's just lets me know that the hard work that we put in as a team is paying off."
As a veteran college coach and former NBA player, Knights head coach Johnny Dawkins has seen his fair share of impressive shooting performances. After the game, the former Duke University assistant coach compared Williams' career-high performance of 11 three-pointers to Los Angeles Clippers guard and former Blue Devil J.J. Redick.
"J.J. Redick," Dawkins said immediately. "I was fortunate to coach J.J. for four years, and Matt has had those moments for us, be it practice and several games. And it's just good to see. Very rarely do you find a guy that shoots the ball that well and from that deep. The kid has unlimited range, but he really can stretch the floor because of his ability to shoot the ball from that deep and that really helps us out."
In addition to impacting the record books, Williams' onslaught helped keep the Bulls at bay. At the 3:54 mark in the first half, UCF came out of a timeout leading 34-24 after previously leading 31-14. The Knights would out-score the Bulls 8-6 before halftime behind Williams' fifth and sixth three-pointers.
During the second half, Williams continued his scoring streak, draining his final five threes. He finished with a career-high 38 points in 32 minutes.
"I give [USF] credit," Dawkins said. "I thought they came in with a good game plan. I thought they were playing hard. For us, I thought we were trading baskets a lot… I was talking to our guys about, 'That's not who we are. That's not how we defend.' And so I just wanted them to really focus in on, you know, how you build a lead… You're gonna build a lead on getting stops."
Sophomore center Tacko Fall was a non-factor in the first half, recording no shot attempts and two personal fouls in five minutes. In the second half, Fall tallied 10 points and two blocks.
"When Tacko got those two fouls, we realized that…we had to bring different elements to the game," Williams said. "We have a game plan when Tacko's playing, and once Tacko got out, we realized that we had to bring it together and get more focused together as a team because Tacko brings a different element, and once he's out, it's a different game plan for us."
Despite Fall not being in the game for most of the first half, Dawkins still thought Tuesday's win was one of his team's best defensive performances. Effort, not numbers, showed that.
"I don't think our percentages will show how well we defended compared to our overall percentages for the year, but I thought the fact that we were scoring the way we were scoring and still having to defend with that level of intensity—I was impressed with that. Because a lot of times when you're scoring the way we were scoring tonight and hitting shots and a lot of threes, the first thing that goes is your defense. You start just trading baskets.
"I thought our guys did a really good job of refocusing and making sure that we still stuck to our principles and stuck to our standards."
Player of the Game: Matt Williams
Williams' career-high scoring output was significantly higher than his last. In last season's game against the Cincinnati Bearcats, Williams scored 24 points on 8-for-15 from the field, including 6-for-12 from three-point range. Williams is now only two three-pointers away from tying Jason Thornton for second-most career threes in UCF history at 220.
What's next?
The Knights will travel to play the University of Memphis on Sunday at 4 p.m. The game will be broadcast on CBS Sports Network.
The Complete Game
On Monday before the team's practice, redshirt sophomore guard B.J. Taylor and Dawkins talked about putting together complete, 40-minute games. Despite the 22-point win and what Dawkins considered to be one of his team's best performances on both ends of the floor, the first-year UCF head coach is still not satisfied.
"All in all, defensively and offensively, I think it's one of our best performances of the year," he said. "I still think we had a few mental lapses. You know me. I'm never really satisfied. So, I'm looking at our turnover numbers. I'm still not happy. We had 18 assists. We had 15 turnovers, and that's unacceptable 'cus most were unforced again.
"So those are mental lapses to me. A lot of our turnovers we have aren't where you see a guy's in heavy-duty, double-team trap, and he has nowhere to go with the ball, and he turns it over. Ours is we just lose it or we just throw it a little too far ahead of a player, and it goes out of bounds. These are things we're in control of."
Scoring
| | | | |
| --- | --- | --- | --- |
| | 1st Half | 2nd Half | Final |
| University of Central Florida | 42 | 44 | 86 |
| University of South Florida | 30 | 34 | 64 |
Statistics and Starting Lineups
Team Leaders
| | | |
| --- | --- | --- |
| | University of Central Florida | University of South Florida |
| Points | Matt Williams (38) | Geno Thorpe (22) |
| Rebounds | A.J. Davis (11) | Tulio Da Silva (7) |
| Assists | B.J. Taylor (8) | Geno Thorpe (6) |
| Blocks | Tacko Fall (2) | n/a |
| Steals | A.J. Davis, B.J. Taylor, Matt Williams, Chad Brown, Nathan Laing (1) | Jake Bodway (3) |
| Turnovers | Tacko Fall, Matt Williams (3) | Ruben Guerrero (3) |
| Minutes | Matt Williams (32) | Geno Thorpe (34) |
Team Statistics
| | | | | | |
| --- | --- | --- | --- | --- | --- |
| | Rebounds | Assists | Blocks | Steals | Turnovers |
| University of Central Florida | 46 | 18 | 5 | 5 | 15 |
| University of South Florida | 30 | 18 | 0 | 6 | 13 |
Shooting Percentages
| | | |
| --- | --- | --- |
| | University of Central Florida | University of South Florida |
| FG% | 42.9% | 41.9% |
| 3FG% | 37.8% | 41.2% |
| FT% | 81.8% | 62.5% |
UCF starting lineup: B.J. Taylor (G), Matt Williams (G), Tanksley Efianayi (F), A.J. Davis (F), Tacko Fall (C)
USF starting lineup: Geno Thorpe (G), Troy Holston (G), Malik Fitts (F), Luis Santos (F), Ruben Guerrero (C)