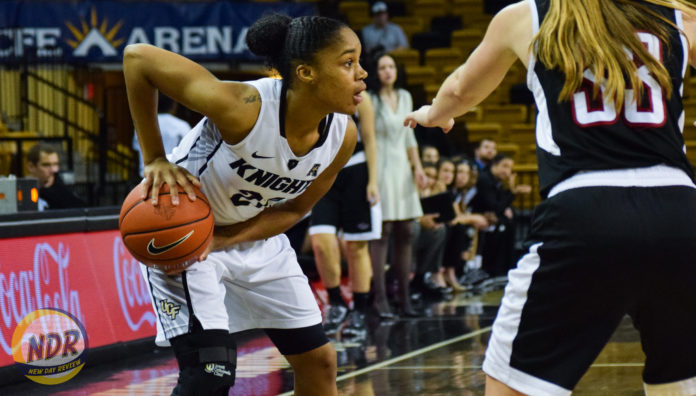 Game Recap
University of Central Florida guard Aliyah Gregory had been toted as being one of the Knights' under-the-radar team captains. But in the Knights' (10-2) Tuesday afternoon 81-41 win over the Omaha Mavericks (6-6), there was no hiding what Knights head coach Katie Abrahamson-Henderson had been lauding during preseason.
"[Gregory] has everything to be a great player, and the one thing she has that a lot of people don't have is that pull-up jumper," Abrahamson-Henderson said after the game. "That is hard to guard. That's the hardest thing to guard in college basketball… I thought she was really aggressive, though, today. You could tell she was super aggressive, and she made some great passes too."
Gregory finished with a team-high 18 points and seven assists.
But there was more to UCF's victory than a lone performance. The Knights' defense swarmed the Mavericks in a full-court defense for all 40 minutes of the game, forcing 29 turnovers. And because of the turnovers, the Knights had 34 more field-goal attempts than Omaha.
"The press was fun, right?" Abrahamson-Henderson said. "The thing is we can be worn or out, or they can be worn out. And it's a mindset. It is definitely a mindset… But we really got after it."
Mikaela Shaw scored a team-high 17 points for the Mavericks but was held scoreless in the fourth quarter, going 0-for-3 in the final period. She finished with Omaha's most field-goal attempts with 14. The next highest field-goal attempts were taken by Michaela Dapprich (seven).
"She was just working the press, and, at some point, we had to stop her," Knights forward Fifi Ndour said after the game. "I feel like we did a good job of doing that in the second half.
"We played really good defense today, and they always say defense should create our offense, and that's what we did today. Getting steals, making easy baskets—it was good."
The first quarter concluded in a near-even score at 14-11 in favor of the Knights. But the opening 10 minutes would dictate how the rest of the game would go. UCF doubled Omaha's field-goal attempts, and Shaw took five of the Maverick's nine first-quarter shots.
Immediately at the start of the second quarter, UCF began to break away with an opening 10-2 run. The Knights didn't look back after that.
"We had to put together a complete, full game, and I thought tonight we did," Abrahamson-Henderson said. "And I think when some of their teammates got hit…they really stepped up. But we got to bring that energy all the time."
Four Knights finished in double figures with Gregory leading the way with 18 points and seven assists. Ndour tallied a double-double with 15 points and 10 rebounds.
Player of the Game: Aliyah Gregory
Despite an early setback by injury, Gregory had remained a perennial presence on Abrahamson-Henderson's squad. In Tuesday's win, she showed why she was voted a captain by her teammates. In the past, it was clear that UCF's now all-time leading career three-point shooter Zykira Lewis had garnered a lot of recognition as the go-to offensive threat; though, Gregory is making a case for herself now.
"Aliyah had been great today. Got seven assists, that's really good," Ndour said. "She's like going to the gaps, looking for the post, making good passes—we love to see that Aliyah every day."
Said Lewis on Gregory's performance: "She's just doing really good. I'm very proud of her today with her assists, and she didn't have too many turnovers, and that's good. She gets her shots and sharing the ball, so that's really good."
What's next?
The Knights will host the University of California, Davis on Dec. 28 at 7 p.m. at CFE Arena.
Girls Just Wanna Have Fun
"We're being sisters," Lewis said.
That's how Lewis described how her teammates are feeling in what is the Knights' best start since the 1982-83 season.
"It means whatever it means to the players," Abrahamson-Henderson said. "You can tell that they're really buying in, and when they're up here talking, they sound like me, which it wasn't at first… They've really bought into hard work. I think just overcoming the thought that when you win, it's easy is not the truth. When you win, it's hard. It's hard to win games. You actually have to work harder to win. Just the whole mentality of work ethic and hard work and what it takes to be 10-2.
"I think they're really getting it."
At one point in the waning minutes of the fourth quarter, true freshman Korneila Wright dived into the opposing team's bench to save a ball that went to forward Nyala Shuler. The redshirt sophomore then attacked the free-throw line before kicking it to Lewis in the right corner for an open three-pointer. The make spurred Omaha to call a timeout as Lewis' teammates swarmed her.
"If somebody makes a good play, we're there, encouraging them, telling them, 'Good job,'" Lewis said. "We just sharing the ball, getting steals, and it's fun when we do that."
For Abrahamson-Henderson, what she felt was exciting about that play was Shuler dribbling the ball up the court.
"So Ny just dribbling up the floor, attacking the foul line…so it was really that," the head coach said. "And then her making that perfect kick to Zy was awesome. That's what excited everybody. It was the thought that, 'Oh my gosh. Ny did that?' And then she made a great pass to Zy. I mean, that really was it."
Scoring
| | | | | |
| --- | --- | --- | --- | --- |
| | Q1 | Q2 | Q3 | Q4 |
| University of Central Florida | 14 | 22 | 18 | 27 |
| University of Nebraska-Omaha | 11 | 11 | 15 | 4 |
Statistics and Starting Lineups
Team Leaders
| | | |
| --- | --- | --- |
|   | University of Central Florida | University of Nebraska-Omaha |
| Points | Aliyah Gregory (18) | Mikaela Shaw (17) |
| Rebounds | Fifi Ndour (10) | Mikaela Shaw (13) |
| Assists | Aliyah Gregory (7) | Mikaela Shae (4) |
| Blocks | Fifi Ndour (2) | Mikaela Shaw, Courtney Vaccher, Remy Davenport (1) |
| Steals | Zykira Lewis (5) | Mikaela Shaw, Michaela Dapprich, Amber Vidal (1) |
| Turnovers | Aliyah Gregory (3) | Michaela Dapprich, Amber Vidal (7) |
| Minutes | Zykira Lewis (38) | Mikaela Shaw (35) |
Team Statistics
| | | | | | | |
| --- | --- | --- | --- | --- | --- | --- |
| | Points | Rebounds | Assists | Blocks | Steals | Turnovers |
| University of Central Florida | 81 | 44 | 18 | 3 | 18 | 11 |
| University of Nebraska-Omaha | 41 | 29 | 11 | 3 | 3 | 29 |
Shooting Percentages
| | | |
| --- | --- | --- |
| | University of Central Florida | University of Nebraska-Omaha |
| FG% | 42.9% | 39.5% |
| 3FG% | 20.0% | 13.3% |
| FT% | 86.7% | 55.6% |
UCF starting lineup: Korneila Wright (G), Zykira Lewis (G), Aliyah Gregory (G), Nyala Shuler (F), Tolulope Omkore (F)
Omaha starting lineup: Amber Vidal (G), Remy Davenport (G), Michaela Dapprich (F), Mikaela Shaw (F), Courtney Vaccher (C)