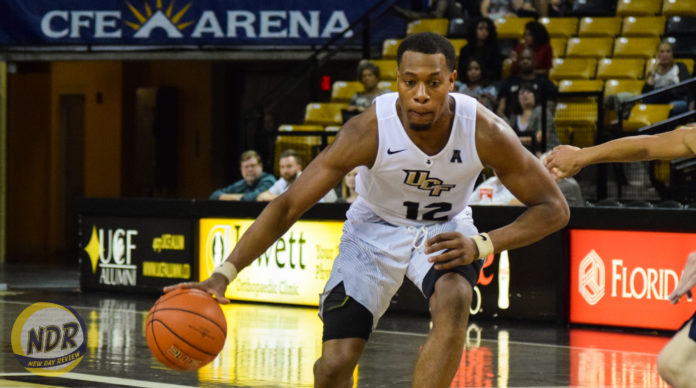 Game Recap
ORLANDO, Fla. – When it comes to the 2016-17 college basketball season, the University of Central Florida isn't used to losing. That's partly because the Knights are shooting 47.7 percent from the field. But on a night when the Knights shot just 32.7 percent, UCF (7-2) lost 58-49 to the University of Pennsylvania (4-5) at CFE Arena Monday night.
But for Knights head coach Johnny Dawkins, the poor offensive performance wasn't what he was most disappointed about.
"I've tried to tell our guys all the time [that] we win on the defensive end," he said after the game. "That's our identity, and we have to stick to that. And I thought tonight—it wasn't the shots we missed that hurt us as much as we had a number of defensive lapses where we lost focus, we weren't in the right places based on what the game plan was saying. So I'm more disappointed in that than the missed shots actually."
After Matt Williams' three-pointer pulled the Knights within four with 2:15 to play, consecutive baskets by Penn's AJ Brodeur and timely free-throw shooting closed the game out for the Quakers. Tacko Fall, who played 35 minutes Monday, only played 35-plus minutes in one other game: the 67-57 loss to the Villanova Wildcats.
"We would like to extend [Fall's] minutes because we think he should be able to play more and more minutes, so he's developing in that area," Dawkins said. "He's developing in that area. He's understanding how to get his second wind when he's out there, continuing to play through some fatigue."
For Fall, though, fatigue isn't an excuse to give up two late-game buckets.
"I can't make excuses," Fall said after the game. "It was the end of the game, and we had to make sure they just don't build a lead. And I was just a step slower every time. Just got to do a better job next time."
Fall finished shooting 8-for-8 and recorded 17 points and 17 rebounds.
Tank Efianayi sparked the Knights with a personal 8-2 run that put the trailing Knights at a 42-35 score. This  came after Efianayi's scoreless first half that saw only Fall and Williams record field goals. Efianayi finished 1-for-11 from the field, but it's not a concern for Dawkins.
"I'm big on doing what you do in practice," Dawkins said. "I never want my guys to be afraid to shoot the basketball. That's the one thing, if you look at my history as a player, as a coach, I want my players to always believe in themselves and be able to go out there and take the shots that they can make… I'd be more disappointed if they turned them down, to be quite frank."
UCF's defense was exploited mostly from beyond the arc. Eleven of the Quakers' 21 field goals were three-point shots. Penn finished 11-for-28 from three and 21-for-57 from the field.
"Our whole emphasis was to deny the three ball from them because…half their shot attempts are usually threes," Dawkins said. "They did a very good job of executing. That's why I said to give them credit to find the looks that they had. We've typically been a very good defensive team on the three-point line… So, very disappointed in that."
Player of the Game: Sam Jones
Penn's three-point shooting was led by Sam Jones' team-high 15 points. Entering Monday's game, the junior forward shot 31.3 percent (5-for-16) from three-point range. Jones shot only threes in the win, going 5-for-10 on the night. His first-half triple at the 50-second mark ended the Knights' short-lived lead that they never reclaimed.
What's next?
The Knights will travel to face the George Washington Colonials on Thursday at 7 p.m.
Scoring
| | | |
| --- | --- | --- |
|   | 1st Half | 2nd Half |
| University of Central Florida | 24 | 30 |
| University of Pennsylvania | 28 | 25 |
Statistics and Starting Lineups
Team Leaders
| | | |
| --- | --- | --- |
|   | University of Central Florida | University of Pennsylvania |
| Points | Tacko Fall, Matt Williams (17) | Sam Jones (15) |
| Rebounds | Tacko Fall (17) | Matt Howard (9) |
| Assists | Tank Efianayi (2) | Darnell Foreman (4) |
| Blocks | Tacko Fall (1) | AJ Brodeur (4) |
| Steals | A.J. Davis (2) | AJ Brodeur (3) |
| Turnovers | Tank Efianayi, Nick Banyard (3) | Darnell Foreman, Caleb Wood, Devon Goodman (2) |
| Minutes | Matt Williams (39) | Matt Howard (37) |
Team Statistics
| | | | | | | |
| --- | --- | --- | --- | --- | --- | --- |
| | Points | Rebounds | Assists | Blocks | Steals | Turnovers |
| University of Central Florida | 49 | 44 | 6 | 1 | 5 | 17 |
| University of Pennsylvania | 58 | 32 | 13 | 4 | 5 | 9 |
Shooting Percentages
| | | |
| --- | --- | --- |
| | University of Central Florida | University of Pennsylvania |
| FG% | 32.7% | 26.9% |
| 3FG% | 27.8% | 27.3% |
| FT% | 58.8% | 57.1% |
UCF starting lineup: A.J. Davis (G), Matt Williams (G), Tank Efianayi (F), Nick Banyard (F), Tacko Fall (C)
Penn starting lineup: Darnell Foreman (G), Matt MacDonald (G), Matt Howard (G), AJ Brodeur (F), Sam Jones (F)