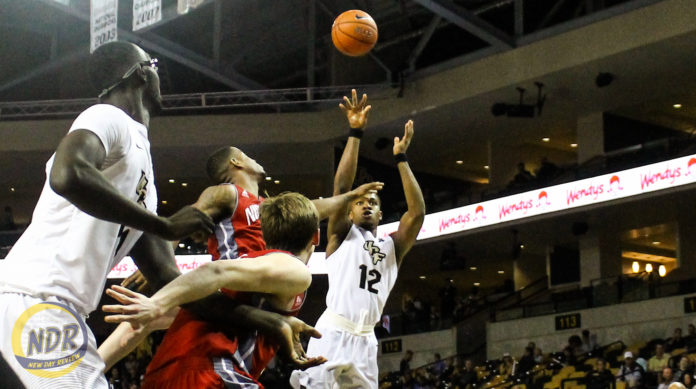 Game Recap
At times, it looked like the one-loss University of Central Florida would lose to the one-win University of Maryland Eastern Shore. But late three-point shooting by the Knights helped  UCF (7-1) to a 76-58 win over UMES (1-9) Saturday at CFE Arena.
"The one thing I saw in Maryland Eastern Shore was a team that was going to compete for 40 minutes," UCF head coach Johnny Dawkins said after the game. "And us having to make some adjustments based on B.J. [Taylor] not being out on the floor for us was going to make for a game where we had to work together and come together to be successful. So I'm really proud of our guys against a team that I thought was very scrappy. They played unorthodox, and I thought our guys responded well."
In a game full of big runs, none was more important than the Knights' 14-1 run that put UCF up by 20 late in the second half. Twelve of those points came courtesy of three Matt Williams three-pointers and one from Tanksley Efianayi.
"Coach treats us like mature guys, so he gets in the huddle, he tells us something," Williams said after the game. "We respect Coach Dawkins to the utmost. So anything he says, we just go out and try to do the best. He gave us a message in the huddle, and he let us know that we gotta pick it up, so we handled it like mature guys."
Williams finished 6-for-14 from beyond the arc while Efianayi was 1-for-4 from three.
After a dominating first half that saw the Knights up 37-25, the Hawks found new life early in the second half. UMES went on an 11-7 run, cutting the Knights' lead to single digits. UCF head coach Johnny Dawkins' ensuing timeout helped the Knights maintain a cushion that never saw the Knights' lead drop below seven points.
"I really wanted our guys to understand the type of game they were in," Dawkins said. "Because I had told them in preparation for this game that Maryland Eastern Shore is a type of team that's not gonna go anywhere. If you have any letup, they're a team that can respond… I really wanted them to go back and rethink what I said to them about our preparation…and I thought our guys did respond.
"After that timeout, I thought we refocused. We did on the defensive end, and we turned that into some good offense."
The Knights broke away to a 12-point halftime lead courtesy of two big runs that kept them ahead. It began with an 11-0 run that was capped off by a Nick Banyard steal and tomahawk jam to begin the game. The Hawks then came within striking distance after a Tyler Jones layup put UMES down by only one at 16-15. UCF responded with a 14-3 run that included three-pointers from A.J. Davis and Williams.
Player of the Game: Matt Williams
Williams' performance from deep has been admirable this season. Before Saturday's win, Williams was shooting 37.7 percent from beyond the arc on nearly nine attempts a game. In Saturday's win, his three-point shooting kept his team ahead and helped solidify the end result in the final, game-defining run of the game.
Williams also notched his first-career double-double.
"It felt pretty good," Williams said. "I just want to say it comes from my teammates. I had a lot of my teammates on the bench telling me, 'Way to rebound,' and stuff like that. So, it just came from the confidence of my teammates, and I just went up there and tried to do my best to rebound."
Williams finished with 10 rebounds and a game-high 23 points.
What's next?
UCF will host the University of Pennsylvania on Monday at 7 p.m.
Nick Banyard Finding Comfort
Joining the team in the fall, Banyard was the last teammate to join the 2016 Knights squad. Though, that hasn't stopped him from becoming an essential part of the team. Banyard appears to be more open and emotional when it comes to his presence on the court. That was epitomized by Banyard's steal and breakaway dunk that capped off an 11-0 UCF run to start the game.
"I love coaching Nick," Dawkins said. "One, because he has such a big heart. And I think it reflected in his emotion, spontaneously, when he made that play… He probably was the most behind of any player in the program. The rest of the guys had got a chance to know me, and our system, and how we're going to practice and what we want to emphasize. So he played catch-up. But to his credit, every day, he would come in, he'd want to do extra.
"And it's great to see a young man get rewarded for his efforts. And so I think his players really respect him for that because they saw how hard he worked to catch-up. I think it's only fitting that they respond in kind by just giving him a lot of love and support."
Scoring
| | | |
| --- | --- | --- |
|   | 1st Half | 2nd Half |
| University of Central Florida | 37 | 39 |
| University of Maryland Eastern Shore | 25 | 33 |
Statistics
Team Leaders
| | | |
| --- | --- | --- |
|   | University of Central Florida | University of Maryland Eastern Shore |
| Points | Matt Williams (23) | Bakari Copeland (16) |
| Rebounds | Tacko Fall (11) | Dontae Caldwell (6) |
| Assists | A.J. Davis (9) | Logan McIntosh (4) |
| Blocks | Tacko Fall (2) | Bakari Copeland (1) |
| Steals | Tank Efianayi (1) | Dontae Caldwell (2) |
| Turnovers | A.J. Davis (6) | Ryan Andino, Logan McIntosh, Derrico Peck (1) |
| Minutes | A.J. Davis (36) | Logan McIntosh (31) |
Team Statistics
| | | | | | | |
| --- | --- | --- | --- | --- | --- | --- |
| | Points | Rebounds | Assists | Blocks | Steals | Turnovers |
| University of Central Florida | 76 | 48 | 18 | 5 | 2 | 16 |
| University of Maryland Eastern Shore | 58 | 30 | 11 | 1 | 8 | 3 |
Shooting Percentages
| | | |
| --- | --- | --- |
| | University of Central Florida | University of Maryland Eastern Shore |
| FG% | 52.9% | 28.4% |
| 3FG% | 42.3% | 28.6% |
| FT% | 61.1% | 70.6% |
UCF starting lineup: Tanksley Efianayi (G), A.J. Davis (G),  Matt Williams (G), Nick Banyard (F), Tacko Fall (C)
Maryland Eastern Shore starting lineup: Ryan Andino (G), Logan McIntosh (G), Dontae Caldwell (G), Bakari Copeland (F), Isaac Taylor (F)