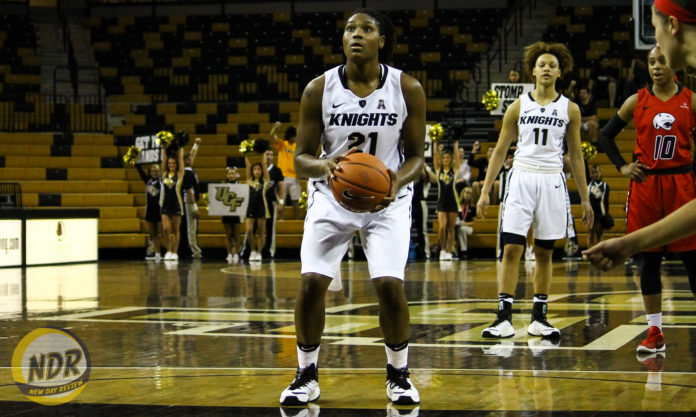 The University of Central Florida (5-1) opened its two-day Thanksgiving Classic with a 49-30 win over the Rider University Broncs (4-1) on Saturday at CFE Arena.
The Knights didn't manage to score until the seventh minute of the first quarter, but that changed when forward Fifi Ndour scored on an assist from guard Zykira Lewis That allowed the Knights go on a 10-3 run, giving the Knights a slim one-point lead entering the second quarter.
"The first three minutes of the game, where we were kind of like, "Ok… are we awake out there?" Then there was a timeout, and I really got after them, and I thought after [Lewis] came off the bench, she really brought a lot of energy and got after them in the press, and we really got up and after them." UCF head coach Katie Abrahamson-Henderson said after the game.
Throughout the second half, the Knights maintained a double-digit lead. That was due largely in part to UCF dominating all aspects of the game. UCF out gained the Broncs 31-16 in rebounds, 4-3 in assists and 8-4 in steals.
Redshirt senior Joslyn Massey tallied a game-high 18 points. She also totaled seven rebounds and four steals.
"The starting thing doesn't matter to me, but she's been a great leader for us," Abrahamson-Henderson said. "She's such a vocal leader. She's really bought into the defense, especially in the half-court, and she really gets after them…and her leadership out there is just really important for us. If I could play her, Fifi and [Tolulope Omokore] all at the same time, we would be outrebounding people by 50."
Abrahamson-Henderson also mentioned how she was very pleased with the team's defensive press and trust in one another.
"I could tell they were really getting up and after it, and that's because we were pressuring the ball wherever the ball was and trusting the people behind us would have our backs," she said.
The Knights find themselves back on a two-game winning streak. They will host the Austin Peay Governors on Sunday at CFE Arena at 2:30 p.m. in UCF's Thanksgiving Classic finale.