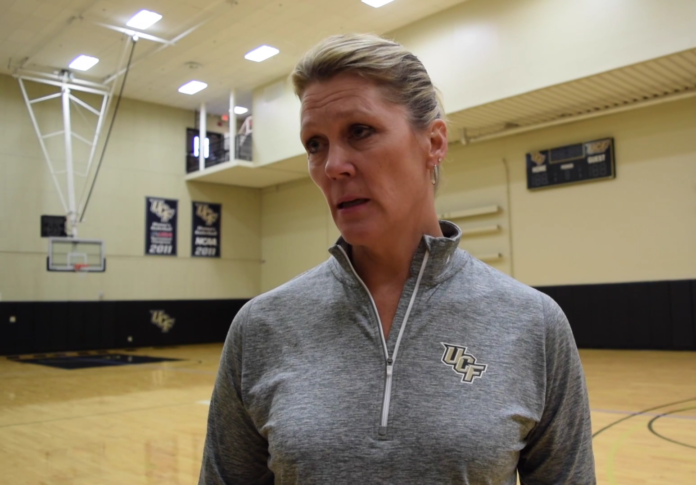 Notes and Quotes: UCF Women's Basketball (1/9)
ORLANDO, Fla. – The leaders of the University of Central Florida women's basketball team will tell you that the start of a new season on Friday doesn't make them nervous. For first-year Knights head coach Katie Abrahamson-Henderson, she's never nervous.
"I never get nervous because I'm always in attack mode, and so I want to feel the same way," Abrahamson-Henderson said after practice Wednesday. "I don't think they will be nervous because I won't be nervous. Because we're ready to play somebody else, and now we just gotta go out there and play the other team."
Team captain Aliyah Gregory said the reason there aren't any nerves is because of the preparation the coaches have put them through.
"No, I'm not nervous," Gregory said after practice Wednesday. "I think our coaches have prepared us very well from starting in the summer until now. So, everybody is very confident in what they can do and what we can do as a team. So, no nerves for us."
But in the Knights' season-opener against the Florida International University Panthers, there might be cause for worry. In the all-time series against the Panthers, UCF is 10-29 against the Miami team. But the Knights aren't worried about records; they just want to start playing meaningful games.
"I'm excited, of course," Gregory said. "We've been practicing for like a month and a half now, so playing against each other every day kinda gets boring, so it's going to be exciting to actually go to war with each other and be able to compete against somebody else."
Friday's game is also more than just the season-opener, too. For senior guard Zykira Lewis, it's also an opportunity to take some bragging rights.
"[It's an] in-state rival, so it'd be good for us," Lewis said after practice Wednesday. "We get bragging rights if we win."
That sentiment started with Abrahamson-Henderson.
"[I]t's a Florida school, and so that's a problem because all the Florida schools wanna win," the head coach said. "It's an in-state rivalry, so I think that's the biggest thing that I have to get across to my team."
As for the leadership of this team, Abrahamson-Henderson has been impressed with Gregory and junior forward Fifi Ndour. For the first-year UCF head coach, neither player gets the recognition she thinks they deserve.
"[T]hose two are gonna just bring so much to us, and if we can get [Zykira Lewis] to continue to play like Zy, then now we get three powerhouses," Abrahamson-Henderson said. "But it's gonna be really hard to guard us because I think everybody can contribute, everybody can do things offensively for us, and we've really put a really good system where they can score and do the things that they're great at and not make them do things they're not great at. And so once I think our team really feels even more comfortable in our offensive sets, you're gonna see just a fun, fun game."
Lewis is perhaps the most coveted of the three players. Since the 2013-14 season, Lewis has amassed 1,356 total points, fifth-most in UCF history. Last season, she averaged 14.2 points per game.
Gregory posted 10.1 points per game as a sophomore last year. Ndour tallied 6.9 points per game and 6.2 rebounds per game last season.
"Well the mission is here. The mission inside is our theme, so the mission is here," Abrahamson-Henderson said. "It's right on top of us…but I think we're getting to the point where we really want to play real games. So we're really excited."
The Knights open their season on Friday at FIU Arena at 5 p.m. On Sunday, they will host the University of South Alabama Jaguars at 2 p.m.