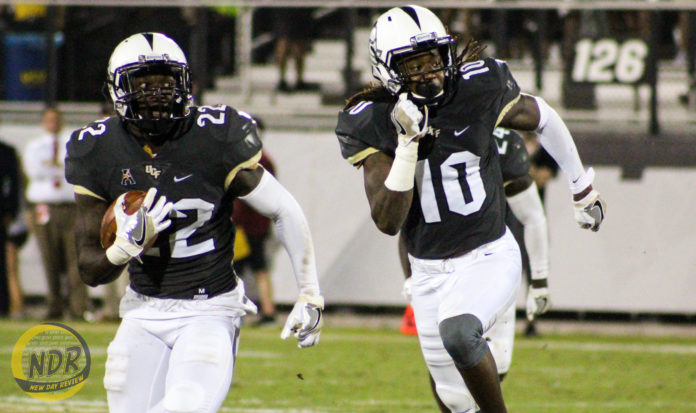 1. Bowling Knights
While senior cornerback Shaquill Griffin has participated in two bowl games since joining the University of Central Florida in 2013, he's bowled in a lot more games with his teammates.
Every Thursday night, Shaquill, his twin brother redshirt junior linebacker Shaquem Griffin and a mix of seniors (redshirt senior linebacker Mark Rucker, senior quarterback Justin Holman, senior cornerback D.J. Killings) and underclassmen (redshirt sophomore cornerback Kyle Gibson and sophomore running back Taj McGowan) share a lane at Boardwalk Bowl for a friendly competition.
"That's something that I have to go do," Shaquill said. "I feel like I don't feel right if I don't go every Thursday. That's one hobby that I love doing."
The group places a bet with the winner taking home a Publix sub from each participant. While it may seem a little excessive, Shaquill believes it's all part of getting his teammates, especially on defense, more involved.
"It's part of a great atmosphere to get the players around," he said. "You'll see somebody walking around with six Pub Subs. It's so funny that we came up with that."
Shaquill's personal-best was when he bowled a 215-point game on about eight strikes and the rest spares. His average game tends to lie between 160 and 170 points.
"[For some of the underclassmen], they're new to it, and I think they're scared right now," Shaquill said jokingly. "They're nervous about the competition. But after we leave, I hope it's something they continue to do."
2. Film Fanatic
Another hobby Shaquill can't live without is going to the movie theaters to catch the latest blockbuster release.
"I always gotta catch the newest movie," he said. "I feel like I'm never behind watching a movie."
It's been a tradition he and his brother Shaquem grew up loving to do. Shaquill's girlfriend feels like he's there too often.
"I know my girlfriend don't like it too much, but I love it," he said. "She's like, 'You go all the time. That's all you wanna do is go to the movies. Let's go somewhere else.' But I just love watching movies, that's what I love to do. [My brother and I are] definitely up-to-date."
Shaquill's favorite genre is action movies, and most recently, he's become a fan of Suicide Squad because of Will Smith's adaptation of Deadshot. He'll always stop to see the newest Smith and Denzel Washington movies. He also can't wait to see xXx: Return of Xander Cage after having a bunch of his friends send him the trailer.
"I love those kinds of movies," he said. "[Especially], something I have to see more than one time."
3. Fostering a Love for the Game
At an early age, Shaquill knew he had a natural talent for football. However, when asked who he gives credit to for his ability, there's only one answer: The St. Petersburg native's biggest inspiration is his father. Terry Griffin has always pushed his son Shaquill throughout his football journey to strive to become better.
"He never would say, 'Oh, you're good, you're great,' until you earned it," he said. "That's just the way my dad is," Shaquill said." He's gonna be straight-up and totally honest with you, and people need that."
From enhancing his press techniques to becoming a more vocal leader, now it's been about the little things for Shaquill.
"It's easy to lead by example, but sometimes the team needs to hear you," he said. "I just try to find different ways to do something more to help my team. If I have to play a different position, it doesn't matter."
4. Gamers Off the Field
Following a suggestion by a close friend, Shaquill made his first gaming console purchase while at UCF.
"I never really played games like that, but he said, 'Just buy one, you might fall in love with it,'" Shaquill said. "In college, you get bored, and a system really helps."
That boredom has gotten so bad that Shaquill and a group of his roommates got together to purchase an Xbox for every room in their home—three bedrooms and a living room. While it might seem a little excessive, Shaquill said it's something they're big at.
"It's gotten to the point where every room you're in, if you wanna play by yourself, you could," he said. "When I thought about it, '[Was] it too much?' I was like, 'Nah, it's alright.' And nobody believes it until they see it."
5. Relaxed Preparation
While redshirt senior linebacker Demeitre Brim is known for keeping himself relaxed by listening to gospel music or R&B before a game, Shaquill said Brim followed in his footsteps.
"He must have heard me play my music," Shaquill said, who likes to listen to classic slow jams and smooth, old-school grooves. "I've been doing it since high school, and I'll be so hyped up and calm by listening to that type of music that I'll be perfect for the game."
Griffin said the soothing beats helps to put him in a nice mood. And similarly to Brim, he said it's a bad combination to rush onto the field overhyped before the start of a game.
"You wanna be cool, calm and collected for each snap," Shaquill said. [Otherwise], you're overdoing it."