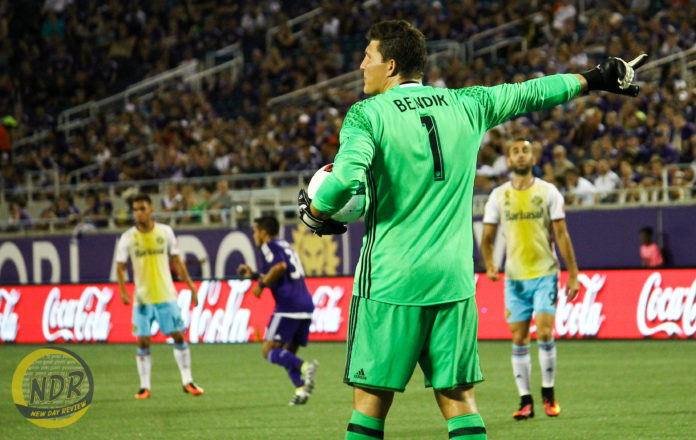 Notes & Quotes: Orlando City SC (10/13)
Orlando City SC has a chance to play spoiler when they face the Philadelphia Union on Sunday. For Lions head coach Jason Kreis, though, the spoiler drama is simply a side story, an insignificant distraction to his main goal in these final two games: improving.
"The part about the spoiler stuff for me, that's unimportant," Kreis said after training Thursday. "From my point of view, the performance of our players, what we put into the game, how willing we are to showcase ourselves and to represent our fans the right way, those are the important things for me."
City goalkeeper Joe Bendik values these final two games even though they don't carry much weight when it comes to end-of-season results. With the Union in sixth place and only three points ahead of the New England Revolution, Bendik expects Philadelphia to have a playoff atmosphere.
"It's going to be like a playoff atmosphere," Bendik said. "All the games are, this late in the season, especially when a team needs to pick up points. For us, it's about playing with pride and trying to spoil."
The Lions appear to almost be at full strength for Sunday's matchup. There was a possibility that midfielder Kevin Molino would face disciplinary action by the club after he was dismissed from the Trinidad and Tobago men's national team. According to a report by MLSSoccer.com's Sam Stejskal, Kreis spoke with Molino and determined it was a national-team issue to be settled between Molino and Trinidad and Tobago head coach Stephen Hart.
"Completely shocking, from my point of view, that somebody with Kevin's mentality and work rate and humility would be doing something like that," Kreis said.
Unfortunately for the Lions, though, defender Brek Shea's foot injury is not progressing well. Shea sustained a foot injury in a match against Columbus Crew SC on Sept. 17.
"[His progress] is not good," Kreis said. "He's had pain, hasn't been able to walk without a limp. So, [Wednesday] went in for an injection, a cortisone injection, to see if we can get rid of some of the pain, some of the swelling and get him at least back to a place where he can be training."
As for the matchup itself, the Lions have a chance to equalize the series after losing a game and drawing one with the Union. Orlando City lost their first game of the season to the Union in Philadelphia on a go-ahead, free-kick score in the waning minutes.
"For me, it's an extremely hard-working team; a team that is very dangerous with the numbers of players that get involved in their attacks with how direct they can be, with the danger they present in opponents' penalty boxes," Kreis said. "We see from the prior matches that Orlando City's played against this team that there's been some goals that's been scored against us just due to balls being played in the box, and pandemonium and chaos happening there."
After Sunday's match, the Lions will return home to Camping World Stadium for one final game at that venue before moving to its own soccer-specific stadium for the 2017 season. The final home match will be against D.C. United on Sunday, Oct. 26 at 4 p.m.
Sunday's game in Philadelphia is set to start at 3 p.m.