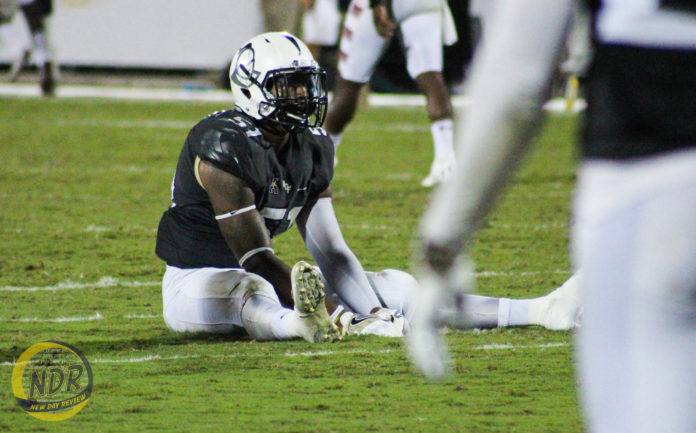 Game Recap
ORLANDO, Fla. – Within a matter of 32 seconds, Temple University marched 70 yards down the field to stun the University of Central Florida on senior quarterback P.J. Walker's eight-yard touchdown pass to sophomore wide receiver Keith Kirkwood in the game's final seconds.
After trailing all night, the Owls (4-3, 2-1 in the American Athletic Conference) held the Knights (3-3, 1-1 in AAC) scoreless in the second half and rallied from an 18-point deficit to complete a 26-25 comeback victory to spoil UCF's homecoming on Saturday at Bright House Networks Stadium.
"I'm sick to my stomach," UCF head coach Scott Frost said. "We let that one get away… Those things can't happen. We've all got to do a better job finishing."
On the final drive, Walker completed three consecutive passes of 20, 16 and 26 yards to press UCF up against their own eight-yard line, freezing the clock at 10 seconds before opting to run their hurry up offense instead of spiking the football.
Walker's last-second throw, which sailed slightly high to the back of the end zone, landed just in Kirkwood's area for a timely leap and catch, as the Owls receiver secured both feet in bounds.
To prevent a miscalculated extra-point returning for a safety, Temple kneeled on a two-point attempt. On the ensuing kickoff, UCF true freshman running back Adrian Killins bobbled a squib kick before being trampled by a pile of Owls tacklers.
The Knights reminisced on the painful executions that also shorted them in a double-overtime home loss to the University of Maryland on Oct. 1.
"We let two get away from our building," Frost said. "We had so many chances to put the game away… It was a learning process for all of us, and those are all lessons you don't want to learn."
In Frost's game-week press conference, he predicted big plays would play a dynamic role against the reigning AAC East Division champions, and that prediction held some truth.
The Knights jumped out to a 7-0 lead with their opening drive on McKenzie Milton's throw to sophomore wide receiver Tre'Quan Smith, who found separation from the trailing Owls cornerback for a 55-yard touchdown. UCF converted on their only two-point conversion attempt.
After Owls senior running back Jahad Thomas caught a 28-yard screen pass for one of his two touchdowns to draw his team within a point in the first quarter, the Knights padded on their lead with 17 unanswered points.
With the score at 18-7, Milton kept the ball on a read-option play for a 63-yard sprint down the middle of the field.
But Temple slowly chipped themselves back into the game, holding UCF to a scoreless second half. The Owls' running game, which went for 197 yards for the night, helped Temple slow down the pace of the game. That helped Temple own a seven-minute drive to open the third quarter. The Owls' two field goals in the third quarter by true freshman walk-on Aaron Boumerhi brought them within five points of the Knights.
"We did get tired. We were on the field for quite a while," Knights linebacker Demeitre Brim said. "It's something we always prepare for… We practice against our offense daily with the tempo."
The Knights had a chance to thwart any hope Temple had at a comeback on true freshman defensive lineman Trysten Hill's bull rushing sack on fourth and 18 that gave UCF possession with under 1:41 remaining to run out the clock.. But UCF opted to run more time off the clock on a third-and-11 situation with a Dontravious Wilson run. The Knights finished 2-for-12 on third down and 0-for-2 on fourth down.
"Drives started getting stagnant," Milton said. "We shot ourselves in the foot with dumb penalties…and we just couldn't finish drives tonight in the second half."
On one of those drives, senior receiver Taylor Oldham dove for a near-touchdown grab to close the third quarter on third down. On the next play, redshirt sophomore Matthew Wright missed a 43-yard field goal that hung wide right to keep the Knights scoreless in the second half.
Milton finished with 210 passing yards on 13-for-22 passing with three touchdowns (two passing, one rushing) but was sacked seven times by a Temple defense that was No. 3 in the AAC in total defense, allowing 320 yards per game entering Saturday's matchup.
Thomas led Temple with 120 yards rushing, and sophomore running back Ryquell Armstead added another 78 on the ground.
"They've come too far to quit now. One more play here and there, and this team can be 5-1," Frost said. "Nobody would've said we could be 5-1 when we started this thing… We're close to being a really good team, and it won't be very long around here before we're winning all these games."
Player of the Game: Jahad Thomas
The senior running back led all rushers in Saturday's game with 120 yards and two touchdowns (one receiving) on 27 carries. So far this season, Thomas has scored six rushing touchdowns and two receiving for 237 yards through five of seven games he's been available. He's also recorded at least two touchdowns in each of those contests. In 2015, he rushed for 199 yards and three touchdowns on 31 carries during Temple's 30-16 win over UCF.  He became the eighth Temple player to rush for 2,000 yards in his career.
What's next?
UCF hits the road again to take on the University of Connecticut (3-4, 1-3 in AAC) for their third AAC game of the season and their second Civil Conflict showdown. The Huskies were defeated by the University of South Florida 42-27 on Saturday.
Limited Rushing Attack
What has been a team strength all season long, the Knights' rushing attack was subdued by Temple's rushing defense, which ranked No. 70 in the nation in yards allowed per game (162) prior to Saturday's matchup.
UCF, which is averaging 232 rushing yards per game, could only muster 86 rushing yards on 36 attempts (2.4 yards per average). It was their first game this season that they were held under 100 yards rushing. The Knights' second-lowest effort was 195 yards on the ground against Maryland.
"They got two outstanding ends that can rush the passer," said Milton, who had the Knights' biggest run but lost 69 yards on seven sacks for a net gain of nine yards. "I put some of it on me. I probably should've been a little more calm in the pocket sometimes in stepping up."
Through six games this season, the Knights have leaned heavily on their rushing attack, which has accounted for 16 of their 25 touchdowns (64 percent). Wilson, who leads UCF with 314 rushing yards and eight total touchdowns, finished with his lowest outing: 15 carries for 35 yards.
"We threw it well on them early and tried to keep throwing, but we got sacked a bunch," Frost said. "We never really found our rhythm in the second half."
Part of the rhythm struggles were due to UCF's 12 penalties for 110 yards, the most they've given up in six years since Oct. 10, 2005 against Tulane University. It resulted in several necessary passing plays on third-and-long situations.
"We've got to play smarter," Frost said. "Once we had 25 points and had the ball on their side of the 50 four or five more times, either a penalty or a dumb play took us out of there."
The Knights also fumbled three times, which were recovered but broke momentum.
"I think it was just little things," Milton said. "Maybe a missed read here or there. Maybe not converting a third-and-short. Maybe not converting a third-and-five. It's football. If you don't convert on third down, you're not going to win games. If you get yourselves backed up to third-and-12 with a dumb penalty, it's hard to convert."
Scoring
| | | | | |
| --- | --- | --- | --- | --- |
| Time | Team | Play | PAT | Score |
| Q1, 13:49 | University of Central Florida | McKenzie Milton to Tre'Quan Smith, 55-yard pass | Nick Patti to Aaron Cochran, 2-yard pass | 8-0, UCF |
| Q1, 9:49 | Temple University | P.J. Walker to Jahad Thomas, 28-yard pass | GOOD | 8-7, UCF |
| Q1, 3:52 | University of Central Florida | Matthew Wright, 42-yard FG | n/a | 11-7, UCF |
| Q2, 13:45 | University of Central Florida | McKenzie Milton to Adrian Killins, 16-yard pass | GOOD | 18-7, UCF |
| Q2, 12:34 | University of Central Florida | McKenzie Milton, 64-yard run | GOOD | 25-7, UCF |
| Q2, 2:35 | Temple University | Jahad Thomas, 7-yard run | GOOD | 25-14, UCF |
| Q3, 7:39 | Temple University | Aaron Boumerhi, 32-yard FG | n/a | 25-17, UCF |
| Q3, 3:02 | Temple University | Aaron Boumerhi, 47-yard FG | n/a | 25-20, UCF |
| Q4, 0:01 | Temple University | P.J. Walker to Keith Kirkwood, 8-yard pass | 2-point, FAILED | 26-25, TU |
Statistics
Passing
| | | | | | | |
| --- | --- | --- | --- | --- | --- | --- |
| Player | Team | Completed | Attempts | Yards | TDs | INTs |
| McKenzie Milton | University of Central Florida | 13 | 22 | 210 | 2 | 1 |
| P.J. Walker | Temple University | 12 | 24 | 167 | 2 | 1 |
Rushing
| | | | | | | |
| --- | --- | --- | --- | --- | --- | --- |
| Player | Team | Carries | Yards | Average | TDs | Long |
| McKenzie Milton | University of Central Florida | 10 | 9 | 0.9 | 1 | 63 |
| Jahad Thomas | Temple University | 27 | 120 | 4.4 | 1 | 45 |
Receiving
| | | | | | | |
| --- | --- | --- | --- | --- | --- | --- |
| Player | Team | Receptions | Yards | Average | TDs | Long |
| Tre'Quan Smith | University of Central Florida | 3 | 103 | 34.3 | 1 | 55 |
| Ventell Bryant | Temple University | 5 | 94 | 18.8 | 0 | 26 |
| Jahad Thomas | Temple University | 3 | 33 | 11.0 | 1 | 28 |
| Keith Kirkwood | Temple University | 2 | 19 | 9.5 | 1 | 11 |