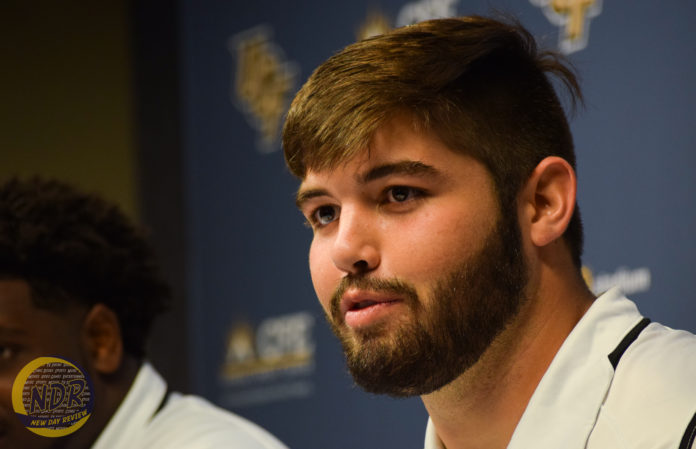 Oct. 12, 2016 at Wayne Densch Sports Center
Availability: LB Demeitre Brim, LB Mark Rucker, RB Taj McGowan
Temple Owls senior running back Jahad Thomas rushed for 199 yards and three touchdowns on 31 carries in last year's 30-16 win over UCF.
They have a lot of weapons. No. 5, Jahad Thomas, I think he's a really good player. I think he's probably one of the best backs in our conference. We've got to get a game plan together to stop him and make them uncomfortable in what they do… Temple is the defending champions. Like I said, they have a lot of talent. They just lost a game to Memphis, but they're still a talented team. We've been focusing on what we can do to make them feel uncomfortable and put them into situations that will put us advantage to win this game. It's been a very good week. Everybody has been locked in. We put the Tulane game aside and we're focused on trying to get the win against Temple this week.
The Knights have revitalized themselves from a winless 2015 season with three wins under their belt so far this season.
[It's been] a lot of fun. Last year, I thought about not even playing football. This year has been a lot of fun. The coaches have made it fun, the teammates. It's just a different bond around here. I'm enjoying, trying to take every week, every practice in as much as I can… The biggest difference has been us playing well. Things are always good when you're doing good. Even when stuff hits the fan, we always come together to see what we can do to fix things. Nobody is pointing fingers or blaming each other over mistakes in the game. We try to put each other in good situations to be successful this year.
Knights linebacker Mark Rucker is suspended for the first half against Temple. He'll be in the locker room watching the game and warming up on an exercise bike.
We've got to step up. Ruck, he's his own player. He does things that a lot of us can't do. We're going to have to step up, fill in the gap and make plays. Then when Ruck gets to come in the second half, I know he'll be hungry to do the same things he's been doing.
The Knights opened American Athletic Conference play with a victory over East Carolina University two weekends ago and could face conference championship implications in their last regular-season game against the University of South Florida (5-1). The Bulls lead the East Division with a 2-0 conference record.
We always say, "Any given Saturday." That's how it is in college football. Upsets happen all the time. But you can't count any time out based on their record. Even when we went 0-12 last year, we gave some teams some scares. It is wide open. We control what we can control. When we get to our opponents, we'll try to have the best game plan to come away victorious.
UCF head coach Scott Frost acknowledged this week that coaching his team to hit between shoulders and knees is a hard rule to teach.
You have to focus on attacking players in the strike zone. Pretty much staying away from their upper body. It's kind of hard, it's kind of difficult for most players, especially taller linebackers and defensive backs. At the same time, it's all about player safety. You've got to do the best you can and hopefully still play aggressive and not get called for targeting.

Yes, it does [make you more hesitant]. Especially watching football on TV and stuff. You see some targeting calls. Some you may not agree with, so you've always got to watch what you do and how you hit. It kind of makes you think about it, but, still, you don't want to take away from playing your game. Hopefully the outcome will be different.
UCF forced five turnovers against ECU in Week 5, including a batted ball by redshirt freshman defensive lineman Brendon Hayes, which led to an interception returned for a touchdown.
It was [a] real big [mental boost]. It was huge for us because we emphasize that every week, especially for that week. [Defensive coordinator Erik Chinander] told us we have to help our offense, and, earlier throughout the week, he mentioned that a lot of times. So when we saw it, it actually made us feel real confident in what we're doing in practice. The coaches and players, everybody knows what they're supposed to do. Just to see it happen on the field is very good for us and makes us feel successful.
The Knights total defense has improved from 114th last season to 34th through five weeks this season.
As a defense, as soon as we step on the field, even for warmups, we're ready to go. That's just our mindset and our motto on that side of the ball. Our offense, we know at any given time they can explode for 30, 40 points. Sometimes it may take until the fourth quarter. So, if they score in the fourth quarter, we have to stop the opponent from scoring in the first three quarters so the offense can win the game for us.
### It's been almost a month since the Knights last home appearance—a double-overtime loss to the University of Maryland.
"I'm excited to play at home. It doesn't seem that long, honestly. We're excited to get back here in front of our fans and play in front of everybody, especially with it being a night game on ESPNU. Everybody is hyped up about it. Everybody's family is coming. We're excited to get back in the Bounce House."
UCF enters Saturday's matchup as a favorite (57.9 percent chance to win), according to ESPN's Football Power Index.
I feel like we're gaining some respect across our conference and across college football, but, at the same time, we don't view ourselves as the team that's going to go in and win. We have confidence in that, but we view ourselves as an underdog so we can go out there and fight. You never want to get big-headed about anything. You go out there and think you can beat everybody, and it's not going to happen like that. You have to prepare like you're going to be in a dogfight.
Chinander trusts Rucker and redshirt senior linebacker Brim's input to make defensive-alignment changes.
It's been pretty fun. It's just brings me back to the high-school years. I had to take control of the defense, but it's good to have help out there with Brim being my roommate and just being my friend on and off the field. It's easy to communicate with him. He makes the calls. We both make calls, and we're both adjusting. It's just fun. Even being new on it, [coming] from special teams, it was a pretty difficult challenge. I got adjusted in the spring. And [in the] summer and in camp, I had to get adjusted to it, too.
Knights linebackers coach Jovan Dewitt said there's a difference in the leadership qualities of Rucker and Dewitt, saying, "Brim is the kid we have out there running the show, and Rucker is the good echo guy."
Nah, see I know what he means, but in our eyes, sometimes we correct each other; we piggy-back [off] each other. He makes mistakes; I make mistakes. [Like], if we call a strength to the left or something, and it's a mistake, I change it to the right, and [Brim] will be like, "Good job, good job." We compliment each other. That's just the best way to go. [Brim does] call the plays most of the time. He does call the shots; he's a smart guy. Me being not the brightest color in the color box, I follow [Brim's] lead sometimes.
The Knights have won four conference titles as a program (two in Conference USA, two in the AAC).
We just take it game by game. But I still think about [former UCF head coach George O'Leary], and he said, "Our main goal is to win the AAC championship." That's the main goal, and that's all we're looking forward to. That's all we want to win—to get us into a bowl game. But, we're taking it game by game, even though it's in the back of our mind

[Winning the AAC title in my senior year] would be amazing. It would be great. And I'm just gonna bring my teammates with me to just be a good leader and teach them that the bowl game [experience] is fun. Getting that big ring; I want four rings now. I got three already, now I want four; and I just want to put them up on my wall.
Former Knights and Detroit Lions running back Kevin Smith transitioned into a new role on the UCF athletic staff as a quality-control administrator this season.
He's helped us so much because he's played in the college level and the pro level. He can give us insights, and he's actually been in the holes and seen the reads. He can tell us what cuts to anticipate. It helps us on the field because once he lets us know, we go on the field and we're like, "Oh, we need to look for this, we need to look for that." And because he's got in-depth knowledge about it, that just makes it easier for us to run the ball… We understand more as far as blocking and concepts and where we should hit it. It's easier to read the holes now.
UCF carries a four-man rotation at running back that features two true freshmen (Adrian Killins and Jawon Hamilton, a sophomore (McGowan) and a senior (Dontravious Wilson).
Oh, it's great. Because when they make a good play, it's not like we're down about it. It's like, "Okay, you made good play, now it's time for me to make a good play." We just try to take turns like that. We just feed off of each other, so that's a great thing… From our standpoint, we always say that the train starts with us. It starts up front, but we've got to run the ball to pass the ball, and I feel like we're doing our job so far. We just got to keep doing what we're doing.
Wilson leads all Knights running backs with 61 carries, 279 rushing yards and eight total touchdowns.
We all look at him as a big brother. He's really stepped into that leadership role, and is really taking control. When he goes out there, he's a quiet guy. He's just gonna show you that he's gonna put a 100-percent effort, and that just makes you wanna go harder. It's been great seeing him develop into this leader.
Temple has the 39th-best scoring defense, allowing 22.7 points per game.
We're always trying to make adjustments; we're always watching film. But from our standpoint, there's not a big adjustment. We're just gonna keep doing what we're doing. If it's not broke, don't fix it. We're gonna keep running the ball the way we've been doing it. It's not a big change.
UCF look to recapture momentum following back-to-back road victories and an unexpected bye week, courtesy of Hurricane Matthew.
It wasn't hard to do at all. We had those couple of days off, we came out, and we've been practicing like we haven't missed a beat. Like, I'm playing probably even harder than before. We're just hungry to get out there and get some more wins. That's all it is. It just makes us hungrier because we were sad we couldn't play last week. So, we're just gonna take it out on Temple last week.
Oct. 10, 2016 at Bright House Networks Stadium
Availability: HC Scott Frost, DL Jamiyus Pittman, OL Wyatt Miller
HC Scott Frost
The University of Central Florida postponed its Week 6 matchup against Tulane University until Saturday, Nov. 5 due to Hurricane Matthew.
We missed some recruiting days out. I didn't want to…ask the coaches to go out on Friday night to go to high-school football games 'cus I wanted them to be with their family. So we missed some recruiting days on the road. We'll have to make that up as the season goes along.

And for the players, I think the downtime was about what we would've gotten on a regular bye week. What we didn't get was a chance to let them go home for a weekend. Sometimes just being out of here and separated from this for a couple days can rejuvenate you. Our guys are gonna have to get by without that opportunity, and that's too bad. But I think the time off did help their bodies recover.
Monday was UCF's first practice back after ending Wednesday's practice early to hold a team meeting announcing the Tulane game would be moved.
Today's practice was great. Any time you have a few days off, I think your body is a little sluggish. And I saw a little bit of that, but the enthusiasm was really good. I keep saying this. Our guys understand the process and what we're trying to get done now. Every week, they understand it better and come out, and it looks more like we were expecting it to look like. We put a lot of new stuff in today since we had time as coaches. We have almost the entire game plan done for Temple, so they had a lot to digest in a short amount of time, and I thought they executed it pretty well.
The Knights were scheduled to have their bye week during Week 10.
I think you want your bye week about in the middle, ideally. I liked it where it was too, coming off Houston and getting a break before the last stretch run. But when you count fall camp as something that can take a toll on your team; fall camp plus five games is probably half the season or more. So, it's not a terrible set of circumstances for us. We just have to make the best of how it happened.

Our plan is, hopefully, if our guys can store away that game plan in the back of their minds a little bit, then we can have a little bit [of a] lighter practice week in the Tulane week. If they can remember it and it's cleaner, then we'll take a little grind off from that week, too. Every year when you get closer to the end of the year, guys' health and ability to go out and play well is just as important as getting a lot of heavy work done during the week. We're always going to work hard at least two days a week. But as the season goes along, we'll start to shorten things and get the pads off them.
As of Saturday's matchups, the University of South Florida (5-1, 2-0) leads the East Division, and Navy (4-1, 3-0) leads the West Division in the American Athletic Conference. The Knights (3-2, 1-0) are ranked second in the East.
I think this is a really good conference top to bottom. I think any team can win on any given week. I got a lot of respect for Ken [Niumatalolo] and what he's done at Navy. I think that team showed a lot of heart coming off the week before and managing to get a win against Houston. Obviously, Houston is a really good team. Temple won the East [Division] last year, and we got them coming in here. That's what we're focused on. If they're our division champions from last year, then we need to attack and approach this game like we're going up against the best team in our half.
Zach Duval was hired in January as UCF's new director of strength and conditioning for football. Duval departed the University of Wyoming after serving as their director of sports performance last season.
There was a little bit of physical rust coming back from a few days off. We took advantage of a few days off when we were trying to organize our guys and prepare them for the hurricane to get a couple really good lifts in. That's always important in a bye week—to try and recover a little of the strength that you've lost through the course of the season. I think with Coach Duval's help in the weight room, the guys felt pretty good physically today.
The Knights are on a two-game winning streak, defeating both Florida International University and East Carolina University on the road.
I felt like our team was on a roll a little bit. Coming off two road wins, and having a game back home, I felt really good about our mojo. Now with a little bit time off, we got to recapture that. We're still… set to play the same teams that we were gonna play before, it's just in a little different order. So it shouldn't change the outcome at the end. But I felt really good about our momentum, and it's up to us to attack the preparation this week to make sure we continue that momentum.
Temple is No. 3 in the AAC in total defense, allowing 320 yards per game. They also boast the No. 7 red-zone defense.
They're really good on [defense]. I think they're active and aggressive up front. [They] have one defensive end that I think is special and other really good guys up front. They're sound in the secondary. They mix up coverages well. The mark of any good defense, they run to the ball and hit really well. They pursue well, and there's a lot of hats around the ball. So a team like that is going to make you earn what you get.

I watched the [Temple vs.] Memphis game. For the most part, I thought Temple really shut them down on offense. Memphis was able to get a couple long runs that really made a difference in the game, along with a defensive touchdown and a kick return touchdown. Sometimes in games like that, games come down to that. Memphis was able to make those plays when it mattered. I don't think there's gonna be a team in our league that's going to be able to move the ball really consistently on Temple. You probably got to be able to hit them on some big plays.
Temple made its program's first appearance at a conference championship game last season in the inaugural AAC Championship Game. They ended the 2015 regular season as AAC East Division champs.
I obviously watched more of their defense than their offense at this point, but [I've] seen enough to know their quarterback [Phillip Walker] is a good player. He can beat you [in] a number of ways. I think that they have really good guys [in] the backfield that can do [a] good job blocking for them. So our defense has their work cut out for them, and our offense does too. We're looking forward to a whale of a game. And like I said, we're approaching this like we're playing division champions Saturday.
During Week 5, UCF head coach Scott Frost made a game-time decision to start senior quarterback Justin Holman in place of true freshman quarterback McKenzie Milton, who is still nursing an ankle sprain sustained during a 53-14 win over FIU in Week 4.
We're gonna play the player that gives us the best chance. We've been really lucky so far this year, injury-wise. The one position we've had some nicks is at quarterback, and that changes things. Obviously, that's a really important position, and that's not ideal. But the layoff here has given us a chance to get healthier at that position, and we'll see where we go going forward. I'm really proud of both guys that have been playing, and all three—Nick [Patti] too when he's had his chances. Every single one of those guys is getting better every week, and we'll see where it shakes out this Saturday… We're closer to having everyone full speed right now. So, McKenzie and Justin will take the bulk of the reps going forward, and we're hoping they're both ready to go Saturday.
Senior linebacker Mark Rucker is suspended for the first half against Temple after being called for targeting at ECU. Rucker helped force a safety during UCF's 47-29 victory over the Pirates.
I don't believe Ruck should be having to sit out. Again, I don't know what to tell my guys if they're trying to avoid a hit, and somebody gets hit into them. I don't think what happened to him was the right decision, but that's my opinion. He should be rested when he comes into the second half… We're gonna have him in the locker room. Hopefully, he can watch. I have to find out the rules on all of that. We'll get him warmed up at the end of the first half and have an exercise bike in the locker room so he can stay loose. Hopefully, he comes out ready to play.
The Knights have had two players ejected for targeting so far this season. Demeitre Brim was ejected in Week 2 against the University of Michigan, and then Rucker was ejected against ECU in Week 5.
I think coaches absolutely have to coach for the targeting rule. You're crazy if you don't coach your guys to coach in the strike zone, basically. Low hits can be called; high hits are definitely gonna be called. The thing I think we have to be careful about is throwing a flag always if someone is on the ground. This is a violent game, and there's going to be minor injuries and more serious injuries. We can't wait to see if someone is hurt or not and throw a flag. And I think the emotion of that, sometimes, can influence those decisions.

Coaches, at this point, have to teach to hit between shoulders and knees somewhere. And that's hard to do, especially for a defensive back that's caught in between trying to play a ball and playing a receiver. When the ball is high, you're naturally going to be high. But we need to teach our guys to hit in the strike zone, and that's going to avoid a lot of those.

Again, I feel for Ruck. Because in my opinion watching that tape, he was trying to do the right thing and completely avoid the quarterback. And we feel for East Carolina and their quarterback, and I certainly wish him all the best and the best health. That's an unfortunate one because the best coaching wouldn't have saved him since he was trying to avoid a hit and still got called.
The UCF-Tulane game has been postponed to Saturday, Nov. 5, when the Knights were originally supposed to have their bye week.
We didn't expect them to cancel the game. But when we had the team meeting, they cancelled it. Immediately, I don't know about the rest of us, I just quit thinking about Tulane, for right now. Just thought about who we had next.
UCF owns the all-time record between the Knights and the Owls 2-1.
I don't know if it's so much of an advantage just because Temple played early this past week, so I feel like they got an extra day, and so did we. So we should be even.
The Knights defeated the Pirates 47-29 in Week 5.
The confidence is still high. We just ready to win. Getting that win makes you more hungry.
No. 25 Navy defeated the No. 6 Houston Cougars 46-40.
Honestly, I went back and watched the Tulane versus Navy after Navy beat Houston just to see like what we would've been facing, and Tulane gave them a game, and that just had me thinking like we're gonna have to bring it every week.
Walker has thrown for 1,415 yards, eight touchdowns and nine interceptions so far this season.
I remember he can run, and if you give him enough time at it, he'll throw it, and he'll put it on the money. So I just feel like we have to…maintain our rush lanes and not let him out of the pocket.
Temple is 53rd in scoring offense with 33.0 points per game.
I feel like they'll be just as hard as Michigan was. They'll be coming to beat us. They're the defending champions. They'll get the best we got, and we're just going to give it our all.
UCF's football players stayed in on-campus dorms during the threat of Hurricane Matthew.
It was good. I feel like we needed some time off. It was unfortunate, but we took advantage of it. And going after Temple again this week. Just gave us some extra time to prepare for them and just get ready. But it was good. It was good to get some time off.

We got two days off, and then we came back in on Saturday and had a little walk-through and just kinda got our minds where they needed to be and kinda watched a little bit of film, but it wasn't like practice. You know, we were just getting prepared and seeing what they had.

It's good to have some days off; any time, that's good. But I don't think it really matters either way. We're still gonna practice, we're still gonna get some days off. So either way, we're just ready for the next game.
Because of Hurricane Matthew, the Tulane game has been postponed.
They said that we're gonna be able to utilize a lot of that stuff that we put in last week and maybe take it a little easy Tulane week, but we'll still have that gameplan in when we're still ready for them when we play them again. It was good. We got good practices in. During a bye week, we're gonna practice anyways, so it was good practice just to get it in.
ECU lost to USF 38-22 on Saturday.
I feel like we're still rolling. We know what we have to do. ECU isn't our only conference game. That was a big win for us, but we're not stopping there. We have to keep going and keep getting wins.
No. 6 Houston lost its first game to Navy on Saturday.
We went into the season knowing it was anyone's game, but that does help out. It helps us. Just know that we take every week one by one, and we keep winning, and that we're gonna put ourselves on the right track to be where we want to at the end of the season.
In the Knights' Week 2 matchup against Michigan, UCF was held to only 14 points.
Michigan had some good defensive linemen. Every week, you're going to face some good guys and bad guys. Michigan was probably, overall, the best. They had some good rushers, and you're just going to prepare for whatever comes, but they were good.
The Knights are 40th in scoring offense with 35.2 points per game. That's up from 13.9 points per game last season, which was good enough for 126th best in the nation.
We're figuring out how to work together. We're running the ball pretty well right now. And just working together and just knowing what the person to the left and to the right of you does. You know, getting that comradery and knowing what's going to happen on every play. And just getting used to this offense. We've been in it for a while now and kinda coming into our own. And we're learning how to work in it and throw the better. We're getting better at pass protection. We're using our hands. So it's just kinda all falling into place, I feel like.