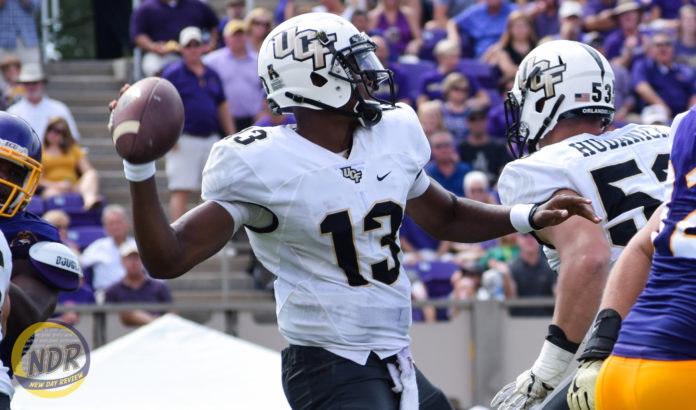 1. A Connoisseur of the Arts
Senior quarterback Justin Holman likes to consider himself a music connoisseur. He's an avid collector of vinyl records, and you might be able to spot him purchasing his next addition at the Urban Outfitters in the Mall of Millennia. They're not for display. Instead, Holman finds listening pleasure by spinning his discs on a record player.
"It's just more authentic, man," Holman said. "When you hear the vibration of the music off that needle, it's more than just listening to music. It's kind of like you're sitting there having an experience."
Some of his favorite records and musicians include Roberta Flack & Donny Hathaway, a Marvin Gaye live album, Al Green's Let's Stay Together and Stevie Wonder.
"[W]hen you're listening to albums that were recorded live…it's kind of like you were there in concert listening to those guys from years past," Holman said.
However, Holman doesn't consider himself an audiophile quite yet, acknowledging he still has plenty more artists to discover and records to stockpile first. But every once in a while, he does peruse stores for functioning antiques like the vintage polaroid camera he owns.
"Yeah, it [doesn't] get no better than that," Holman said. "I just like old, vintage stuff."
2. The Games off the Field
In between preparing for game day and attending classes, Holman spends his leisure time playing board games like Monopoly, Memory, checkers and chess.
"I like competitive games that make you think at the same time," he said.
The Georgia native believes playing board games translates to the mental challenges it takes to be a quarterback.
"Like chess, where you got to think five steps ahead and then anticipate what the defensive player is going to do," Holman said. "If they don't do it, you have to make up another plan on the fly."
As a fifth and sixth grader, Holman grew up playing chess while taking part in his school's chess club. But, of course, there were times when football was a higher priority.
"I was split-minded because sometimes I wanted to go to recess, and sometimes I wanted to come in and play chess," Holman said. "When it was cold outside, I was playing chess, but if it's hot outside, I'm outside playing football at recess."
3. Dr. Holman
A health sciences, pre-clinical major, Holman's hopes are to eventually enroll into medical school after graduation. He' been fascinated by radiology ever since he chipped his ulnar and broke his radius on his left wrist in a high-school playoff game during his senior year at Stephenson High School in Stone Mountain, Ga.
"When the injury happened, I just started looking at X-rays, and I was like, 'Man, I'm interested in this—how people can read X-rays and tell what's going on,'" Holman said.
The fourth-year quarterback has shadowed doctors during the offseason and is a certified nursing assistant. He expects to pursue this career more heavily once the season winds down.
"I probably have to take a year off after football is done, get an internship and get some more hands-on experience before I think about med school," Holman said.
4. Part of the Field
A ritual that's been embedded since his senior year at Stephenson High, the first thing Holman does prior to warm-ups is run over to each end zone and place a morsel of field grass inside his sock. He follows it with a knee and a prayer that every player leaves the game safe and uninjured.
5. Just Like Moon
Despite being incredibly young to witness much of Warren Moon's career in the National Football League, Holman still draws inspiration from the Hall of Fame quarterback as one of the athletes he idolizes most.
"I look at a lot of the players from the past that were known for being very detailed and taking care of their business," Holman said.
Moon, who helped pave the way for black athletes to line up at the quarterback position, underwent racial strictures through the 1980s.
"When you watch a lot of things on him and hear people's account of him and how serious he took the game—but how good of a man he is off the field—that's what I really aspire to be. A guy like Warren Moon."
Holman also admires former Denver Broncos quarterback Peyton Manning and New England Patriots quarterback Tom Brady, which he admits is cliché.
"Those are guys that growing up in our generation, we watched those guys win games and they won them efficiently," he said.