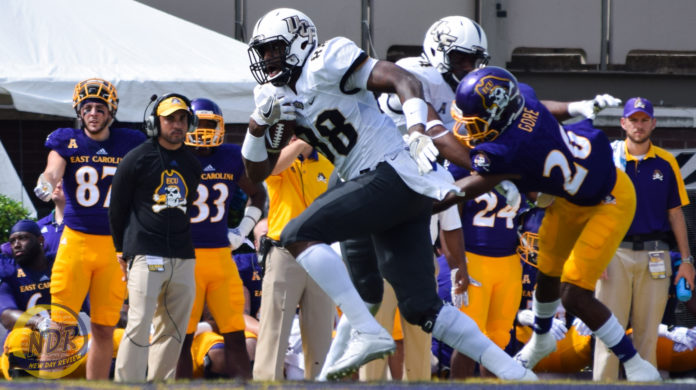 1. Dual-Sport Athlete
A speedy, right-handed outfielder prospect and wide receiver coming out of Union Grove High School in Georgia, Jordan Akins was heavily recruited and scouted to play baseball and football. Originally a member of the 2010 University of Central Florida's football signing class, Akins inked a deal ($350,000 signing bonus) with the Texas Rangers after being drafted in the third round of the 2010 MLB Draft.
At 6-foot-4 and 215 pounds, he spent four years shaping his raw talent around his speed and strength in the Rangers' farm system with the Class A Hickory Crawdads. However, his development stunted after four seasons in the minor leagues and no call-ups materialized. He hit .218 as an outfielder with a .246 on-base percentage and a .590 OPS.
"It was my dream. I left for my dream for a little bit. I didn't like the business behind the game, so I came back to school to get an education and follow my second dream, which is football," Akins said.
The 24-year-old is older than most seniors on the 2016 Knights team. Akins plays tight end after playing wide receiver in 2015.
2. Hobbies & Passions
Growing up in church with a family of musicians, Akins has always had an ear for music. His mother, Cathy Burns, sang in a choir, his brother played drums and piano, and he decided to take up bass.
"There was just music all the time," said Akins, who also sung for a group when he was little because of his mother's influence. "Wake up to music at home. If she's cleaning or cooking, there's always music. My whole family is all about music. We love it."
While not as much of a prevalent focal point in his life today, Akins still likes to produce his own beats and write a couple rhymes from time to time.
Sophomore receiver Tristan Payton, senior running back Dontravious Wilson, redshirt senior offensive lineman Micah Anderson and redshirt senior linebackers Errol Clarke and Mark Rucker also share a similar interest.
"It's just something to fall back on," said Akins, who said his love for music is mostly a hobby nowadays. "But if it came to it, and sports failed, it would definitely be something I'd be interested in."
3. Favorite Athletes
Akins always idolized former dual-sport athlete Deion Sanders. He has also molded his football craft after former Detroit Lions wide receiver Calvin Johnson.
"I have to go with Megatron. [He's] someone who's got some speed, got good size, run nice routes, can complete short completion and get yards after the catch," Akins said.
On the diamond, he admires many of Major League Baseball's past and current outfielders, including Nelson Cruz, Mike Trout, Bryce Harper, Ken Griffey Jr. and Torri Hunter. However, the Atlanta Braves' Matt Kemp best resembles his style of play.
4. A Dual Threat
In high school, Akins transferred to Strong Rock Christian School where he played quarterback for his junior year before transferring back to Union Grove. He passed for 823 yards and 12 touchdowns and rushed for another 784 yards and 14 touchdowns en route to all-state honors.
During his freshman year at UCF, Akins lined up at wide receiver and also returned kickoffs and punts for 498 all-purpose yards. This season, Akins has learned to undertake more blocking responsibilities in order to shift into his new role at tight end under UCF head coach Scott Frost's new system. Last season, Akins suffered a season-ending ACL tear during the opening kickoff against Furman University in Week 3 in 2015.
5. Career Aspirations
Despite his late return to UCF, Akins hopes he can get a shot at the National Football League. He is currently eligible to enter the 2017 NFL Draft (a player must be out of high school for at least three years) and is within the age group most draft picks get selected (23.1), according to Football Perspective.
Nevertheless, Akins would like to somehow come back full circle into baseball one day.
"Down the road, you never know. I could play a couple years in the NFL, if God's willing, and definitely may fall back and retire from all sports and end off with baseball one day," Akins said.
While the thought of being a coach has tickled his mind, he'd prefer to be a team scout for an MLB club.
"When I step away from the game, I really want to get away from the game. But I would love to still see the talent the future has to offer," Akins said.