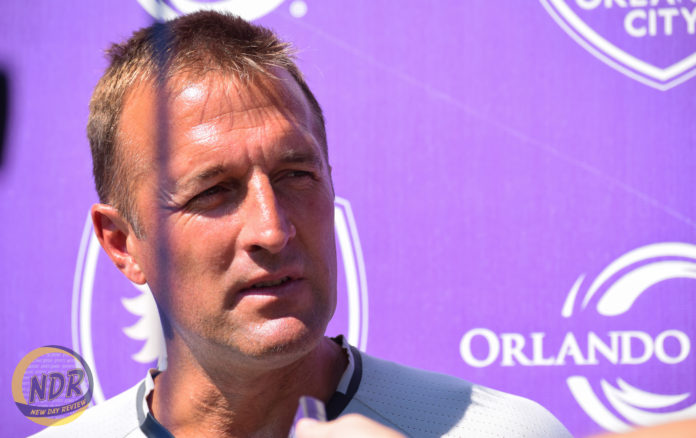 Sunday's matchup against the Montreal Impact is a big game for Orlando City SC head coach Jason Kreis. For the Major League Soccer Cup champion, Sunday's game is a do-or-die situation.
"We need to handle this one game at a time and only one game at a time," Kreis said after training Friday. "The conversation's very, very simple. We have to have three points this week, and otherwise I think we're dead."
Fortunately for the Lions, history is on their side. In the past two meetings against the Impact this season, City won both by scores of 2-1 and 4-1. Forward Júlio Baptista reiterated Kreis' sentiments of immediacy, knowing the significance of getting three points on Sunday.
"I think now is time to get three points at home, and it's really important if you want to do something, like just try to improve getting in the playoffs now," Baptista said after training Friday. "I think that the players—they know it's very difficult. You need to have the three points at home now."
The Lions might also have the advantage of not having one of Montreal's best players play. It's been known that Montreal forward Didier Drogba does not like playing on turf, which is exactly what Camping World Stadium's field is made of. So far this season, Drogba has 10 goals and six assists in 22 games played.
But this isn't the first time Kreis has been in this situation. He reminded his players about his playoff and championship runs with Real Salt Lake.
"In 2008 when we were with [RSL]…it was the first time that the team made the playoffs, we made the playoffs on the very last day," Kreis said. "And there was a couple other results that went our way to get us in there, and we went all the way to the conference final."
Between the fifth-place Impact and eighth-place Lions is a margin of six points. The Lions have 35 points while the Impact have 41. In the middle are the seventh-place New England Revolution with 36 points and No. 6 D.C. United with 40 points.
City will play United at home in the team's season-finale on Oct. 23.
For Kreis, though, he knows it's about one game at a time, starting with Montreal on Sunday.
"There's still hope. There's a lot of hope still if we take care of our business."
Kickoff between the Lions and Impact is slated for 1 p.m. on Sunday at Camping World Stadium.