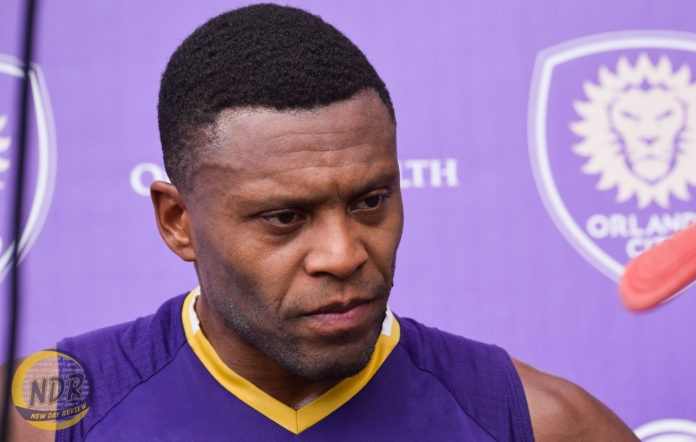 Sept. 30, 2016 at Sylvan Lake Park
Availability: HC Jason Kreis, F Júlio Baptista
HC Jason Kreis
Orlando City SC battled to a 0-0 draw with Toronto FC on Wednesday.
[I saw] exactly what I thought I'd see. A lot of really committed players to try to achieve a result, and they got what they deserve. We walked out with a point. Still feel like on a different day, we walkout with all three points. Having said that, Toronto had a few chances, as well, that could have [made us] walk away with none. So, very good team, obviously. First-place team in our conference. We have to feel good about going there and getting a result in their stadium.
According to the Orlando Sentinel's Alicia DelGalloAccording to the Orlando Sentinel's Alicia DelGallo, the Lions began the game in a 4-4-2 formation for the first time all season. The formation's attack was spearheaded at the top by Carlos Rivas and Cyle Larin.
We have a lot of work to do to play that system. I know from a lot of personal experiences it's not an easy system to go out and just throw out at a team and ask them to tactically solve things. And I felt like we were really getting broken down for a stretch there in the first half. Having said that, we created some really good chances in that shape, as well. So I just felt we were living on an edge that I wasn't willing to live on any longer. I felt like if we had stayed with it another couple minutes, we would have given a goal. So, made the tactical, and it had nothing to do with [Carlos] Rivas' performance because he was working incredibly hard and doing well. It was just a coaching decision, tactical decision.
This season, the Lions are 2-0 against the Montreal Impact, earning wins on the road and at home.
I don't know whether this one's about confidence, or if this one's about knowing exactly where we are. Our backs are very clearly against the wall. We need three points, and so I don't we're thinking to look for extra confidence or extra motivation or anything else. I think it's all there for the players, and they know it.
In 2009, City head coach Jason Kreis led Real Salt Lake to its first-ever Major League Soccer championship.
Yeah, I told the players about that and 2008. In 2008 when we were with [RSL], second year of coaching there, it was first time that the team made the playoffs, we made the playoffs on the very last day. And there was a couple other results that went our way to get us in there, and we went all the way to the conference final. Arguably, we were the better team in the conference final. We lost 1-0 with the post three or four times. Should have been in that final. And then the next year, same thing. Inconsistent year, made the playoffs on the last day. I remember there was three teams that did something for us to get us into the playoffs on that last day because I sent each of those coaches a bottle of wine. So I remember exactly those three. So that's the experience I've already relayed to the players.

There's still hope. There's a lot of hope still if we take care of our business.
Orlando City is currently in eighth place with 35 points. To make the playoffs, the Lions needs to be in the sixth slot. D.C. United is sixth with 40 points.
For me, I think what sets up nicely actually is that this is very clear; this game is very clear. We need to handle this one game at a time and only one game at a time. Thinking about how many points you need, et cetera, et cetera. No, the conversation's very, very simple. We have to have three points this week, and otherwise I think we're dead.
Following the team's 4-1 loss to Columbus Crew SC on Saturday, Sept. 17, Kreis said his team hadn't pressured well enough. On Wednesday, the Lions posted their fifth shutout of the season.
I don't know that it's so much a shift in philosophy as much as it is if we're going to do something. If we're going to be making an effort to take the ball from our opponent, it needs to be 100-percent effort. Whether that's all the way up the field, whether that's two-thirds of the field, whether that's in our own half, when we commit ourselves, we need to commit ourselves with some numbers, we need to commit ourselves 110 percent.
There are only three games left in the MLS regular season.
I think now is time to get three points at home, and it's really important, if you want to do something, like just to try to improve getting in the playoffs now. I think that the players—they know it's very difficult. You need to have the three points at home now.
City has defeated Montreal twice by a combined score of 6-2.
I think Montreal has a very, very good team. They won this last game, and we play with them the last time outside, getting a very good result. But here is different now. For them, it's very, very good. You need to get the three points.
Orlando City's most recent matchup with the Impact was a 4-1 Lions win in Montreal.
I think the confidence [is] never gone. But sometimes it's difficult when you don't win the games knowing you have two opportunities to win the game, and the team lost the opportunity. Now you have one more. The opportunity come, but you need the opportunity to get the three points. It's what the team needs to do now.
Prior to the Lions' 0-0 draw with Toronto, the Lions had lost three consecutive games, giving up four goals in each of those matches.
Sometimes, I think the team lose the concentration. [After giving up a goal], the team doesn't recover the confidence in that time and give more opportunity to the other team to score more goals. I think this is the problem the last three games. You give them the opportunity. They score one, they have more opportunity for score more, score two, three, and the game finished.
City forward Júlio Baptista has played in 20 games with five starts, recording four goals and three assists along the way.
I want to help more, but just when I get my opportunity to do inside the pitch, I try to give my best. I do [better] every game I get in. Score goals, passes. This is what I can help the team. When I have an opportunity, I try to help.