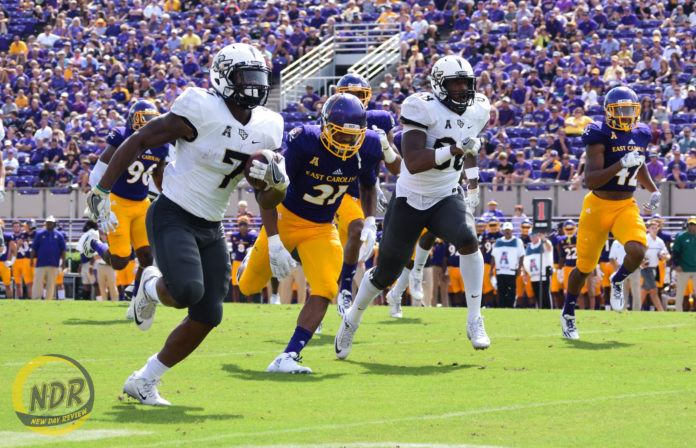 Game Recap
GREENVILLE, N.C. – It was clear from the start of the game that the matchup between the University of Central Florida and East Carolina University would depend on defense. Both teams held each other scoreless in the first quarter before arriving to a final score of 47-29 in favor of the Knights (3-2, 1-0 in AAC) at Dowdy-Ficken Stadium Saturday afternoon.
After the Pirates' (2-3, 0-1 in AAC) second-string quarterback Gardner Minshew completed a 75-yard touchdown pass on his first-ever collegiate throw to pull his team within two points, the Knights put the game away by putting up 17 unanswered points.
With the score at 23-21, UCF's Justin Holman threw a 40-yard pass down the left sideline to Jordan Franks. For Holman, it was his best pass in a game in which he finished 11-for-29 for 156 yards and two interceptions. On the team's next play, senior running back Dontravious Wilson rushed for a 14-yard score, his second touchdown of the day.
"Dontravious and that group are unselfish," Knights head coach Scott Frost said after the game. "When they get their chances, they capitalize on them. When you got a number of backs that can do well—from Dontravious to A.K. to Taj—any of those guys can get yards, and Dontravious has had two great weeks in a row."
ECU returned the ensuing kickoff only 11 yards, which set the Knights up for a defensive score that epitomized UCF's defensive effort. On a second-and-10 situation, Minshew attempted a screen pass to his left. His pass was met by the hands of Brendon Hayes, who returned it four yards for his first-ever pick six.
"I guess you could call it a dream play, but I was just doing everything my coaches told me," Hayes said after the game. "It happened so fast… It was just a sign of relief. I was still worried about the outcome of the game because I know they were coming back on us, but I just believed in my teammates."
The Pirates opened the game's scoring in the second quarter when quarterback Philip Nelson found Deondre Farrier in the seam on the left side on a 16-yard touchdown pass.
It didn't take long for the Knights to retaliate, though.
On the ensuing kickoff, true freshman Adrian Killins returned the kickoff 100 yards to tie the score at 7-7, following the successful extra-point attempt.
"When I was running, I heard the crowd. [It] wasn't so happy. The crowd was pretty dead when I scored that touchdown," Killins said. "It was a silent killer. It sealed the deal for us to get some points on the board first, and it was a great feeling."
Player of the Game: Dontravious Wilson
The senior running back led all rushers in Saturday's game with 73 yards and two touchdowns on 11 carries. So far this season, Wilson has scored seven rushing touchdowns and one receiving.
For Killins, Wilson is someone he looks up to because of his well-rounded game.
"As you see, he put up a lot of touchdowns today and did a lot of great things [with] pass protections and running on special teams and a lot of other things," Killins said. "I look up to Dontravious a lot. He lets me know when I'm doing right, doing wrong. He lets all of us know. So, me being a freshman, I really have someone to look up to on the team that's running the ball.
"He can play all aspects of the game. He can catch out the backfield, slot receiver, running back, special teams as well."
Wilson now leads the team in rushing yards with 278 yards and seven rushing touchdowns.
What's next?
UCF hosts the Tulane Green Wave in another American Athletic Conference game on Friday, Oct. 7 at 8 p.m.
Defense Showed Up
Though the Knights allowed 518 yards, it was the team's defense that helped an offense that failed to yield a passing touchdown.
It began with safety T.J. Mutcherson, who finished with an interception and a forced fumble. In the first quarter, Mutcherson recorded his first interception of the season off a tipped pass.
Mutcherson then forced a fumble near his own end zone that was recovered by cornerback Shaquill Griffin in the second quarter. That held the score at 16-7, allowing the Knights to jump out to a 23-7 lead in the third quarter.
Following Jawon Hamilton's two-yard rushing touchdown that put the Knights up 23-7, the Pirates found themselves on the Knights' two-yard line. UCF would hold ECU on four straight plays, concluding with a combined sack by Tony Guerad and Pat Jasinski.
"The defense has been keeping us in games [all year] and allowing us to break them open," Frost said. "Our defensive staff has done a wonderful job… We were struggling a little offensively. We knew we would. This is a good defense we were playing against. But defense kept us in it, got us some points, special teams got us some points, and the offense struck when it needed to."
Holman Returns as Starter
Holman returned to the starting lineup in Saturday's game, but he didn't know until only right before the game.
"I had an indication of it throughout the week, that there might be a chance of that," Holman said after the game. "Coach Frost just told me to stay prepared, and when the game came, I was ready to go.
"I started feeling healthier a little bit before the [Florida International University] game, but I see why Coach took it easy coming into this game… It's a long season, a lot of conference play left."
Frost said after the game that his staff didn't know who was going to play going into the game.
"Justin's coming back off a hamstring, McKenzie [Milton]'s a little beat up," Frost said. "We were going to go with who was healthy, and Justin did a great job coming in and getting us a win today."
 Scoring
| | | | | |
| --- | --- | --- | --- | --- |
| Time | Team | Play | PAT | Score |
| Q2, 11:33 | East Carolina University | Philip Nelson to Deondre Farrier, 16-yard pass | GOOD | 7-0, ECU |
| Q2, 11:21 | University of Central Florida | Adrian Killins 100-yard KO return | GOOD | 7-7, T |
| Q2, 4:18 | University of Central Florida | Devin Anderson SAFETY | n/a | 9-7, UCF |
| Q2, 3:22 | University of Central Florida | Dontravious Wilson, 35-yard run | GOOD | 16-7, UCF |
| Q3, 12:30 | University of Central Florida | Jawon Hamilton, 2-yard run | GOOD | 23-7, UCF |
| Q3, 4:23 | East Carolina University | Philip Nelson to Zay Jones, 9-yard pass | GOOD | 23-14, UCF |
| Q3, 0:13 | East Carolina University | Gardner Minshew to Quay Johnson, 75-yard pass | GOOD | 23-21, UCF |
| Q4, 14:20 | University of Central Florida | Dontravious Wilson, 14-yard run | GOOD | 30-21, UCF |
| Q4, 14:05 | University of Central Florida | Brendon Hayes INTERCEPTION, 4-yard return | GOOD | 37-21, UCF |
| Q4, 3:48 | University of Central Florida | Matthew Wright, 34-yard FG | n/a | 40-21, UCF |
| Q4, 1:14 | East Carolina University | Devin Anderson, 1-yard run | Gardner Minshew to Zay Jones, 2-yard pass | 40-29, UCF |
| Q4, 0:54 | University of Central Florida | Taj McGowan, 47-yard run | GOOD | 47-29 UCF |
Statistics
Passing
| | | | | | | |
| --- | --- | --- | --- | --- | --- | --- |
| Player | Team | Completed | Attempts | Yards | TDs | INTs |
| Justin Holman | University of Central Florida | 11 | 29 | 156 | 0 | 2 |
| Philip Nelson | East Carolina University | 23 | 41 | 278 | 2 | 1 |
| Gardner Minshew | East Carolina University | 12 | 27 | 192 | 1 | 2 |
Rushing
| | | | | | | |
| --- | --- | --- | --- | --- | --- | --- |
| Player | Team | Carries | Yards | Average | TDs | Long |
| Dontravious Wilson | University of Central Florida | 11 | 73 | 6.6 | 2 | 35 |
| Jawon Hamilton | University of Central Florida | 13 | 48 | 3.7 | 1 | 15 |
| Philip Nelson | East Carolina University | 11 | 31 | 2.8 | 0 | 31 |
Receiving
| | | | | | | |
| --- | --- | --- | --- | --- | --- | --- |
| Player | Team | Receptions | Yards | Average | TDs | Long |
| Zay Jones | East Carolina University | 15 | 122 | 8.1 | 1 | 26 |
| Jimmy Williams | East Carolina University | 7 | 145 | 20.7 | 0 | 50 |
| Quay Johnson | East Carolina University | 4 | 110 | 27.5 | 1 | 75 |
| Jordan Franks | University of Central Florida | 2 | 73 | 36.5 | 0 | 40 |