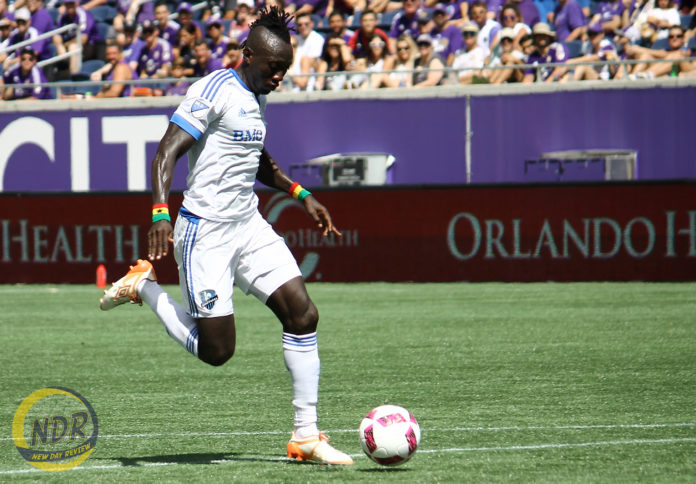 Match Recap
ORLANDO, Fla. – It was do or die for Orlando City SC. In Sunday's game between the Montreal Impact (11-10-11, 44 points) and the Lions (7-11-14, 35 points), it was death for the Lions, as the Impact won 1-0 at Camping World Stadium in front of an announced crowd of 26,041, effectively eliminating the Lions from Major League Soccer playoff contention for the second year in a row.
"Obviously we're all very, deeply disappointed. I think we all put in a tremendous amount to that game," Lions head coach Jason Kreis said after the game. "Really gave our hearts and souls to it… We've given everything we can. From a coaching staff, from a player's point of view, I couldn't be happier with the work everybody's done and the effort everybody's given, but soccer can be a cruel game."
In the 56th minute, Orlando City's defense collapsed, allowing a one-on-one situation between Montreal's Dominic Oduro and Orlando City goalkeeper Joe Bendik. Bendik came out to try and meet the attack, but Oduro placed it to the right and above a dropping Bendik for the first and only score of the game.
But the Lions were not without their chances. In fact, they possessed the ball for 67 percent of the match. That led to a dominating 22 shots (five on goal), compared to Montreal's four (one on goal).
It looked as if the Lions might equalize in the 62nd minute. City midfielder Antonio Nocerino found Luke Boden down Montreal's right flank. Boden then sliced the ball in to a cutting Cyle Larin, who tried to one-time it past Montreal goalkeeper Evan Bush. But Bush dropped to his left to deflect the ball up and out of play.
Then, in the 68th minute, Carlos Rivas, who substituted on in the 64th minute, crossed a perfectly placed ball onto fellow substitute Júlio Baptista's head. His header attempt went too far right.
City would find themselves with three more good opportunities, as they drew fouls just outside Montreal's box in the 71st, 76th and 87th minutes. Rivas' took the first free kick, soaring it high over the top of the Impact's goal. Baptista would take the second free kick, bouncing it off the wall and then slipping as he went to score on the rebound. The 87th-minute free kick would be deflected and led to a series of corner kicks for the Lions.
"We tried everything that we could today," midfielder Ricardo Kaká said. "Maybe it's a little bit late to try. We had the whole season, we had a lot of games like we tried in the last two games. So, this is the message, and this is the lesson for me today because if you had [fought] like this, probably we will be in better situation than this one. For this reason, I'm not frustrated."
Man of the Match: Evan Bush
Bush's play from goal epitomized Montreal's gameplan entering Sunday's game: defense, defense, defense.
62′ What a save from Evan Bush. Robs Cyle Larin on the goal line. #ORLvMTL | 0-1 pic.twitter.com/ZexcYCuvbh

— Orlando City SC (@OrlandoCitySC) October 2, 2016
His saves helped to eliminate the Lions and give his team the fourth-place position in the Eastern Conference.
He finished with five saves and two punches.
Big Changes Are Coming
Following Sunday's loss, Kreis noted how the remaining two games of the 2016 season will serve as evaluations for the current roster.
"I think, certainly, we're going to want to go into the offseason feeling as if I've given everybody a chance, I've given an opportunity a chance to be critically evaluated because we will have to make some difficult decisions going into this offseason," Kreis said. "We're doing everything to build a club that has the capability to be successful consistently for a long time, and that means you have to make tough decisions when you're wanting those types of goals."
For the Captain, the internal challenge and pressure are factors he welcomes from his new head coach.
"I think it's very good because the competition needs to start inside," Kaká said. "We need to feel this pressure that we are not good enough, [that] we don't deserve to be [an] Orlando City soccer player. So I think that it's fair. And I'm glad that Jason wants to do that. So everybody needs to prove something different to change things for next season."
Kaká finished the game with three shots (one on goal) and four fouls drawn in 90 minutes of play.
Aggressive Subtitutes
Baptista and Rivas came into the game with an immediate offensive impacts at their respective entries. Each recorded four shots, which was tied for a team-high with Larin. Kaká had the second-most shots for the Lions with three.
Beginning when Baptista entered the game at halftime, the number of shots Orlando City increased dramatically. In the first half, the Lions only took three shots (all off target), despite possessing the ball for 62 percent of the first 45 minutes.
"I don't tihnk that we waited too long for [putting Rivas or Baptista in]," Kreis said. "I think that both of them were about right, and we had plenty of chances for them to make that game different."
With Baptista and Larin in, Rivas had played more out of position on the left side. Despite that, it was clear he managed to provide aggression and pace. The Colombian finished the game with four shots and two chances created in 26 minutes of play.
As for Baptista, it looked as though he was primed to at least equalize for the Lions. Just about every opportunity he had, the Beast looked to score. From a free-kick attempt to a couple of attempted volleys, it was clear Baptista was trying to recreate the same late-goal magic he had managed in the team's most recent match against D.C. United. The Brazilian finished with four shots (one on goal) in 45 minutes of play.
What's next?
Orlando City travels to face the Philadelphia Union on Sunday, Oct. 16 at 5 p.m.
Scoring
| | | | |
| --- | --- | --- | --- |
| Time | Team | Goal-scorer | Assisted by |
| 56' | Montreal Impact | Dominic Oduro | n/a |
Statistics and Starting Lineups
| | | | | |
| --- | --- | --- | --- | --- |
| | Goals | Assists | Shots | Shots on Goal |
| Orlando City SC | 0 | 0 | 22 | 5 |
| Montreal Impact | 1 | 0 | 4 | 1 |
Orlando City SC starting XI (4-2-3-1): Joe Bendik (GK); Luke Boden, David Mateos, José Aja; Servando Carrasco, Antonio Nocerino, Matías Pérez García, Ricardo Kaká (C), Kevin Molino; Cyle Larin
Montreal Impact starting XI (4-1-2-3): Evan Bush (GK); Ambroise Oyongo, Laurent Ciman, Wandrille Lefèvre, Kyle Fisher; Marco Donadel; Hernán Bernardello, Patrice Bernier; Ignacio Piatti, Matteo Mancosu, Dominic Oduro