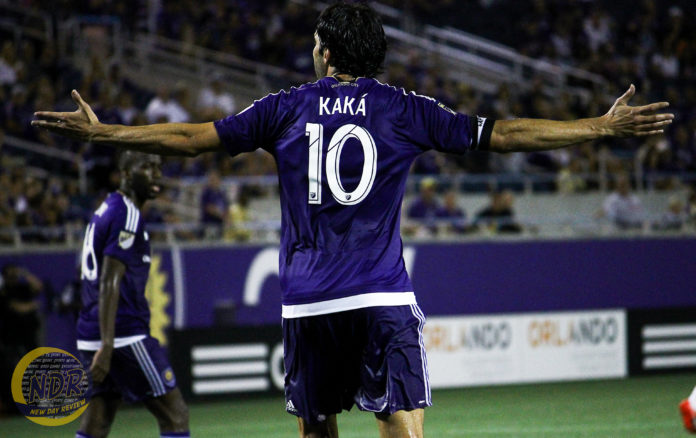 Another match ends in another loss for Orlando City SC. The Lions (7-10-13, 34 points) fell to D.C. United (8-9-13, 37 points) 4-1 at Robert F. Kennedy  Stadium Saturday. The loss in Washington, D.C., marks the third-straight game City has surrendered four goals.
With a 1-0 lead, D.C. put the game away beginning in the 51st minute. D.C.'s Taylor Kemp danced on right-back Kevin Alston to create just enough space to insert a cross to a cutting Lloyd Sam. The 31-year-old subsequently headed in the unchallenged ball past the outstretched arms of diving Orlando City goalkeeper Joe Bendik.
D.C. didn't relent, as they scored their third goal of the match in the 53rd minute. Patrick Nyarko slowly encroached on Alston's flank again and slotted a ball to a Patrick Mullins, who found deep position in City's box. Mullins took one touch with his left foot to put it to his right before turning around and slipping a grounder past a sliding challenge by David Mateos and a splitting Bendik. That made it 3-0.
Nothing was going the Lions' way even when they had opportunities. City captain Ricardo Kaká received a through ball that found him inside D.C.'s box. He penetrated near the right post before sliding a grounder to a cutting Kevin Molino who just smacked the ball of the crossbar.
City found an offensive light in Júlio Baptista in what was otherwise a dark, forgettable match. In the 72nd minute, Baptista took a free kick from one yard outside the top-middle part of D.C.'s box. The Beast's shot ricocheted off the bottom part of the crossbar as it narrowly skimmed past D.C.'s six-man wall.
But the comeback would be hard to accomplish with only 10 men on the pitch. Lions midfielder Antonio Nocerino was issued a red card in the 66th minute when he elbowed Mullins as a fly ball came in.
Julian Büscher scored United's fourth goal in the 90th minute on a shot near right post from inside City's box.
Orlando City is now in eighth place in the Eastern Conference with 34 points. D.C. is in 6th place with 37 points while the New England Revolution sit in seventh with 36 points. New England will play Columbus Crew SC on Sunday.
Man of the Match: Patrick Mullins
Mullins scored two of United's four goals. He began the match's scoring in the 34th minute when he saved a grounded on-goal attempt by Kemp by sliding to the ball behind Bendik. The 24-year-old is now D.C.'s leading scorer with seven goals on the season. He's played in only 10 games this season.
Mullins was also instrumental in putting the game away when he drew the red-card foul on Nocerino. He finished the match with 90 minutes played and two goals on two shots (two on goal).
What's next?
The Lions conclude their two-game road trip with a visit to Toronto FC on Wednesday at 7:30 p.m.
Scoring
| | | | |
| --- | --- | --- | --- |
| Time | Team | Goal-scorer | Assisted by |
| 34' | D.C. United | Patrick Mullins | Taylor Kemp, Patrick Nyarko |
| 51' | D.C. United | Lloyd Sam | Taylor Kemp, Luciano Acosta |
| 53' | D.C. United | Patrick Mullins | Patrick Nyarko |
| 72' | Orlando City SC | Júlio Baptista | n/a |
| 90' | D.C. United | Julian Büescher | Lamar Neagle, Taylor Kemp |
Statistics and Starting Lineups
| | | | | |
| --- | --- | --- | --- | --- |
| | Goals | Assists | Shots | Shots on Goal |
| D.C. United | 4 | 4 | 11 | 7 |
| Orlando City SC | 1 | 0 | 11 | 3 |
D.C. United starting XI (4-1-4-1): Bill Hamid (GK); Taylor Kemp, Bobby Boswell, Steve Birnbaum, Nick DeLeon; Marcelo Sarvas; Patrick Nyarko, Rob Vincent, Luciano Acosta, Lloyd Sam; Patrick Mullins
Orlando City SC starting XI (4-2-3-1): Joe Bendik (GK); Mikey Ambrose, David Mateos, José Aja, Kevin Alston; Servando Carrasco, Antonio Nocerino; Kevin Molino, Ricardo Kaká (C), Matías Pérez García; Cyle Larin