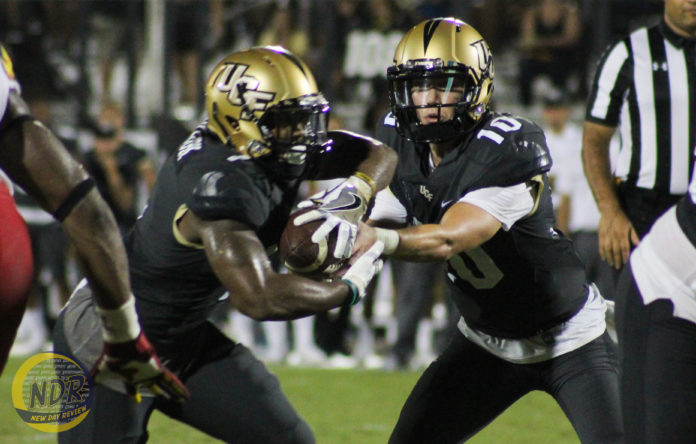 Game Recap
Week 3's matchup between the University of Central Florida and Florida International University seemed like an opportunity the Knights had been waiting to pounce on for more than a year. In 2015, UCF lost its season-opener to the Panthers at Bright House Networks Stadium off a blocked game-winning field goal attempt.
On Saturday, the Knights (2-2) got their revenge in a big way, winning 53-14 over the Panthers (0-4) at Ocean Bank Field.
With only a slim 8-7 lead in the first quarter—courtesy of a Dontravious Wilson one-yard rush and a successful two-point conversion by a Nick Patti–Jordan Franks connection—the Knights busted the game open, scoring 45 straight points. That effort was led by UCF's unstoppable rushing attack. The Knights ran for 276 yards on 56 attempts (4.9 yards per carry).
Following a Matthew Wright 20-yard field goal, the Knights scored five-consecutive rushing touchdowns. It began with a 15-yard Wilson rushing score. True freshman quarterback McKenzie Milton initiated the speed option to the right and froze the Panthers' defensive end before pitching it to Wilson, who found an opening for the score.
The senior capped off his scoring with a third touchdown off a toss play to the right out of an two-tight end formation. That one went for 12 yards. Entering Saturday's game, Wilson had only recorded five career touchdowns. Three came in his sophomore season in 2014 while the other two came this season; he recorded none in 2015.
Speedy true freshman Adrian Killins continued the scoring run with a 61-yard burst of his own at the start of the third quarter to give the Knights a 39-7 lead after Wright's extra-point attempt.
Player of the Game: Dontravious Wilson
The senior running back was the leading force in the Knights offense, quite literally spearheading his team's offense when he ducked his shoulder at FIU's four-yard line to punch in his third touchdown of the game.
Wilson has found his groove again after scoring no touchdowns in the Knights' winless campaign a season ago. Following the win over FIU, he now has five touchdowns on the season, eight for his career. He led UCF's rushing attacking with 58 yards and three touchdowns on 11 carries. Only Killins rushed for more yards (86).
Making Progress
UCF won its second game of the season after a 38-0 shutout victory over South Carolina State University in the team's home-opener and consecutive losses to Big Ten opponents. As for the Knights' quarterback situation, though, Milton appears to be making significant process.
In his first-ever start and collegiate game against the University of Maryland, Milton threw an interception and lost three fumbles en route to a 30-24 double-overtime loss. The true freshman did not turn the ball over once, throwing for 173 yards and one touchdown on an efficient 8-for-14 passing. He also added 28 yards on the ground on eight carries.
What's more, it had been a while since the Knights scored this many points. The last time UCF scored 50-plus points was on Nov. 22, 2014, when the Knights posted 53 points in a 53-7 win over Southern Methodist University.
The Frost Defense
When Knights head coach Scott Frost signed on for the leading job in December 2015, pundits and fans alike immediately looked to his offensive résumé. He coached the quarterbacks at the University of Oregon when the Ducks produced Heisman winner and future Tennessee Titans starting quarterback Marcus Mariota and when Oregon was the perennial leader in fast-paced offense.
As for the defense, though, that's been a pleasant surprise for a Knights team that was the 118th-best scoring defense—allowing 37.7 points per game—a season ago.
The Knights showed just how good they can be in Saturday's near-shutout win over the Panthers.
At the conclusion of the first quarter, the Knights held FIU to 11 total offensive yards and zero first downs. By the end of the first half, FIU had only 76 total yards and five first downs; UCF had 303 total yards and 15 first downs. The Knights also finished with five sacks (two by linebacker Shaquem Griffin) and one interception (by Drico Johnson).
What's next?
UCF concludes its two-game road trip when they face the East Carolina Pirates at noon on Saturday, Oct. 1.
Scoring
| | | | | |
| --- | --- | --- | --- | --- |
| Time | Team | Play | PAT | Score |
| Q1, 12:05 | University of Central Florida | Dontravious Wilson, 1-yard run | Nick Patti to Jordan Franks, 2-yard pass | 8-0 |
| Q1, 5:27 | Florida International University | Anthony Jones, 6-yard run | GOOD | 8-7 |
| Q1, 2:47 | University of Central Florida | McKenzie Milton to Jordan Akins, 21-yard pass | GOOD | 15-7 |
| Q2, 10:42 | University of Central Florida | Matthew Wright, 20-yard FG | n/a | 18-7 |
| Q2, 8:50 | University of Central Florida | Dontravious Wilson, 15-yard run | GOOD | 25-7 |
| Q2, 3:36 | University of Central Florida | Dontravious Wilson, 12-yard run | GOOD | 32-7 |
| Q3, 8:04 | University of Central Florida | Adrian Killins, 61-yard run | GOOD | 39-7 |
| Q3, 4:49 | University of Central Florida | C.J. Jones, 1-yard run | GOOD | 46-7 |
| Q4, 13:23 | University of Central Florida | Nick Patti, 9-yard run | GOOD | 53-7 |
| Q4, 10:30 | Florida International University | Alex McGough to Stantley Thomas, 17-yard pass | GOOD | 53-14 |
Statistics
Passing
| | | | | | | |
| --- | --- | --- | --- | --- | --- | --- |
| Player | Team | Completed | Attempts | Yards | TDs | INTs |
| McKenzie Milton | University of Central Florida | 8 | 14 | 173 | 1 | 0 |
| Alex McGough | Florida International University | 6 | 14 | 41 | 1 | 0 |
Rushing
| | | | | | | |
| --- | --- | --- | --- | --- | --- | --- |
| Player | Team | Carries | Yards | Average | TDs | Long |
| Adrian Killins | University of Central Florida | 6 | 86 | 14.3 | 1 | 61 |
| Dontravious Wilson | University of Central Florida | 11 | 58 | 5.3 | 3 | 15 |
| C.J. Jones | University of Central Florida | 6 | 29 | 4.8 | 1 | 14 |
| Anthony Jones | Florida International University | 8 | 33 | 4.1 | 1 | 12 |
Receiving
| | | | | | | |
| --- | --- | --- | --- | --- | --- | --- |
| Player | Team | Receptions | Yards | Average | TDs | Long |
| Adrian Killins | University of Central Florida | 2 | 69 | 34.5 | 0 | 60 |
| Jordan Akins | University of Central Florida | 3 | 45 | 15.0 | 1 | 21 |
| Thomas Owens | Florida International University | 2 | 42 | 21.0 | 0 | 23 |