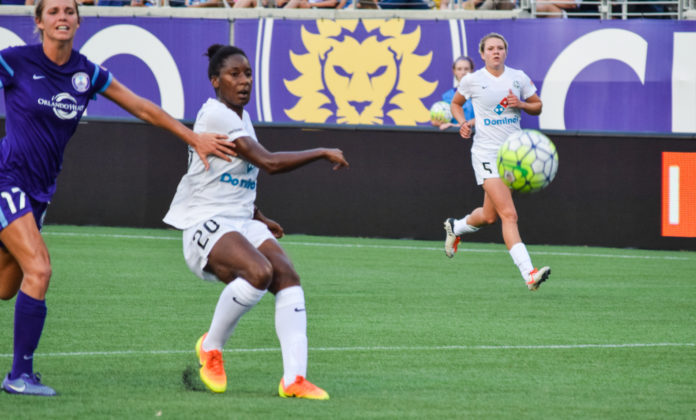 The Orlando Pride's season-finale was not the perfect ending they had envisioned entering that week of preparation. On Saturday, the Pride (6-13-1, 19 points) fell 2-1 to FC Kansas City (7-8-5, 26 points) at Camping World Stadium in front of an announced crowd of 7,454.
"Tonight's game probably summed up some of my thoughts for the season," Pride head coach Tom Sermanni said. "I thought in the first half, in particular, I thought we controlled the game, dominated the game, really controlled the game, looked comfortable, had really good passes. Probably didn't create enough for the amount of possession that we had, and then we just seemed to—in the spells where we either switch off, or we lose a little bit of momentum, we concede goals.
"Tonight was a typical game, and that's been probably the story for particularly the second half of the season."
Orlando held onto a slim 1-0 lead entering the second half and failed to score for the rest of the game. In the 47th minute, Kansas City took charge with an equalizer by Tiffany McCarty. KC's Heather O'Reilly attacked down the Pride's right flank with rookie Dani Weatherholt trailing. O'Reilly's cross met Pride goalkeeper Ashlyn Harris' gloves, but the rebound deflected straight to McCarty's midsection for a one-timed goal.
In the 84th minute, Kansas City's Brittany Taylor penetrated the right part of the Pride's box and drew a foul on Maddy Evans. O'Reilly scored the game-winner past a correctly guessing, diving Harris to produce the final score.
"I don't think that the penalty was a fair one, but that's the way the game goes sometimes," Pride captain Alex Morgan said. "It's just unfortunate to end the season on a loss because I feel like the effort was there every single game for this team, and to not have a win in the last couple of months is really difficult for this team to finish on and not have another club game for six months."
Pride midfielder Kristen Edmonds helped set up Orlando's lone goal when she drew a foul just outside the left part of Kansas City's box. The ensuing free kick ricocheted off of Taylor and took a hop and a half toward an open Jasmyne Spencer who one-timed a 20-yard rocket past a diving Nicole Barnhart.
Woman of the Match: Heather O'Reilly
The U.S. women's national team veteran and retiree was instrumental in both goals, sending in the cross that was deflected for the goal and scoring the game-winning penalty kick. O'Reilly finished the match with 89 minutes played and one shot (one on goal).
O'Reilly's involvement didn't go unnoticed by her former national-team teammate.
"I think as the game wore on, and we got a little more stretched out, we also gave up quite a few transitions for Heather O'Reilly to get some great crosses, and that's exactly how they were able to capitalize on their first goal," Morgan said.
Goodbye, Captain Edwards
In her final game of her professional soccer career, Pride midfielder Becky Edwards wore the captain's band. She played in 16 games for the Pride in the team's inaugural National Women's Soccer League season.
Edwards played every minute of 23 games in the 2014 season for the Houston Dash. In 2015, she was traded to the Western New York Flash, where she was named captain and recorded two goals and three assists. She is a three-time championship winner, winning one in Women's Professional Soccer with the FC Gold Pride. She won her next two titles with the Flash in 2011 and 2012.
"I'll definitely miss [the game of soccer]," Edwards said after her final game Saturday. "And that's something I've thought about, obviously. It hasn't been an overnight thing. 'Oh, I'm done.'
"No, I've thought about this for some time now, and it's been my whole life since I was 4 years old. But it's time, and I'll probably get into coaching and that kind of thing when the time is right, and I'm excited to enjoy life a little bit first."
It was only fitting that when Edwards was subbed off in the 73rd minute that she handed off the captain's band to perennial Pride captain Morgan. Morgan remembers in 2011 when she joined Western New York.
"My first professional team, Western New York Flash, Becky was the captain of that team, and she was only like maybe 24 years old, and that just shows you the professionalism that she carries around, that she could lead no matter if she is given the captain's band or not. This year she wasn't named captain, but in a lot of ways, she was a huge leader and a huge influence to this team, and a lot of people looked up to her.
"It was only right for her to carry the captain's armband tonight, and we're just really, really going to miss her."
The Not-So-Perfect Ending
Through training leading up to the team's season-finale, Sermanni, Morgan and Harris have said a perfect ending to the season would be a win against KC at home. Unfortunately for the Pride, the 2-1 loss extended Orlando's winless streak to eight games.
"I think it's really important to remember the way we feel this season because it doesn't feel good," Morgan said after the loss. "I'm really looking forward to next season, and I think we'll definitely use this season as motivation."
For Sermanni, the attention is on next season, but not before a little frustration sets in over the next couple days.
"At the moment… I'll feel kind of frustrated, if I'm being perfectly frank because I just felt that we've been so close a couple of times to get positive results and come away without them, that it just takes a couple days to recover from that," Sermanni said. "After that, your head immediately goes into next season and the planning for next season, and that gives you new energy, new impetus. So, come Monday, I'll be back in the office."
The Pride finished their inaugural season in ninth place in their inaugural NWSL season. Edmonds scored a six of the Pride's 20 goals, a team-high. Orlando allowed the second-most goals against with 30.
Scoring
| | | | |
| --- | --- | --- | --- |
| Time | Team | Goal-scorer | Assisted by |
| 16' | Orlando Pride | Jasmyne Spencer | n/a |
| 47' | FC Kansas City | Tiffany McCarty | n/a |
| 84' | FC Kansas City | Heather O'Reilly | PENALTY |
Statistics and Starting Lineups
| | | | | |
| --- | --- | --- | --- | --- |
| | Goals | Assists | Shots | Shots on Goal |
| Orlando Pride | 1 | 0 | 8 | 3 |
| FC Kansas City | 2 | 0 | 8 | 4 |
Orlando Pride starting XI (4-5-1): Ashlyn Harris (GK); Cami Levin, Monica Hickmann Alves, Laura Alleway, Dani Weatherholt; Jasmyne Spencer, Becky Edwards (C), Kristen Edmonds, Kaylyn Kyle, Lisa De Vanna; Alex Morgan
FC Kansas City starting XI (4-3-3): Nicole Barnhart (GK); Becky Saeurbrunn, Alex Arlitt, Brittany Taylor, Katie Bowen; Yael Averbuch, Heather O'Reilly, Desiree Scott; Lo'eau LaBonta, Shea Groom, Tiffany McCarty