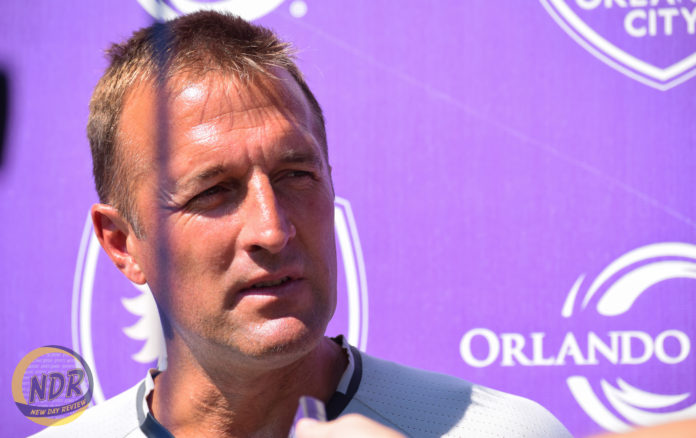 Sept. 22, 2016 at Sylvan Lake Park
Availability: HC Jason Kreis, F Matías Pérez García
HC Jason Kreis
D.C. United and Orlando City SC are tied with 34 points each, but D.C. owns the tie-breaker with a goal-differential of -1. Orlando City has a goal differential of -5.
D.C.'s an extremely hard-working team. A team that's very much together and fighting for each other and doing everything they can to scrape and scratch and claw themselves into the playoffs. We've seen over the last two matches that there's been no give-up in them, so we need to recognize that we're going to have to give everything we can to match their effort and get the three points that we desire.
A win on Saturday against D.C. would put Orlando City in the sixth spot in the Eastern Conference and push D.C. to No. 8 and the New England Revolution to No. 7.
I don't know about must-win. I'd say must-get-a-result. I think that we go there with the intention to pick up the three points. If we end up along the way failing a little bit and getting one, I think we can still be pleased with that. But we'll go there with the intention of getting all three.
City head coach Jason Kreis led Real Salt Lake to their first postseason appearance in 2008. In 2009, he led the team to its first MLS Cup championship. As a player, Kreis is Major League Soccer's sixth-highest scorer with 108 goals.
For several years at Real Salt Lake, we got into the playoffs on the very last day. So you just got to just keep your guys believing that things will go their way. Keep them working extremely hard. Keep them focused on the little things, not so much being focused only on the result. I believe the result is a collection of good things that happen in the match, little things, attention to detail, effort. Those things are put forth, and results follow.
Following the 4-1 loss to Columbus Crew SC on Saturday, Sept. 17, Kreis said he felt like his team was pressuring 80 percent in the first half, a half in which the team scored three goals. He said, "80 percent pressing is the absolute-worst place you want to be."
I think the last two results and performances are for two different reasons. The Galaxy result and performance was a lot down to fatigue and having to travel across the country in a short period of time. We played a lot of the same players, so a little about selection, as well, from the coaching staff. Perhaps I should have [implemented] more rotation. And then the week following, I felt as if there still could have been some fatigue because we did travel from Los Angeles to here in a little bit of a shortened week with six days. But then I do think there was a little element of being a little relaxed and feeling like, "Okay, we're playing a team that's below us finally in the standings, and we're playing at home." And I think that the guys, that little bit of extra relaxation may have cost us. So, the pressure's on now, and certainly there's no relaxation availability there.
Orlando City has five regular-season games remaining in their second season in MLS. In order to make the playoffs, they need to be at least No. 6 in the Eastern Conference. They are No. 8 with 34 points. New England is No. 6 with 36 points.
We feel really good. We know we're heading into an important game. D.C.'s a team that is fighting in our same conference, and we just need to really concentrate and go into this with our heads in the right place.

We feel like we're very close to our objective. At the end of the day, we need to do a lot better than we just did in our last game. We've been out here training and trying to refocus ourselves, and just go in there with the right mentality.
Orlando City lost their last two games, allowing four goals in each of them.
Honestly, you have to just lift your head quickly because there isn't much time to recover. At the end of the day, you can't really dwell on those matches. Looking back, a lot of the mistakes that we made were just not concentrating enough on that game, so we're just looking ahead at this point.
Kreis said after the loss on Saturday, Sept. 17 that the goals against them weren't solely on the back-line.
Obviously, he told us not to repeat the performance we had [against] Columbus. We worked a lot on pressuring, which we think was a lot of the issues that we were having at Columbus and just to keep our heads up and be confident in our abilities.
Sept. 21, 2016 at Sylvan Lake Park
Availability: GK Joe Bendik, DF Brek Shea
Orlando City SC has lost their last two games by scores of 4-2 and 4-1.
I think we just need to keep things a little bit more compact than we have in previous games. That being said, we have everything to play for here [with] two games left against D.C. So we need to take full advantage of this one and take each game one at a time.
Prior to the start of the 4-1 loss to Columbus Crew SC, fans in the supporters' section unveiled a tifo of City goalkeeper Joe Bendik. The design played off the Netflix TV show Stranger Things.
It was pretty incredible. I think all the guys were like just looking at it, and I was kind of blown away. Unfortunately, we were in a team huddle, so I couldn't acknowledge it right there, but it's definitely something I'll remember for the rest of my career.
Orlando City is currently in eighth place in the Eastern Conference. They are tied with D.C. United with 34 points. D.C. has the goal-differential advantage, though, with a goal differential of -1. City has a goal differential of -5.
I don't really think it's after last week's loss, but there's just pressure period. We're fighting for that line and that playoff spot, and [it] happens to be the team we're playing is doing the exact same thing… So that's all the motivation we need there.
Bendik has earned 12 Major League Soccer Save of the Week honors.
I think everybody [has aspirations to make the national team]. But the national team is just something you have to really work towards and keep in the back of your head. It's more of an opportunity if somebody gets injured or if you're playing extremely well. So, if it comes, I'll take it, but, for now, I'm only focused with Orlando here to make the playoffs.
The Lions travel to play D.C. on Saturday at 7 p.m.
They're a team that doesn't quit. I think the last two games they've been losing, and they come and tie it in the last seconds. So, those teams are always hard to play against—the ones that never give up. So that'll be a fun game, especially for us because we need to get a result there in another away game. But I think we can do it if we play like I know we can.
Orlando City has given up the most goals in MLS so far this season with 53. New York City FC has given up 52.
You definitely got to look at it and try to fix the mistakes we had. But then you got to forget about it and move on. Can't be dwelling on something like that. It happens, and you go out next week, and you get three points and forget about it.
There are five regular-season matches remaining. Two of those five games will be against D.C., starting with Saturday's game.
I think a lot of times in this league there's a lot of fight, and it comes down to the very end for a playoff spot. But it doesn't if you're in first or last, it's a fresh start for everyone once you get in.

Any time you lose you want to come back with a result, so I think we're looking at it as an away trip, and if we get a result, it's positive.
When Shea entered the game against Columbus on Saturday, Sept. 17 with his team down 3-0, the audience at Camping World Stadium gave the defender a thunderous welcome.
Obviously, playing at home after playing two away games is a lot of fun, and we have great fan support, so coming on and hearing the roar any time we do anything good is just amazing to have such a big fan base.
The Lions are on a two-game winning streak after having won two pivotal games against NYCFC and the Montreal Impact.
I think there's just mistakes we can fix, and we know better. But it happens to every team and unlucky for us that it's happened two weeks in a row, so it looks even worse than it is. I think we're a better team, and we know we're a better team, so we'll be alright next week.