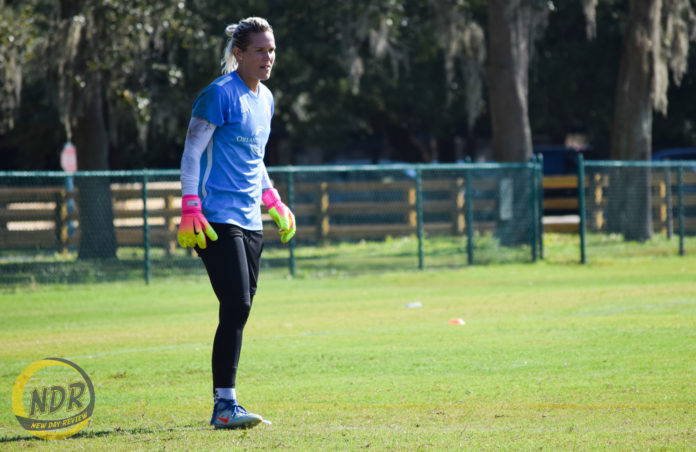 Sept. 22, 2016 at Sylvan Lake Park
Availability: F Alex Morgan
In the Orlando Pride's season-opener at Camping World Stadium, fans set the National Women's Soccer League single-game attendance record with a crowd of 23,403.
Something successful that this team will always remember, this league will always remember is getting almost 24,000 at our opening game. It was an incredible experience, and it was big stepping stone for this league. But also, I think, we have to think of it all as a building block to us becoming a successful club. We have to stay optimistic, and despite the challenges, I feel like we can look back an learn from some mistakes and from things we did well this season and continue to improve.
Pride forward Alex Morgan has scored four goals so far this season with one match remaining.
I think just fighting with these girls every single practice and every game [are my best memories this season]. I feel like no other team in this league has this training environment that's impeccable, but also the heat that we have to endure every single day. I feel like we're one of the fittest if not the fittest team in the league, and I feel like we had to bring a team together on such short notice. So kind of gaining that team chemistry on such short notice, I give everyone credit because everyone bought in what [Pride head coach] Tom [Sermanni] wanted to teach us and the style he wanted to implement. I think, overall, it was a good season, and we could learn from a lot, but I think it's just building a lot of friendships with these teammates, and, of course, looking back at that season-opener and hoping that we get a good end as well.
On Saturday, Orlando will host FC Kansas City at 5 p.m.
A perfect ending is a win. We're always looking for a win. We haven't gotten that win in quite a few games, in a few months actually. So, I think that would be huge for this team and make this team end on a high note. It doesn't matter, really, the place that we're ending in. What matters is that we start strong and we finish strong. Since we've been out of playoffs, that's kind of been the case, as we still want to showcase this team and where we've come from the beginning. And so this game is another chance to do that.
Morgan and United States women's national-team goalkeeper Ashlyn Harris were among the Pride players that were called up to their respective nation's national teams for the 2016 Summer Olympics. Brazil's Monica Hickmann Alves and Canada's Josée Bélanger recorded international caps for the Olympics this summer, too.
Yeah, I knew that this year was going to be challenging for a lot of the national-team players; not only U.S. national-team players, but Australian, Brazilian, Canadian. We have a lot of internationals, and that was difficult for this team for players to step up and fill in those holes, especially amateur players who had to come in and maybe start in a game where they've never even been on the bench for. So a lot of players needed to step up in a big way this year, and hopefully next year we'll have more consistency and get our feet underneath us a little bit more and continue to build on what we started this year.
When she was not on international duty, Morgan was the Pride's perennial captain.
I think for me, at least personally, I grew into more of like a captain, a leadership role, so I'm trying to just continue that and just try to check in with players every day and make sure that everyone's not only happy, but they're embracing the role that the coach has given them, and that if anyway I could help ease that transition, you know, I want to because we have a lot of rookies this year, and there's going to be a lot more next year because of Becky [Edwards] retiring and because of us having kind of a smaller squad than I'd say other people, other teams. I want to try to help out in whatever way I can. So, for me, kind of going into that captain's role was new for me, but I feel like I tried to embrace it, and next year hopefully it'll be better.
On Thursday, Orlando midfielder Becky Edwards announced her retirement from professional soccer.
I've known Becky for a really long time. I've played on every single club team with Becky in my professional career. I played with her at Portland, I played with her Western New York, and I played with her here. And I could tell everyone that she's the most professional when it comes to doing things the right way and making sure she takes care of her body, making sure she checks in with the coaches. She's the ultimate professional, and I feel like I've looked up to that for so long, and I feel like that's held everyone else accountable, but, off the field, she's just an amazing person. She's uplifting, she's positive. She's one of my really good friends, so I'm really going to miss her on this team, but I also wish her the best in everything in the future, and I know that she won't get too far away from soccer because she loves this game. So, even if it's now giving back to the game rather than playing, she'll continue to stay.
Pride rookie Dani Weatherholt made 11 appearances for the club in its inaugural season.
For some of the rookies, I've definitely tried to make them feel as comfortable as they can as quick as possible. I've tried to help them out in games, in training sessions. Just hanging out off the field to get away from soccer a little bit, so I feel like I've been super impressed with all of the rookies. Just Dani, for example, she's played in multiple positions this year. She's played center-back, outside-back, center-mid. You have Sam [Witteman] who's played outside-back, winger, whatever it might be. You just have so many younger players that are coming in and getting their first professional playing experience and doing well with it, so I feel like they're only going to continue to get better, and I've already seen them grow so much this season that I'm really excited to see what next season has to offer for them.
Sept. 21, 2016 at Sylvan Lake Park
Availability: HC Tom Sermanni, GK Ashlyn Harris
HC Tom Sermanni
In 2016, the Orlando Pride became the 10th team to join the National Women's Soccer League.
A perfect end would be a win. A perfect end would be a good performance. A perfect end would be to finish the season on a high note. So I think those two are the priorities: a good performance and a win.
Orlando concludes its inaugural season in the NWSL on Saturday at 5 p.m. with a match against FC Kansas City.
They're a very sort of fluid team that's played together consistently for the last four years. So this is the first year where they haven't made the final. But they've got a mix of some very high-quality, experienced players like Heather O'Reilly and Becky Sauerbrunn. And they've got intermingled with a group of younger professional players who are mobile and talented. So, they'll bring just the sort of usual problems that we've had a lot of teams this season.
Prior to the Pride's match on Saturday, the Central Florida squad recorded a 6-12-1 record.
To be honest, I think I've said this probably quite a lot of times during the year, is that, really, we've had no complaints about how the players have turned up for training every day. They've always turned up enthusiastic, prepared to work hard, and no complaints about the effort they've had from the players in the game and the games we've played this year. So I haven't seen any change in that over the last few weeks.

We've basically put—I'm sure all teams are doing it at this stage—a list of players together of ones that you definitely want to keep and various other categories, if you like. And there are players that we want to keep, and we want to keep the core of the team. In reality, as I say, the problem these days there is an immediacy from everybody to things, and this is our first season in the league. And we've got to build on this season rather than knock things down and rebuild again. So it's important we keep a core of players here, a reasonable number. And then the same time, the realistic thing, and this is in every team, we've got to look at strengthening our team and making us more competitive next year.
Pride players Sam Witteman, Christina Burkenroad and Dani Weatherholt were drafted by Orlando in the 2016 NWSL College Draft. Witteman was drafted in the first round, Burkenroad was drafted in the second, and Weatherholt was drafted in the fourth. McKenzie Berryhill, who was a third-round draft pick by the Portland Thorns, was acquired via waivers by the Pride at the end of the season.
We've only had three of those players come in from college, and I've been delighted with all three both on and off the field. They hang about together. They're great characters, and they've been fantastic in and around the team. Obviously, Christina Burkenroad hasn't had as many opportunities as Dani [Weatherholt] and Sami [Witteman], but she's been excellent in training. We've got high hopes that she's going to be someone that kicks through next year. Sami's had significant game time, played in multiple positions, makes an impact every day at training. Dani is just an unbelievable teammate on and off the field. Mature, does a lot of things away from the game in among the community that people don't see and has been a really consistent player whenever we've stuck her in. We've played her center-back, we've played her in midfield, we've played her at full-back, as well. And the three of them have just been terrific.
Berryhill has not yet seen action despite being with the team since Aug. 30.
We've just got our national-team players back today, so probably after today's session, we'll have a better idea of what we're looking at as in a starting team of the weekend and substitutes.
Pride goalkeeper Ashlyn Harris started in an international friendly for the United States women's national team against Thailand, posting a clean sheet in a 9-0 win on Sept. 15. Chicago Red Stars goalkeeper Alyssa Naeher started in a 3-1 win over the Netherlands three days later.
She's been excited all season. I mean, as you can imagine with the national team, she's been frustrated with the quality of goalkeeper that she is and with the lack of opportunities that she's had. But when you look at the season that she's had in the NWSL this year, she has been absolutely outstanding. She's been flawless, to be honest. And when you look at videos of the game, I can't honestly remember going back and looking at a mistake that she's made, and that, for a goalkeeper, that's unbelievable. So, I think she's ready to take the opportunity to step up and cement herself as the No. 1 keeper in the national team, and hopefully she gets the opportunity to do that.
All season long, Sermanni has pointed to his team's lack of consistency in a starting lineup that has led to 12 losing results. Two of Orlando's best players, forward Alex Morgan and Harris, saw significant time with the USWNT during the Olympics.
Up and down. You know, I thought going into the end of June, I thought we were in really good shape, and we'd done well. And I think probably overachieved at that stage. Since then, there's a couple of games, I think, that were critical. One was a Portland game here when I thought [it was] one of our best games this season, and we lost two late goals. That was a little bit of a momentum changer that then was exasperated by the players then leaving for the Olympics, and I think we lost a little bit of momentum after that.

So, you know, the second half of the season has been tough. At times, it's been a little bit frustrating, but, overall, it's been—I suppose unless you're very successful or completely and utterly unsuccessful, there's been degrees of things that I've been really happy about, and there's been things that we need to do better and change. Things that have been, at times, a little bit frustrating, and things, at times, that this team has done remarkably well. There's one things that I can never ever fault this team for. And that's their ability to keep going for 90 minutes and their ability to stay in the game. And I think we've seen that many times during the year. I think we've scored maybe 80 percent or more of our goals in the last 15 minutes. I think we've brought ourselves from the dead in numerous occasions in games. And that's been a real positive for me.

The frustrations are what they're likely to be when you bring a new group and a new team together with virtually no time to prepare in preseason by throwing a whole new group of players together of various ages and experiences. And that's taking us some time to get that chemistry right. And I think you've seen that with the inconsistencies in our selection and inconsistencies in our systems that we've played this year. So hopefully that kind of stuff we can knock down and get better next year.
Throughout the final weeks of the Pride's inaugural season in the NWSL, Sermanni and players have said this final game will be for the fans.
Well we want to obviously win this last game for the fans who have supported us the entire journey and through our ups and our downs. I think this one's pretty special for them to continue to come out and support us and end on a high note and just, you know, end the season with something exciting to look forward to for the following year. So that's kind of where our head's at at this point.
The Pride are currently on a seven-game winless streak. Their last win came in a 2-1 win over the Boston Breakers on July 10.
I think it was difficult because we do have so many international players, and I think it did hurt us. It hurt our momentum. We knew that coming into this year was going to be difficult with us in and out for the Olympics, but a lot of players got some time to play that they otherwise wouldn't, and I think that only helps build our depth for next season. And a lot of these players are young, and they're rookies, and to be able to come in your first season and play, that's only going to help them and help us. Next year won't be an issue because we're going to be here the whole time, and, I mean I think everyone can see how good we were at the beginning of the season when we were full force, and I think we'll have that next year because we won't have flying changes every week. So we have a lot to look forward to.
Witteman has made 16 appearances so far this season. Weatherholt has made 11, and Burkenroad has recorded seven caps.
I mean, I think we have just a ton of players that grew. Even though they're not rookies didn't get much time playing in other clubs, I think Kristen Edmonds had a breakout year. I think if she continues on this path, I think she'll get some chances with the U.S. team. I think she deserves that. And I think [Jasmyne Spencer] had a great year. I think Dani [Weatherholt] did really well, Sam [Witteman] did really well. I mean, these are a lot of young players that stepped in, that filled some big shoes. So I'm happy, and I'm proud of them, and it's going to be good to see what they can bring in the future for this club.
Kansas City is 6-8-5 entering Saturday's matchup with the Pride.
Well, I think, just like I said before, now we're building for the future, and I think [head coach] Tom [Sermanni]—he's got to try some players out and see if they fit with the mold moving forward. I think he has some tough decisions to make, and these last few game have really been about that, seeing players in these pressure situations and how they perform, and if they fit the mold for our vision next year. So I think people are playing for spots, people are playing for pride, people are playing for their families and the fans and the city, most importantly, and this club because this club is about winning. And I've said that from day one. And there will be changes that are going to be made because we weren't as successful as we planned. So I think people know that, and they're playing with that in the back of their mind, which hopefully lights a fire under their butt. So hopefully we come out flying this weekend.
Following former UWSNT goalkeeper Hope Solo's contract termination and suspension, Harris and Naeher have been competing for the starting spot. Each started in international friendlies on Sept. 15 and Sept. 18.
I had some good talks with [U.S. women's national team head coach] Jill [Ellis] this past week, and I think, right now, it's about just playing both of us, myself and Alyssa Naeher, and getting us experience, and kind of just switching off every other game and continuing to build for the future. I think she sees us as the future, and these next three years is about playing a lot, getting a lot of caps, getting a lot of experience, and when the time comes, depending on who they see fit, will play. And the beauty is we're two completely different goalkeepers, and that's awesome to have. It's even better to have the freedom that that's okay. And our goalkeeper coach accepts us for who we are and what we bring to the table, and he makes us better every day. And I think we're going to continue to compete and push each other. And we're going to get better. A lot of people haven't seen us. They've only seen us in club, but we're two damn goalkeepers that haven't had a shot, and it's going to be great to see both of us get some experience and deep in that position.

I think I got to continue to grow my game and expand my range on crosses, and I think I need to continue to work on my distribution and get my kicking game much further than it is right now. My power has to go up. So I have a lot to do in the offseason in terms of tightening my body up and getting it really explosive. I think I'm great, probably, pretty solid with one-v-one. I think we've seen that this year. But there are things—my shot-stopping ability, my athleticism. To me, I'm just trying to be the best player and teammate I can be, and that's pushing every single day and not taking a moment off even when no one's watching. But it's going to be a tough offseason, and I'm willing to put in the work, and I see the light at the end of the tunnel, and it's a good opportunity for me.
The Crown is the Pride's official supporters' group.
This city is so freaking cool. When I come out of the tunnel and I see people in full shark costumes and facemasks that are just like Jaws—to be able to play and represent this city has been an absolute honor and a privilege, and I don't take that for granted one bit. That's why I love to spend so much time with them. And I think it's important is creating that interaction and showing your gratitude because when I'm in goal, and I'm getting peppered, which has been quite a bit this season, to hear them supporting me and screaming my name just brings a complete different level out of me. I'm not just playing for my teammates and for myself, but I'm playing for them and for my family, and to have them there to support me every single game and support this team, and even bigger picture, this city is unreal. This is a soccer city, and these people love it. It's our job to put on a good performance for them. So that's what we're going to continue to do. I want to bring a championship to this city, and I'm not going to stop until I get it.