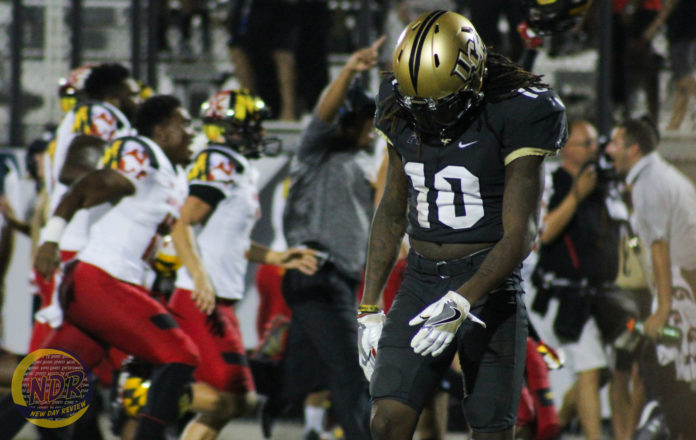 Game Recap
ORLANDO, Fla. – Despite a few shortcomings, true freshman quarterback McKenzie Milton showed promise for the future of the University of Central Florida program. But amidst late-game dramatics, the pressure soaked in.
On Saturday night at Bright House Networks Stadium, the Knights (1-2) suffered a double-overtime loss to the Maryland Terrapins (3-0) 30-24 in Milton's first career start.
After throwing a 31-yard touchdown pass to sophomore receiver Tre'Quan Smith to send the game into a second overtime, Milton had a chance to pull UCF ahead with the score tied at 24.
Facing a third-and-goal situation, the true freshman sprinted to the right to open up a gap for the tight end leaking out on the backside. But as had been a pattern all night, Milton's windup drew him off-balance, stifling his pass to wobble and slip behind him for a live ball—one of six fumbles and four turnovers.
"I felt as if he was covered, and I looked to see if he was open, but it just kind of slipped out," said Milton, who completed 21-for-36 passes for 260 yards, three touchdowns and one interception. "I don't know; it happens. It's tough."
Instead, it was another true freshman quarterback, Tyrell Pigrome, who silenced a home crowd of 43,197. Pigrome replaced senior starter Perry Hills after Hills injured his shoulder, and on his only snap of the game, he raced for 24 yards to seal the game-winning score.
"We did a bunch of stuff that is the mark of a young team. We're a team that's not used to winning," UCF head coach Scott Frost said. "I'm broken-hearted for the guys because they deserved to win tonight."
While the Knights offense had their share of miscues, they were able to jump out the gate early with a score late in the first quarter. The drive, set up by true freshman running back Adrian Killins' 43-yard dash, handed Milton his first career touchdown on a four-yard pass to senior running back Dontravious Wilson over the front left pylon.
An erratic second quarter by Milton, however, allowed Maryland to respond with 10 unanswered points on two of three first-half turnovers. True freshman running back Lorenzo Harrison reached the end zone on a seven-yard rush, and junior kicker Adam Greene's 33-yard field goal gave the Terrapins the lead heading into the half.
"That's the biggest thing we need to go back and work on. We're beating ourselves with turnovers. We had too many today," Frost said.
The Knights lost the turnover battle four-to-zero against a Maryland team that has yet to commit a turnover through three games of play.
But it was the Knight defense that kept UCF close until the end. Hills, who faced constant pressure all night, entered the game as the nation's ninth-most efficient passer (73 percent) but threw for only 127 yards on 10-for-23 passing (43 percent). UCF recorded five sacks—four in the first half—while holding the Terrapins offense to 373 yards and posting 455 yards of their own.
"We had big plays on defense and big plays on offense. So overall, we lost, but at the same time we have a lot to build on and look forward to in the future," said redshirt senior linebacker Demeitre Brim, who notched his first career solo sack on Maryland's opening drive.
UCF had opportunities to secure a victory in regulation. After Maryland failed to convert on field goals from 30 and 51 yards out to begin the second half, the Knights took a temporary 14-10 lead on Milton's seven-yard keeper for a rushing touchdown.
Tied at 17-17, the Knights held their last possession with four minutes remaining, but couldn't get past their own 13.
"Our guys were right on the door, and sooner or later we're going to figure out how to get those wins," Frost said.
The Terrapins have now won their first three games to match their 2015 season win total. The Knights fell short of collecting their third Big Ten victory and are currently 2-11 all-time (0-2 hosting Big Ten schools since 1999).
"There's speed bumps along the way… You can't be the team that makes a mistake in a close game. You have to be the team that executes," Frost added. "Tonight, we were almost there. But we made the last mistake, they didn't."
Quarterback Shakeup
Milton showed out in his first-ever collegiate contest throwing for more yards in one game than quarterbacks senior Justin Holman (212) and redshirt senior Nick Patti (85).
The Hawaiin native replaced Holman and Patti on the depth chart after absent performances last week against then-No. 5 Michigan, when they combined on 3-for-11 passing for just 56 yards. Holman, who is still recovering from a hamstring injury from Week 2, participated in warm-ups during pregame.
"Those guys had my back, full support," Milton said about how Holman and Patti have helped him prepare for his first start. "[They] gave me advice when I came to the sideline—what coverages they saw; what they thought might be open. A couple mistakes, I made they helped me with that, so they've been fully supportive all week."
Through his first start, Milton has already surpassed Holman and Patti for total completions (22), passing yards (260), completion percentage (58.3 percent) and passer rating (131.8).
What's next?
UCF hits the road again to take on Florida International University in their last non-conference game before conference play begins on Oct. 1 at East Carolina University. The Terrapins defeated FIU 41-14 on Friday, Sept. 9.
Scoring
| | | | | |
| --- | --- | --- | --- | --- |
| Time | Team | Play | PAT | Score |
| Q1, 0:24 | University of Central Florida | McKenzie Milton to Dontravious Wilson, 4-yard pass | GOOD | 7-0, UCF |
| Q2, 10:04 | University of Maryland | Lorenzo Harrison, 7-yard run | GOOD | 7-7 UMD |
| Q2, 0:00 | University of Maryland | Adam Greene, 33-yard FG | n/a | 10-7 UMD |
| Q3, 3:40 | University of Central Florida | McKenzie Milton, 7-yard run | GOOD | 14-10 UCF |
| Q3, 0:41 | University of Maryland | Kenneth Goins, Jr., 16-yard run | GOOD | 17-14 UMD |
| Q4, 12:04 | University of Central Florida | Matthew Wright, 43-yard FG | n/a | 17-17 UCF |
| OT | University of Maryland | Perry Hills, 5-yard run | GOOD | 24-17 UMD |
| OT | University of Central Florida | McKenzie Milton to Tre'Quan Smith, 31-yard pass | GOOD | 24-24 UCF |
| 2OT | University of Maryland | Tyrell Pigrome, 24-yard run | n/a | 30-24 UMD |
Statistics
Passing
| | | | | | | |
| --- | --- | --- | --- | --- | --- | --- |
| Player | Team | Completed | Attempts | Yards | TDs | INTs |
| McKenzie Milton | University of Central Florida | 21 | 36 | 260 | 2 | 1 |
| Perry Hills | University of Maryland | 10 | 23 | 127 | 0 | 0 |
Rushing
| | | | | | | |
| --- | --- | --- | --- | --- | --- | --- |
| Player | Team | Carries | Yards | Average | TDs | Long |
| Jawon Hamilton | University of Central Florida | 12 | 65 | 5.4 | 0 | 15 |
| Adrian Killins | University of Central Florida | 5 | 60 | 12.0 | 0 | 43 |
| McKenzie Milton | University of Central Florida | 19 | 10 | 0.5 | 1 | 18 |
| Lorenzo Harrison | University of Maryland | 15 | 77 | 5.1 | 1 | 16 |
| Perry Hills | University of Maryland | 7 | 29 | 1.8 | 1 | 18 |
| Kenneth Goins Jr. | University of Maryland | 3 | 34 | 11.3 | 1 | 16 |
| Tyrell Pigrome | University of Maryland | 1 | 24 | 24.0 | 1 | 24 |
Receiving
| | | | | | | |
| --- | --- | --- | --- | --- | --- | --- |
| Player | Team | Receptions | Yards | Average | TDs | Long |
| Tre'Quan Smith | University of Central Florida | 8 | 114 | 14.3 | 1 | 31 |
| Jordan Akins | University of Central Florida | 2 | 79 | 39.5 | 0 | 71 |
| Teldrick Morgan | University of Maryland | 2 | 64 | 32.0 | 0 | 51 |
| D.J. Moore | University of Maryland | 2 | 25 | 12.5 | 0 | 13 |
EDIT LOG:
Fixed times in scoring table