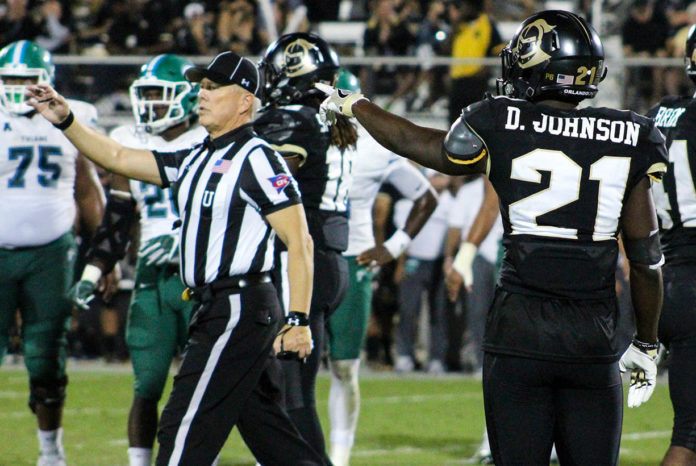 Game Recap
The beginning was sluggish, but the University of Central Florida finished with a strong victory propelled by its defense.
After surrendering back-to-back turnovers on their first two possessions, the Knights (5-4, 3-2 in American Athletic Conference) retaliated in the second half with three defensive touchdowns, rolling over Tulane University (3-6, 0-5 in AAC) for a 37-6 win at Bright House Networks Stadium on Saturday.
"It's just great to get a win," UCF head coach Scott Frost said after the game. "I'm so happy for our guys. They were dominant tonight in all phases on defense. After that first drive where we put the [the defense] in a bad situation…it takes a little bit, maybe a series or two, for guys to get the feel for what [Tulane's] speed is like."
With only a slim 7-6 lead in the third quarter, the Knights busted the game open, scoring 30 unanswered points. The swing was led by UCF's defense, which scored a school record three consecutive defensive touchdowns.
The turning point occurred with a 30-yard fumble recovery by redshirt senior defensive back Drico Johnson on a Tulane triple-option play. Senior cornerback Shaquill Griffin continued the scoring run with a 33-yard pick-six on the following possession to give the Knights a 21-6 lead.
Johnson completed the hat-trick with his second defensive touchdown of the day, jumping in front of Tulane sophomore quarterback Glen Cuiellette's pass for an 83-yard pick-six early in the fourth quarter.
"I'm starting to think it's a chain reaction," Griffin said. "I don't know if I had to get a pick first, and then [Drico] gets one, or vice versa… We're definitely blessed. People don't dream about games like this. It just happened. Right now, I still like to dream."
While UCF's offense sputtered for most of the game, the unit did give the Knights their first and last scores. True freshman quarterback McKenzie Milton's one-yard keeper midway through the second quarter put the Knights in front before the defense erupted after the break.
And with the lead at 30-6 late in the fourth quarter, senior backup quarterback Justin Holman fired a 50-yard pass to senior receiver Hayden Jones on his first throwing attempt. Holman capped off the Knights' final drive with a one-yard keeper to hand Tulane its fourth-consecutive loss.
"We had a bunch of seniors that were starving to show what they can do," Frost said, "We're gonna miss those guys. They're the heart and soul of the team."
Milton threw for 85 yards and an interception on 9-for-20 passing. True freshmen running backs Adrian Killins and Jawon Hamilton and senior running back Dontravious Wilson combined for 105 rushing yards to give the Knights their first 100-yard rushing performance in three games.
Green Wave junior running back Dontrell Hilliard opened with the game's first score on a 14-yard touchdown run. Junior placekicker Andrew DiRocco's ensuing extra-point attempt was blocked.
"The message for our guys was to have fun and enjoy playing football," Frost said. "I kind of got the feeling at a couple of our other games that there was almost a feeling of dread in guys, like, 'What's going to happen now if we lose?' Tonight, we had more guys jumping around on the sideline and getting excited for each other. I think that makes a difference down the stretch."
After Saturday's win, UCF is now one win shy of becoming bowl eligible, a sharp turnaround from a winless season in 2015.
"Every year we've been here, we've gone to a bowl game except for last year," Johnson said. "We have leaders who have stepped it up and are leading the way this year. I feel great about our team. We wall want to win out and go to a bowl game."
Player of the Game: Drico Johnson
 The redshirt senior safety exploded for two of the Knights defense's three scores, setting a new UCF record for most defensive touchdowns in a game. Johnson became the first Knight with multiple defensive touchdowns since former Knight Josh Robinson on Oct. 6, 2010, against the University of Alabama at Birmingham. Johnson's 83-yard pick-six was also the fourth-longest interception return in school history.
What's next?
UCF hosts the University of Cincinnati (4-5, 1-4 in AAC) Saturday at noon for their sixth AAC game of the season. The Bearcats lost to Brigham Young University 20-3 on Saturday.
Finishing Strong
Saturday's win marked the Knights' first home victory since the team's season-opener against South Carolina State University on Sept. 3. The Knights had lost a pair of home games in their last two appearances at Bright House Networks Stadium, falling to the University of Maryland in a double-overtime thriller and the University of Temple on a late game-winning drive.
In both games, the Knights held a lead in the fourth quarter before allowing the tying or game-winning score. Even in last week's road loss to the University of Houston, UCF blew a 21-3 halftime lead, handing away four turnovers in a 12-minute span. Considering those losses, there was a sense of urgency for a young Knights team to prove it can finish close games by not settling for an early lead.
"It was a very satisfying game," Griffin said. "[As a] defense, [we] just have to worry about finishing the game. It was close at halftime, and we just focused on being us, and the points came."
With a 7-6 halftime lead over Tulane, the Knights took advantage of four turnovers to score 21 of their 30 second half points to pull away with the win.
"We were kind of lost in that we weren't executing, and we were getting frustrated with ourselves," redshirt sophomore offensive lineman Wyatt Miller said. "Sometimes when you get so tense, you forget why you're playing. Coach Frost reiterated that to us. This is for us to have fun… When we do execute, it does make it fun."
The Knights' defense executed at a high level to spring UCF over 25 points for the first time in over a month. Interestingly enough, UCF scored its 25-plus points in a similar fashion to how Houston dismantled UCF's halftime lead just a week ago with four second-half turnovers.
The Knights are now one win away from reaching its eighth bowl game in program history.
"I feel like we really needed that [win] just to give the fans something to look forward to," Griffin said. "We're not stopping from here. Coach Frost continues to tell us we can make this a magical season, and that's our goal. We need one more [win] for a bowl game, but we want to win out."
Scoring
| | | | | |
| --- | --- | --- | --- | --- |
| Time | Team | Play | PAT | Score |
| Q1, 12: 23 | Tulane University | Dontrell Hilliard, 14-yard run | NO GOOD | 6-0, TULN |
| Q2, 7:39 | University of Central Florida | McKenzie Milton, 1-yard run | GOOD | 7-6, UCF |
| Q3, 7:23 | University of Central Florida | Drico Johnson, 30-yard fumble return | NO GOOD | 13-6, UCF |
| Q3, 6:34 | University of Central Florida | Shaquill Griffin, 33-yard INT | GOOD | 20-6, UCF |
| Q4, 14:55 | University of Central Florida | Matthew Wright, 39-yard FG | n/a | 23-6, UCF |
| Q4, 11:23 | University of Central Florida | Drico Johnson, 86-yard INT | GOOD | 30-6, UCF |
| Q4, 2:09 | University of Central Florida | Justin Holman, 1-yard run | GOOD | 37-6, UCF |
Statistics
Passing
| | | | | | | |
| --- | --- | --- | --- | --- | --- | --- |
| Player | Team | Completed | Attempts | Yards | TDs | INTs |
| McKenzie Milton | University of Central Florida | 9 | 20 | 85 | 0 | 1 |
| Glen Cuiellette | Tulane University | 5 | 21 | 68 | 0 | 3 |
 Rushing
| | | | | | | |
| --- | --- | --- | --- | --- | --- | --- |
| Player | Team | Carries | Yards | Average | TDs | Long |
| Adrian Killins | University of Central Florida | 5 | 47 | 9.4 | 0 | 24 |
| Jawon Hamilton | University of Central Florida | 6 | 30 | 5.0 | 0 | 24 |
| Dontrell Hilliard | Tulane University | 18 | 84 | 4.7 | 1 | 14 |
| Lazedrick Thompson | Tulane University | 9 | 60 | 6.7 | 0 | 26 |
Receiving
| | | | | | | |
| --- | --- | --- | --- | --- | --- | --- |
| Player | Team | Receptions | Yards | Average | TDs | Long |
| Adrian Killins | University of Central Florida | 5 | 61 | 12.2 | 0 | 28 |
| Hayden Jones | University of Central Florida | 1 | 50 | 50.0 | 0 | 50 |
| Devin Glenn | University of Houston | 2 | 25 | 12.5 | 0 | 17 |
| Darnell Mooney | University of Houston | 2 | 23 | 11.5 | 0 | 18 |