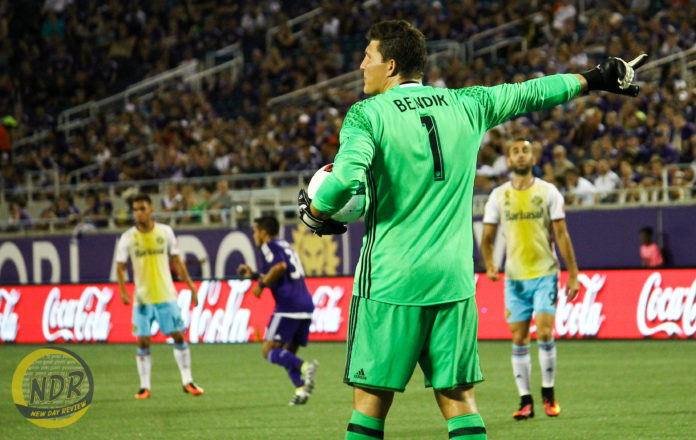 ORLANDO, Fla. – A faltering defensive presence has been the crux of an Orlando City SC squad that is trying to sneak its way into the playoffs. That weakness was shown in City's (7-9-13, 34 points) 4-1 loss to Columbus Crew SC (6-11-11, 29 points) Saturday night at Camping World Stadium.
Columbus took a commanding, insurmountable 3-0 lead in the first half after a dominant performance that saw the Lions' back-line falter multiple times.
In the sixth minute, Columbus' Ola Kamara was delivered a sweet through ball that slipped to him right down the middle of City's back-line. Kamara then gently laid it off to Ethan Finlay for an easy goal that found Lions goalkeeper Joe Bendik in a near-impossible two-on-one situation.
Sixteen minutes later, City defender Tommy Redding would make a goal-saving deflection to force a Columbus corner kick. The ensuing set piece gave the visiting team enough opportunity for the City defense to make another mistake. The ball deflected off of defender Seb Hines for a 22nd-minute own goal and a 2-0 Columbus lead.
The first-half onslaught was capped in the 44th minute when Kamara scored his first goal of the match when another back-line breakdown put Bendik in another two-on-one predicament that led to a 3-0 lead.
Kamara scored his second goal in the 95th minute on a counterattack that he chipped over the top of of Bendik.
Cyle Larin scored City's only goal in the 79th minute when he received a heavy-traffic pass from midfielder Servando Carrasco. The Canadian then turned around slyly and curled the ball right past Columbus' Steve Clark.
Man of the Match: Ola Kamara
The Norwegian forward added to his team-leading goals count with two goals he notched by the 95th minute. Kamara was a part of the attack all night long as he was a part of an attack that sliced the City back-line en route to multiple two-on-one opportunities against Bendik. Kamara finished with three shots (two on goal) and played the entire match.
Another 4 Goals Allowed
Before the loss to Columbus, Orlando City surrendered four goals in a 4-2 loss to the Los Angeles Galaxy on Sunday, Sept. 11. Following the 4-1 loss Saturday night, the Lions now have given up the most goals in Major League Soccer with 53. New York City FC has given up 52.
"I think most of it's just a mentality thing," Redding said after the game. "It's tough, obviously, losing two games in a row…getting four goals scored on you, so we're just going to take it not personally, but we're just going to come together as a group and make sure this doesn't happen again because it's not a great feeling."
Though Columbus scored three goals in the first half, the City defense managed a clean-sheet second half until the 95th minute of the match when Kamara notched his second score.
Columbus only managed eight shots (four on goal) while Orlando City attempted 20 shots (four on target).
Playoffs Slipping Away
Following Saturday-night action in MLS, Orlando City fell to the No. 8 spot in the Eastern Conference. The Central Florida squad entered Saturday as the No. 7 team in the East when D.C. United tied the Chicago Fire Friday night to equalize in points. D.C. owns the tiebreaker with a -1 goal differential. Orlando City has a goal differential of -5.
Furthermore, the New England Revolution defeated the Montreal Impact 3-1 Saturday night to put them in the No. 6 spot in the East. New England has 36 points.
"I think the pressure be immensely high if we had gotten the three points," City head coach Jason Kreis said after the game. "I don't think anything was going to change. This was going to be a tight race all the way to the end.
"We just want to do everything we can to be a part of that race, and, now, going into D.C. United, if we had gotten the three points tonight, we're probably saying a draw would be good enough for us. Now, maybe it won't be."
Larin feels his team is in a good position to make the playoffs still.
"We're still in a good spot, and we're playing D.C., and they're in the same spot as us," Larin said after the game. "So, I think next week's a bigger game for us."
What's next?
The Lions will travel to face D.C., who have the tie-breaking lead over Orlando with both teams at 34 points each.
Scoring
| | | | |
| --- | --- | --- | --- |
| Time | Team | Goal-scorer | Assisted by |
| 6' | Columbus Crew SC | Ethan Finlay | Ola Kamara, Dilly Duka |
| 22' | Columbus Crew SC | Seb Hines | OWN GOAL |
| 44' | Columbus Crew SC | Ola Kamara | Ethan Finlay, Nicolai Naess |
| 79' | Orlando City SC | Cyle Larin | Servando Carrasco |
| 95' | Columbus Crew SC | Ola Kamara | Ethan Finlay |
Statistics and Starting Lineups
| | | | | |
| --- | --- | --- | --- | --- |
| | Goals | Assists | Shots | Shots on Goal |
| Orlando City SC | 1 | 1 | 20 | 8 |
| Columbus Crew SC | 4 | 3 | 8 | 4 |
Orlando City SC starting XI (4-2-3-1): Joe Bendik (GK); Luke Boden, Tommy Redding, Seb Hines, Kevin Alston; Servando Carrasco, Tony Rocha; Kevin Molino, Ricardo Kaká (C), Matías Pérez García; Cyle Larin
Columbus Crew SC starting XI (4-2-3-1): Steve Clark (GK); Hector Jimenez, Gaston Sauro, Michael Parkhurst (C), Harrison Afful; Nicolai Naess, Mohammed Saeid; Justin Meram, Dilly Duka, Ethan Finlay; Ola Kamara