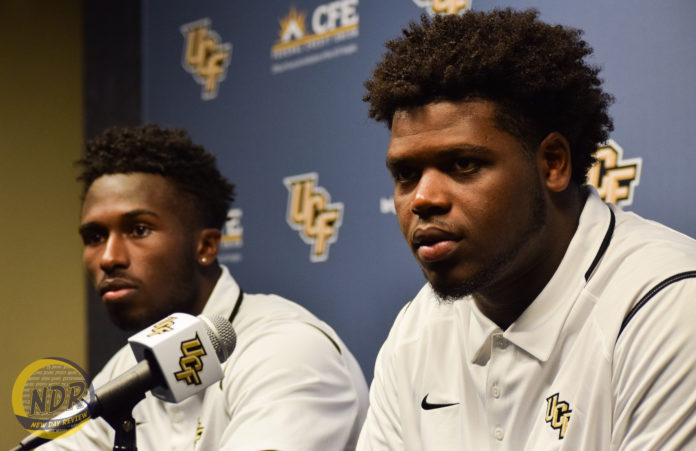 Sept. 14, 2016 at Wayne Densch Sports Center
Availability: LB Mark Rucker
In Week 1's game-week press conference on Monday, Aug. 29, University of Central Florida head coach Scott Frost emphasized an importance on having good practices on Monday and Tuesday, with Wednesday being the hardest, to prepare for game day.
Monday is probably the second-hardest [day], but it's a short practice. But today, we're out here in the sun, it was a little tough. I like how the team responded to what Coach [Frost] wanted us to do. I feel like we had a good practice today.
The Knights are using hand signals and sideline cards to non-verbally communicate play calls and defensive alignments.
Defensive coordinator [Erik] Chinander told us to really emphasize hand signals, so our secondary can see what we need to do, what plays that's being called and all the checks and everything… I feel like Monday we tried, we kept doing it, and I feel like it's going to show up on Saturday.
UCF suffered a 37-point loss to No. 5 Michigan in Week 2. The Knights lost three games last season by a margin of more than 40 points. Their worst performance came in a 49-point blowout to the Houston Cougars in Week 8. Former Knights head coach George O'Leary resigned soon afterward.
Our take is, we played physical. That's what we came in to do, but we need to tighten down on just the little things. Secondary, we got to tighten down on that. Just everything. We played real physical, and that's what we came in to do. But other than that, if we played them again, we'd give them a good run for their money.
Frost said on Monday that his players must come together and be mentally strong when things go wrong to avoid a repeat of the low team morale from last season.
We want to prove to the world that game there was just getting our feet wet. We're just a work in progress. We're going [to] come out and play hard for the fans. We play hard for each other. And that's what we're going to do. We're going to come out and win a game. And my brothers, we here, we're going to go out there and win.

Last season, we would've broken down. We would have said just, 'Damn, season's over.' But this year, I feel like our team came closer. We're in the meeting room, we're calling extra meetings. In the weight room, we're pushing each other even harder. So I feel like the team is getting real close, and we're just trying to win games.
The Maryland Terrapins come into UCF with a chance to match their 2015 win total (three) in only three weeks under new head coach D.J. Durkin.
They're coming to our house. I hope the fans are there; a packed stadium. It's the perfect opportunity for us to show that UCF is back, and I just want the fans to know that because we're here, and we're going to compete and try to win this game.
Terrapins sophomore wide receiver D.J. Moore finished with six receptions, 147 yards and two touchdowns against Florida International University on Friday.
They got a couple running backs (true freshman Lorenzo Harrison and senior Trey Edmunds) that run the ball really well. D.J. Moore is a great player. I watched the FIU game. But you know what, they tie shoes just like this; they put on their jerseys just like us. We're going to go out there and play great football. UCF defense and offense are going to do their thing too.
Sept. 12, 2016 at Bright House Networks Stadium
Availability: HC Scott Frost, NT Jamiyus Pittman, RB Adrian Killins
HC Scott Frost
The University of Central Florida has played polar opposite games to start off their season. They defeated a Football Championship Subdivision (FCS) opponent 38-0 in their season-opener against the South Carolina State Bulldogs and were routed by the No. 5 Michigan Wolverines on the road, 51-14.
We're getting better all the time. I was thrilled with our energy, our passion and our effort on Saturday. We played a really good team. Michigan is a talented team. They executed really well, but our guys went up there and fought. And if we can keep that kind of energy, enthusiasm and effort—and keep adding execution to that—then I know this team will be happy at the end of the year… When you have a team that's talented like Michigan that executes really well, that's a good thing for our guys to see and understand that it takes that level of precision to be really good.
Abiding by his own policy of not discussing injuries, Knights head coach Scott Frost declined to say if whether senior quarterback Justin Holman, who appeared to injure his hamstring after a 35-yard rush against Michigan, is available to play this Saturday against Maryland.
Justin is working to get better as fast as he can… We'll evaluate Justin as the week goes on, and we'll evaluate the rest of the guys that could be available to play on Saturday. As the week goes along, we'll make a decision… Hopefully, we don't have to make those decisions on Justin and Nick [Patti] until down the road somewhere.
The Knights' passing game was absent between Holman and Patti, finishing 6-for-22 with 56 yards passing against the Wolverines.
We need to throw the ball better to win at the clip that we want to win at. I give Michigan a ton of credit. Don Brown is an exceptional [defensive] coordinator. Their style of defense is take away everything easy, so there's no catch, throw completions out there to be had versus Michigan. You have to earn it. When you drop back to pass, your receivers have to win against tight coverage, and your [offensive] line has to hold up long enough for that to happen. And you have to throw the ball well and catch it. We need to execute better on offense in that particular phase of the game.
According to ProFootballFocus.com, Michigan had one of the top five defenses in the country last season and are the only team of that group who didn't have a defensive player taken in the first two rounds of the 2016 NFL Draft.
I don't think it'll be as hard every week in and week out as it was against Michigan. They got some special players—a couple exceptional linebackers and [defensive backs] that are really good. It will get a little bit easier, but if we can learn to execute in a way that we can beat Michigan, then we'll be able to complete balls on everybody else.
During the first quarter against Michigan, UCF's first three kicking attempts—two punts and a field goal—were either blocked or tipped.
Special teams, in general, we've got to improve. I think that's where they beat us the worst… [It's] things we can fix, but guys have to play with urgency and understand how important that is too… We've worked on [protection] today, and, hopefully, we're going to get it fixed. Those kind of things can happen. Our defense played a whale of a game, but we kept giving them the ball on the 40, 30 and 20 on our side of the field. And you can't do that with a good team. If we make people march the length of the field with our defense, then I like our chances.
One of UCF's two touchdowns was an 87-yard rush by true freshman running back Adrian Killins. His touchdown run was good enough for school-record tie with former Knights running back Kevin Smith. In 2007, Smith scored his 87-yarder against Marshall University, the same year he ran for the third-most yards in a single season with 2,567.
Adrian had a limited number of plays Saturday. His speed, you could see that on the one play. He's a guy we're going to get involved as he gets more and more comfortable with what he's doing. He's got elite speed. He turned the corner—I think their safety was surprised by his speed, took a bad angle, and he made him pay for it. Some good blocks on that play too by Tre'Quan [Smith] and Cam Stewart. But I look forward to a lot of those big plays by [Killins]. He's a special kid.
UCF held Michigan's rushing attack to only 119 yards while posting 225 yards of their own.
We've got some good running backs. Dontravious [Wilson] played well. Jawon Hamiltion took another step forward and had some really good explosive runs. [Killins], obviously; Taj [McGowan] did some good things too. I like the guys we have there and the depth we have there and that's going to pay off this year.
The University of Maryland have won their first two games by a combined 66 points after defeating Florida International University 41-14 on Friday.
Maryland is a good team. They've blown out the first two teams they've played. I think they're well coached on both sides of the ball, and are really good on special-teams too, so we got to make sure we're ready for that challenge. But anytime you got a Big 10 team coming in here, we got to prepare well. I know our kids will be ready for that challenge.
While Frost hasn't named a third-string quarterback yet, true freshman McKenzie Milton, who was recruited out of Hawaii, is a candidate to back up Patti.
He's got the it factor, whatever it is. He's had a great camp, does everything the right way. We want to bring him on trips to make sure that he's getting the experience and understands what's being asked of him somewhere out in the future.
Before Week 1's win over the Bulldogs, UCF hadn't won a game since 2014.
That's a big test for our team is, "What now?" I think we need to be able to handle success, and we need to be able to handle challenges. My impression of last year with some of these guys is when something went wrong, the team fractured. I saw a couple hints of that on the sideline, and we're not going to allow that in here. If things are going good, we're a team. If things aren't going well, we're a team. We're going to make sure to stamp out on anything like that from getting started. And I expect this team to pull closer together through a loss or challenge like last Saturday.
The University of Central Florida lost to the No. 5 University of Michigan 51-14 on Saturday. Wolverines quarterback Wilton Speight threw for 312 yards and four touchdowns on 25-for-37 passing.
I feel like we're coming together more. Everything is going up. Everybody has to do their job. That was the main thing. It could've been better, but I feel like everything is going up from here.

[Speight] was tough. I didn't get to him as many times as I wanted, but he came to play, and he made us pay for missed assignments.
The University of Maryland has yet to turn the ball over in two weeks of play against Howard University and Florida International University.
We're trying to win the turnover battle every week. I didn't know that Maryland hadn't turned the ball over yet, but I know we will be reaching for it.
The Knights are 2-10 overall when they've played opponents currently in the Big Ten Conference. In their last four games against opponents in the Big Ten, though, they've recorded a 2-2 record with a win over Pennsylvania State University and Rutgers University.
I feel like we accepted the challenge [on Saturday]. I thought we played well, but they were a good team, and if we can go into every game with the mindset that we went into the Michigan game with, I think we will be a hard team to beat.
UCF finished the 2015 campaign 0-12.
It's just show by example we can't turn on each other. [The loss] brought us closer. Nobody wants that feeling we had in the locker room after that game. The thing that's different this year than it was last year is that we are not going to bicker; we are not going to turn on each other. We just got to encourage each other and come closer, and that will make us better.
The Knights gave up a total of 447 yards (328 passing, 119 rushing) against Michigan.
I think [the defense is] coming along. I think everybody is starting to trust each other. The thing is communication. We have to learn to communicate better. Once the communication falls into place, I think we'll be there.
On Saturday, Sept. 17, the Knights and Terrapins will face each other for the first time ever.
I'm looking forward to it. I know we're all looking forward to it. It's always good to play at Bright House [Networks] Stadium, but I don't really think it would've mattered. I just know that it's the mindset. If we come out with that same mindset, which I know we will, we'll be a hard team to beat.
RB Adrian Killins
The Knights won their first game since 2014 in the team's season-opener against South Carolina State University.
As a whole, as a team, [Week 2's loss] lets us know what our strengths and weaknesses are as a team. It also lets us know from Week 1 how much better we got in Week 2, and as we go into Week 3, what things we can fix to not make those same mistakes that we made in the first two weeks.
Killins carried the ball only one time in the team's loss to Michigan.
I was checking for the safety. I had seen him coming down from the other side of the field. I had no doubt in my mind that he wasn't going to catch me, but I just had to make sure [that] I wasn't going to get caught from behind. I've never been caught from behind before on the football field, and I didn't want it to happen in that game. It was a great run, and Coach Kevin Smith is expecting even greater runs than that in the games to come.
As Killins crossed the goal line on his touchdown run, he dipped his head as if he was finishing a sprint. Killins ran a personal record 10.49 seconds in the 100-meter dash for Mainland High School in his senior year.
[The dip is] pretty natural because I am a track guy. I've run track for 10 years now. I was in a full-out sprint, so I had no choice but to break the tape at the end of the run.
Killins' only got one carry against Michigan: the 87-yard touchdown.
I have great confidence in my speed. I am a 100-meter dash champion and a 200-meter dash champion. I'm one of the fastest guys in the nation and the state, so, with my speed, you can't help but have confidence and trust your speed in all aspects on the football field and just use it to the best of your ability.

It's great because you're not going to face too many defenders that are as fast as me, so I have that edge on them to use my speed and burst and make them mis and make plays so, at the end of the day, I have to use my speed to as that accelerator and that edge because I am a smaller guy than the defenders on the other side of the ball, so it's great.
Prior to his touchdown run against Michigan, Killins only rushed for eight yards on four attempts against SCSU in the season-opener.
I didn't image [my first collegiate touchdown] happening so soon, but it kind of pays off from what we've done in the offseason from the strength and conditioning coaches and in the fall camp. Coach Frost has been putting us in great positions to make plays, and the coaches are having us execute well in practices. These plays happen in practice, and when they happen in practice, they happen on the field and in the game.
Maryland has held teams to 14 points and under in the team's first two games.
Offensively, a great aspect coming off of that game and coming into Week 3 facing Maryland, another Big Ten team, [is] we had a lot of great rushing yards but not as many passing yards as we wanted. We just have to hold the pocket a little bit longer. Our offensive line is doing a great job, and the quarterbacks are doing a great job sitting in the pocket and getting the passes dumped off to the wide receivers. But coming off that game, we looked pretty good on offense as a while, but we also have things we can get better at, as a whole, on the offensive side of the ball.
UCF rushed for 275 yards while Michigan only mustered 119.
It's a great accomplishment, the rushing yards that we had as a running-back corps. We strive to have 100-plus yards for each running back that gets on the field, whoever it is. No matter [if they're a] freshman, junior or senior, we have a lot of goals set. We always want to execute well to complement the offense. We are like the tempo setters, so we strive to be great and be that one to make plays.
Holman may be out for Saturday's matchup against Maryland.
The running backs and quarterbacks have a great relationship. At the end of the day, blocking is No. 1 for the quarterback as a whole. IN order to run the ball, you have to know your pass protections and know how to block so, at the end of the day, we have to have the quarterback's back, and if we don't have his back, he's going to get sacked, and he's going to get hurt and so forth.

We always have the quarterback's back, and any time we're out in a route, and we will get that check down, they know they can go to us and get the ball in our hands, and we'll get out in space and make plays.

So the quarterback and us, we have a great relationship. They depend on us, and we depend on them, and, at the end of the day, we all want to make plays and complement the offense. It all starts with the o-line, and the o-line has been doing a great job since fall camp, and they continue to strive to be great and be those dogs that they are.