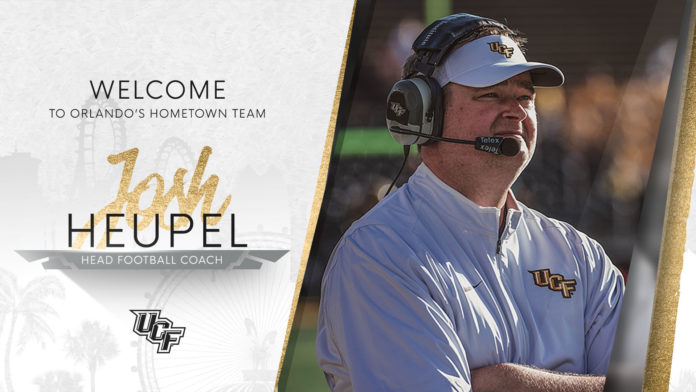 (Photo by UCF Athletics)
Late Tuesday morning, the UCF Knights held a team meeting to announce their new head coach. After cryptic tweets from players and athletic director Danny White alike, UCF announced the hiring of former Missouri Tigers offensive coordinator Josh Heupel as the 11th head coach in UCF history.
"I'm thrilled to welcome Josh and his family to UCF. I believe we've identified one of the brightest offensive minds in college football," White said, per the team's press release. "His offensive system is very similar to what we've been running. I know he's going to utilize all the great talent on our roster and continue to add to it… Coach Heupel is in coaching for the right reasons. He cares about his student-athletes, and that's one of the most important attributes I look for in a coach."
With the Tigers, Heupel was the team's offensive coordinator and quarterbacks coach for the past two seasons. He resurrected an offense that was ranked 124th in the nation in total offense (280.9 yards per game) in 2015. In 2016, Missouri led the Southeastern Conference and was ranked 13th in total offense (500.5 yards per game). This season, the Tigers are ranked seventh in the nation in total offense (511.5 yards per game). Missouri also boasts the 10th-ranked scoring offense, averaging 39.3 points per game.
Under Heupel, Tigers quarterback Drew Lock has had a career season in 2017. Lock has, so far, thrown for 3,695 yards and an SEC record 43 touchdowns with just 12 interceptions, completing 58.2 percent of his passes. Missouri still has a bowl game to play, too.
Apart from Lock, Heupel has also coached Oklahoma Sooners Heisman quarterbacks Sam Bradford and Jason White. Heupel also coached Landry Jones, who is No. 3 in NCAA career passing yards and No. 5 in NCAA career touchdown passes.
"I'm extremely excited about the opportunity to represent UCF," Heupel said, per the team's press release. "What makes this opportunity so unique is the vision of the leadership… Their vision for this becoming one of the premier programs in the country makes this an exciting opportunity. That vision, the amazing campus, along with the recruiting base not only allows you to have immediate success but sustained success. I'm very excited to get a staff together and get to work with our wonderful student-athletes."
As a player, Heupel has experience on college football's biggest stage. He led the Sooners to a national championship over Florida State University in the 2001 Orange Bowl. He was a Heisman Trophy runner-up in 2000. Heupel was also named the 2001 Associated Press Player of the Year, the 2001 Walter Camp Award winner, the 2001 Archie Griffin Award winner and a consensus All-American performer.
In two seasons as the Sooners' starter, he posted a 20-5 record, throwing for 7,456 yards and 53 touchdowns. That eventually led to him being drafted by the Miami Dolphins in the sixth round of the 2001 National Football League Draft.
---
For more on the Knights, as they move forward with their new coach, follow Victor Tan on Twitter at @NDR_VictorTan.