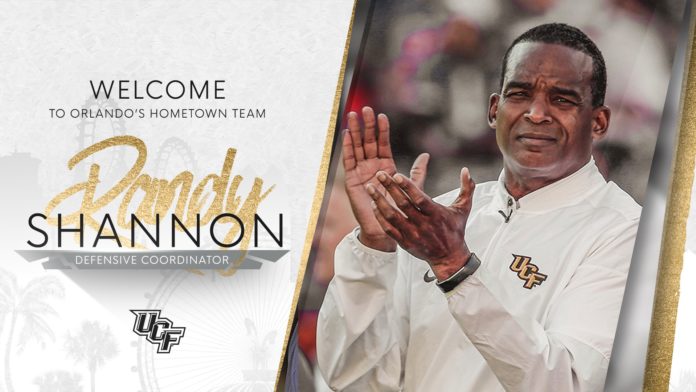 (Photo by UCF Athletics)
With the departure of Erik Chinander to the Nebraska Cornhuskers with former UCF Knights head coach Scott Frost, the Knights needed a new defensive coordinator. New Knights head coach Josh Heupel is filling that void with Randy Shannon, according to a team press release.
"Randy is someone who I have always had a great deal of respect for throughout the years," Heupel said, per the release. "Seeing what he's been able to do with defenses, in addition to his ability to recruit this state, it's extremely special and will be invaluable to our staff."
Shannon is a proven winner, having won three national championships as a coach and a player. He brings over 25 years of coaching experience to UCF, getting his coaching start back in 1991 with the Miami Hurricanes. He most recently was the defensive coordinator and interim head coach at the University of Florida this season.
In Gainesville, Shannon's defense was fifth in the nation in total yards allowed (293.0 yards per game) in 2016. That defense also had the second-best pass defense, as the Gators allowed just 148.5 passing yards per game. Despite the Gators' losing record in 2017, Shannon's secondary was still among the top 30 in the country.
Before he joined the Gators, Shannon was the head coach of the Miami Hurricanes from 2007 to 2010, leading Miami's defense from 2001 to 2006. In five of those six seasons, Shannon's squad ranked among the nation's top-10 defenses. Those teams produced 25 National Football League draftees, including 12 first-round picks.
UCF will hold an introductory press conference for Heupel Tuesday at 2 p.m.
---
For more on the Knights, as they move forward with their new coaches, follow Victor Tan on Twitter at @NDR_VictorTan.