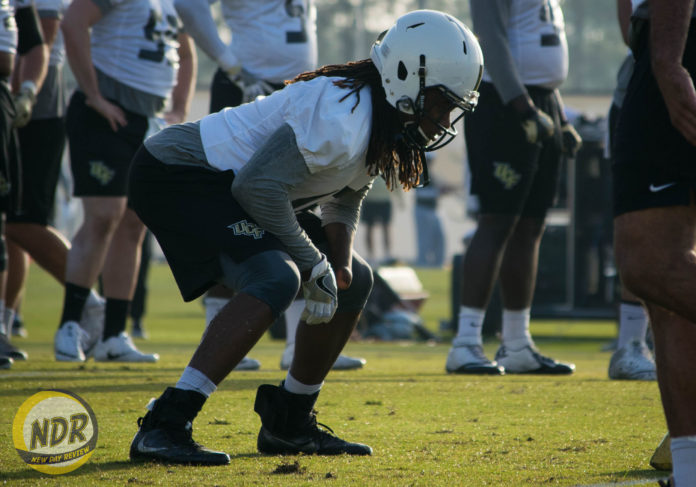 (Photo by Victor Tan / New Day Review)
ORLANDO, Fla. – The University of Central Florida had its first full-contact scrimmage of training camp Tuesday morning. For head coach Scott Frost, the Knights' defense is set to be as good as last year's team or potentially better.
"I thought, defensively, we're on track to being the same type of team or better than we were last year," Frost said after Tuesday's scrimmage. "I see a lot of effort over there."
For Frost, the defense was highlighted by the linebackers group. Specifically, the second-year head coach identified the middle linebackers.
"We were a little concerned about that position coming in, and Pat Jasinski and Chequan Burkett look great," Frost said. "They made a huge stride since last year. I think Gabriel Luyanda is gonna give us another really good player in there. Nate Evans has had a really good camp. And we have some young talented freshmen that are coming along. So, I feel really good about where we are at linebackers."
Shaquem Griffin, the leader of the linebackers, said his team took a step forward but still has room for improvement.
"I feel like there's some things we could work on, but I still feel like we made a step up," Griffin said after practice Tuesday. "And I think that is the important thing is we able step up each and every day."
One thing Griffin was especially proud of was the lack of penalties called.
"You got the refs. You didn't see too many flags, and, you know, that's a big bonus from last scrimmage that we used to have last year," Griffin said. "You know, we was still trying to adjust and still trying to figure everything out. And you got guys who was offsides and guys trying to know the cadence. I feel like, this year, this team, it's just so much [more] disciplined."
Last season, UCF averaged 13.2 penalties per game on both sides of the ball. The defense averaged 6.2 penalties per game, which was tied for 54th in the country.
As for the offensive players' thoughts on the first scrimmage, they agreed the defense had a jump on them. Even last year's starting quarterback McKenzie Milton thought so.
"Offensively we kinda started slow," Milton said after the scrimmage. "The defense kinda jumped on us early."
Frost has three more scrimmages planned before the regular season starts. In two of those scrimmages, the Knights will focus on situational strategies.
UCF opens its season on Aug. 31 against Florida International University.
---
For more on the Knights, as they continue fall camp, follow Ryan on Twitter at @NDR_RyanWeiss.