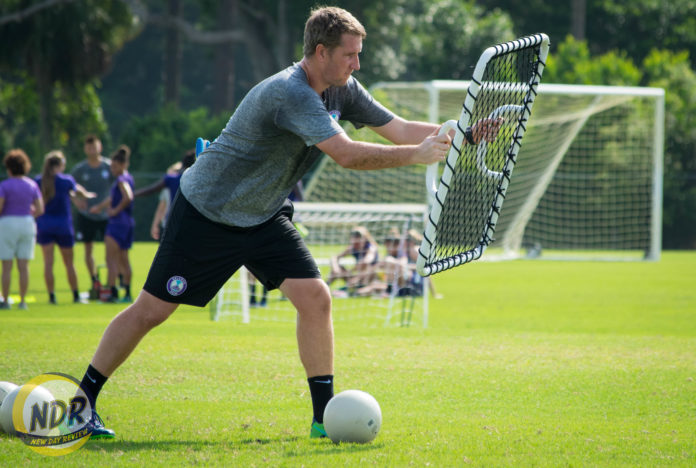 (Photo by Victor Tan / New Day Review)
ORLANDO, Fla. – Coaches are always looking for whatever edge will give their team the best winning chance. Orlando Pride goalkeepers coach Lloyd Yaxley is no different. His style, however, might be. The first-year Pride coach draws inspiration from sports other than soccer, and not all of them have goalies. For second-year Orlando boss Tom Sermanni, its Yaxley's ingenuity in training sessions that he admires.
"He's very much someone that keeps looking at freshening things up, bringing new ideas," Sermanni told the New Day Review after training on Aug. 3. "I mean, we jest about the gadgets but bringing things in there to make training both relevant but actually, you know—not more fun but just more diverse. So, you know, it's not turning up every day, and then, 'Well, we did that yesterday. We did that the day before. We did that the day before.' So it keeps everything resh, and it keeps players thinking."
Though Sermanni wouldn't term the goalkeepers' sessions as "fun," Pride goalie Aubrey Bledsoe would do otherwise. But for the second-year keeper, who has started every game since May 27, Yaxley's tools are also practical.
"Yeah, we've got a lot of fun toys," Bledsoe told the New Day Review after training on July 27. "It helps to break it down because—for instance, the volleyballs. When we're getting hit from close-range, if we use a soccer ball, that hurts. And so the volleyball helps us work on the technique, and then we incorporate it into the larger picture.
"We go to goal, take all the gimmicks away, and it's realistic. But we break things down into smaller components, get really good at that, and then we move into the larger picture."
When Yaxley looks to other sports for his coaching, he's analyzing the details of the details. He's looking for subtleties in movements from goalies in world-popular sports like ice hockey and relatively less-popularized sports like futsal.
Yaxley's coaching origin, however, started at home, in England. That lent itself to his focus on the technicalities.
"I mean, having been brought up in England and having been coached in England, I would say I'm pretty technical with the way that I do stuff, as far as handling and breaking down technical technique parts of things.
"But then, like, I also try and, you know, like watch other sports where goalkeeping is involved. So, I'll try and watch clips of, like, ice-hockey goalkeepers, of futsal goalkeepers, of, you know, anything that is of similar goal, as far as keeping the ball out of the net… Is there, like, ways that they move or ways that they train that I can incorporate into our environment?
"Like, today, we've been using volleyballs. We'll use tennis balls. We'll use, like, lots of different aspects just to keep them on their toes, just to keep 'em guessing and have 'em come out and never be quite sure what I'm gonna throw their way."
If there's one goalie Yaxley has difficulty keeping on her toes, it's second-year Pride keeper Ashlyn Harris. Yaxley and Harris first met in the 2013 season when they were both with the Washington Spirit.
For Harris, bringing Yaxley to Orlando was a "no-brainer." She even went as far as housing her once-former coach for two weeks when he first made the move.
"It was a no-brainer to bring him here," Harris told the New Day Review after training on Aug. 4. "He's a fantastic coach, and he's definitely more on the modern side in understanding it's not so much about quantity but quality and limiting, you know, how many reps I get—making sure I'm not smashing the ground a ton each day…
"I think he's come in; he's done a really good job. I think he's helped the younger kids out, and I love his style. It's very open. It's like, 'Okay, maybe this isn't working. What can we do different?' And we're both very open to each other's ideas, and we bounce off each other, and, at this level, at this age, it has to be that way."
Yaxley and the Pride return to action Tuesday night at 7:30 p.m. against the Washington Spirit. So far this season, the Pride have only yielded draws with the Spirit.
---
For more on Yaxley and his goalkeepers, follow Victor Tan on Twitter at @NDR_VictorTan.