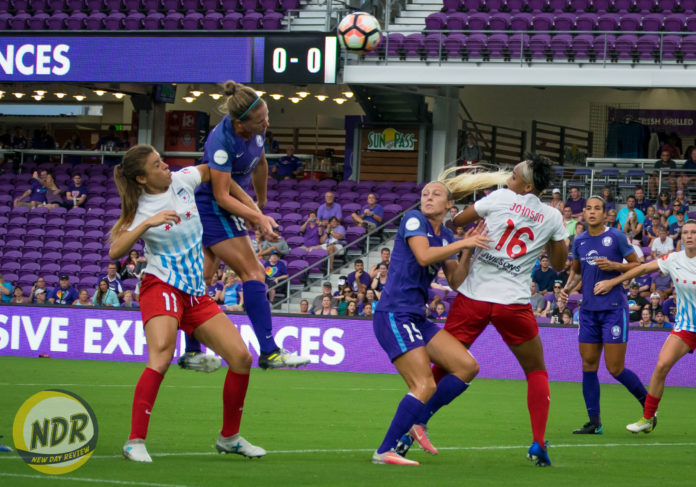 (Photo by Victor Tan / New Day Review)
ORLANDO, Fla. – Midfielder Maddy Evans has seen her role with the Orlando Pride drastically change from last season to this year's—and not for the better, from a playing-time perspective. In 2016, Evans started 12 of her 16 appearances, recording an assist in 1,108 minutes. This season, she has played just 276 minutes in 10 appearances and three starts.
Despite her decreased role in competitive play for the Pride, second-year Orlando boss Tom Sermanni said Evans is "still a critical part" of the team after her most recent start in a 1-1 draw with the Chicago Red Stars on Aug. 5.
"I've had, you know, several meetings with Maddy," Sermanni said. "It's been a very frustrating season for her because she has been a regular player in the [National Women's Soccer League] for five years, and, this season, it's been difficult for her to get a starting spot in the team.
"But she's still a critical part of our team and our squad and a very important part of our team and our squad. And she plays an important role every day she turns up at training, to be honest. Even though she is disappointed that she hasn't had more starts, she turns up regardless, every day, and gives 100 percent, supports her team, supports her teammates and is an absolute consummate professional."
Since entering the league in 2013, Evans has played for the Boston Breakers and the Pride. With the Breakers, she started 23 of her 46 appearances and recorded three assists and two goals. In the draw against Chicago, Evans took one shot and completed 85.7 percent of her 21 passes.
For first-year Pride player Chioma Ubogagu, it was Evans' ease to meld with the group on the pitch despite her lack of playing time this season that stands out.
"Her work ethic is unbelievable 'cause it's tough knowing when there's a lineup, and it's consistently being used, and you're not in it," Ubogagu said after the draw with Chicago. "It's tough, especially when you know you're capable of playing, but maybe what the coaches wanna put out that week doesn't have you in it.
"But Maddy always is positive and always stays ready, and I think it speaks volume of her character of how this is her third start, but, like, today, she looked like she'd been playing for us all season. That's really hard to do."
The Pride continue their three-game home stand with their third and final matchup with the ninth-place Washington Spirit on Tuesday.
---
For more on Evans and the Pride, follow Victor Tan on Twitter at @NDR_VictorTan.