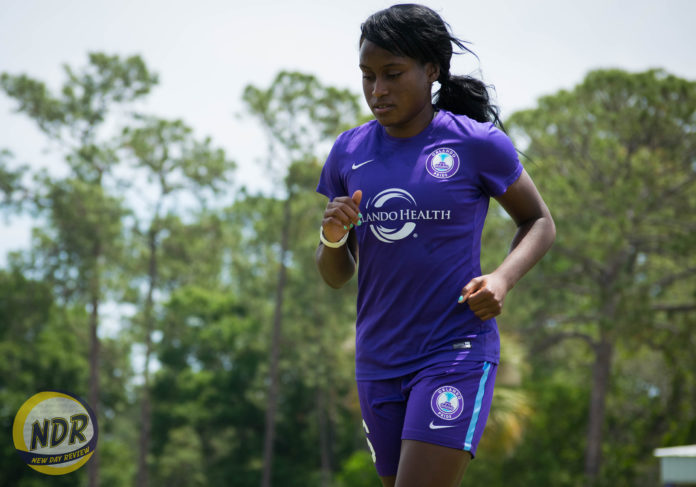 (Photo by Victor Tan / New Day Review)
ORLANDO, Fla. – A new opportunity awaited Orlando Pride forward Chioma Ubogagu. With seven players away on international duty in the inaugural Tournament of Nations and those players potentially needing rest upon returning, Pride head coach Tom Sermanni and his staff were bound to implement a lineup change. That change came in the form of Ubogagu playing a position she had never played in her life: left-back.
For Sermanni, he was pleased with Ubogagu's performance in a 1-1 draw with the Chicago Red Stars on Aug. 5 but saw the apprehension in her during the week's training.
"I thought she did really well. I thought she had an excellent game," Sermanni said after the draw. "She was really apprehensive about playing there, and, obviously, she's an attacker. She wants to be further forward. But, again, I thought her passing was good; I thought her defending was good; I thought she used the ball well. And, as I say, she got into some really good crossing positions and was a real danger down that side.
"So, you know, given that, basically, she's never played at left-back, to my knowledge…we've put her in there with virtually no preparation because we've only had half a team to prepare for this game."
The first-year Pride player was instrumental in two of the Pride's best scoring chances. In the sixth minute, she sent in a cross near the Red Stars' left end-line for an Alex Morgan header that ricocheted off the crossbar. Ubogagu also sent in the initial long ball to forward Jasmyne Spencer for the assist on Morgan's goal.
As for Ubogagu's apprehension in playing left-back, that derived from her lack of playing experience in the position. Her motivation to embrace the change, however, is her hunger for the playoffs.
"I've never played there in my life, so, I think, if I was apprehensive, it was 'cause of that," Ubogagu said after the match. "But I understand that it's what the team needed. Steph [Catley], who's great for us every week, obviously put in three 90s in a week, so, I understood the reason for the switch. And once I kinda wrapped my head around that, it was time to just do something that was bigger than me and do it for the team…
"At this point, I'm just really hungry for playoffs, and whatever we have to do, whatever we need to do to get three points every game, I'm willing to do."
Fortunately for Ubogagu, there have been plenty of opportunities to watch other left-backs play, both in the men's game as well as the women's. The combination of her already-developed soccer acumen combined with individual film study is what drove Ubogagu's preparation.
"So, I usually play in the front of Steph, so, Steph's a great player, and I watched Tournament of Nations and stuff," Ubogagu said. "So, there's been a lot of football on in this weird, like, summer break with the international tournament on the men's side, so I've been watching Marcelo [Vieira] and Real Madrid, Steph, like I said.
"But, at the end of the day, the game is football. So, I'm very familiar with what's asked of each position. Yes, it's a little different when you're actually doing it, but I try not to think and just play freely, and hopefully I did okay."
Given a rested Catley, Ubogagu is unlikely to play at left-back again.
The Pride continue their three-game home stand with their third and final matchup of the season against the Washington Spirit. Both previous results ended in draws.
---
Edits Log:
8/6/17, 4:57 p.m.: Added paragraph describing tangible impact in draw with Chicago.
---
For more on Ubogagu and the Pride, follow Victor Tan on Twitter at @NDR_VictorTan.