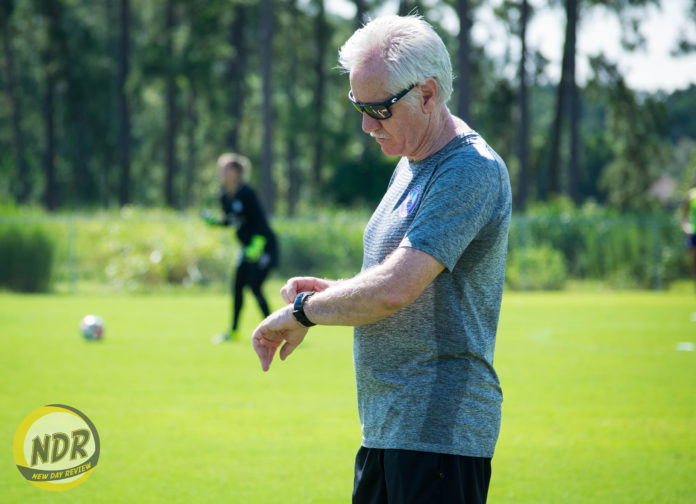 (Photo by Victor Tan / New Day Review)
ORLANDO, Fla. – Of the 10 National Women's Soccer League teams, the Orlando Pride boast the largest representation in the inaugural Tournament of Nations. The Pride have seven players, including the likes of star forwards Marta Vieira da Silva and Alex Morgan, from three countries in the four-nation tournament.
In their absence, center-back Toni Pressley has seen a noticeable increase in the team's training intensity. She said training is more difficult without her teammates.
"I think [training] becomes a bit harder," Pressley said after training Tuesday. "You know, just numbers-wise, it makes the level of intensity a bit higher. I think, you know, everyone's working on things now because we have the time to. Like, some people are doing more finishing and things like that.
"But, you know, for this weekend, I think having some players gone, we don't know what they're gonna be like when they come back. So I think everyone needs to be prepared to get minutes this weekend, and I think people are focusing on that."
For head coach Tom Sermanni, he and his staff are able to focus on giving players individual attention with so few outfield players in training.
"[Training is] very much so [more intense] because you're dealing with less numbers," Sermanni said after training Thursday. "So, your amount of rest time is less. Your amount of recovery time is less. The amount of attention you get individually is more. So, with that, a smaller group, your intensity then increases."
With players like Marta, Morgan and team captain Ali Krieger away and goalkeeper Ashlyn Harris injured, there is also a noticeable lack of players in typical leadership roles. But as Sermanni has emphasized the need for team-wide leadership all season long, midfielder Dani Weatherholt has seen her teammates take the second-year boss' message to heart.
"I think it's enabled everyone to step up, and it's been really good," Weatherholt said after training Tuesday. "I think…to lose six or seven starters out of any lineup is tough, but we have a lot of depth on this team, and I think that's gonna show up in this upcoming week."
Said Sermanni on players stepping into leadership roles: "I think everybody's kind of embraced this situation of not having those international players here and having those senior players here and stepped up. And I think what you've gotta remember is that we've got a lot of senior players still here who have got, you know, a lot of good game time either this year or last year in the NWSL as a whole. So, I was never concerned about that side of things. As I say, my biggest concern this week is actually having enough bodies to put a team out on the field."
The Pride's Tournament of Nations players returned Friday evening after all four national teams played their finales on Thursday. Left-back Steph Catley and midfielder Alanna Kennedy helped the Australian women's national team to a perfect 3-0-0 record in the tournament, including a first-ever win over the United States women's national team, out-scoring opponents 11-3.
For Sermanni, who has "no idea" if his seven international players will be available on Saturday, he's confident in the players he has had all week in training.
"I mean, I've got every confidence in the players that are here. But it's down to a question of numbers," Sermanni said. "You know, it's not so much the depth or the quality of this squad that we're talking about; it's the actual number of players that we've got to get a side on the field and to have players on the bench that are fit enough and healthy enough to come on and make an impact."
The Pride search for their first-ever win over the Chicago Red Stars on Saturday when they host the Windy City team at 7:30 p.m.
---
For more on the Pride as they begin a three-game home stand, follow Victor Tan on Twitter at @NDR_VictorTan.