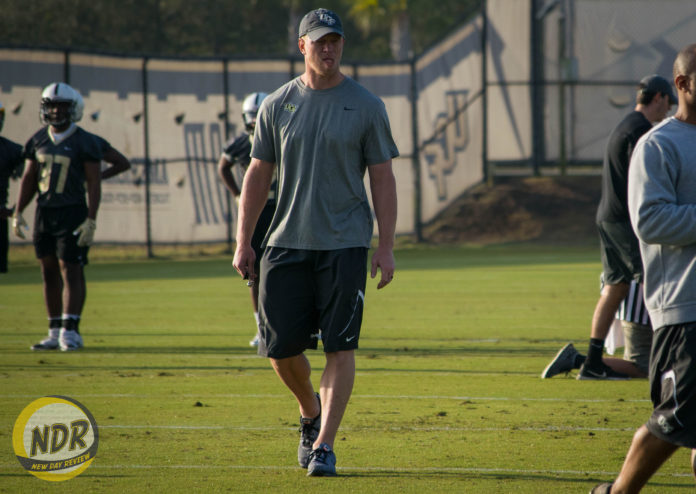 (Photo by Victor Tan / New Day Review)
University of Central Florida head coach Scott Frost announced coaching-staff chances on Wednesday.
The biggest of the title changes was administered to special-teams coordinator and linebackers coach Jovan Dewitt. In addition to his roles last season, Dewitt will be the Knights' associate head coach in 2017.
"Jovan is a really talented coach," Frost said, per the team's press release. "He brings a lot to the table. He coordinates our special teams, coaches our linebackers. He was an assistant head coach at Army. He helps me out in a lot of other ways. We're going to keep him in the same role, and we've promoted him to an associate head coach position. I can give him things and let him take things off my plate."
As for the Knights' director of operations, Gerrod Lambrecht, he will add the title of chief of staff.
"Gerrod is one of the most valuable people we have in this building," Frost said. "He does a lot of things for me, helps me get my job done. He runs things when I'm not here and reports everything I need to know to me. He's been elevated to a position that helps him with a seat at the table with the administration. I'm grateful to have him around."
In addition to these title changes, director of high-school relations Mike Cassano adds offensive quality-control administrator to his responsibilities.
Frost also added new members to the UCF staff.
Horace Raymond will serve as director of player development, and Frank Verducci will serve as an offensive analyst. For Raymond, he served in similar roles at the University of Oregon and Arizona State University. As for Verducci, he served as the offensive coordinator for the UConn Huskies. Before his time with UConn, Verducci saw stints with schools like the University of Florida and the University of Notre Dame and also coached at the professional level in both the Canadian Football League and the National Football League.
Trent Mossbrucker will be the new assistant director of football operations in Lambrecht's stead.