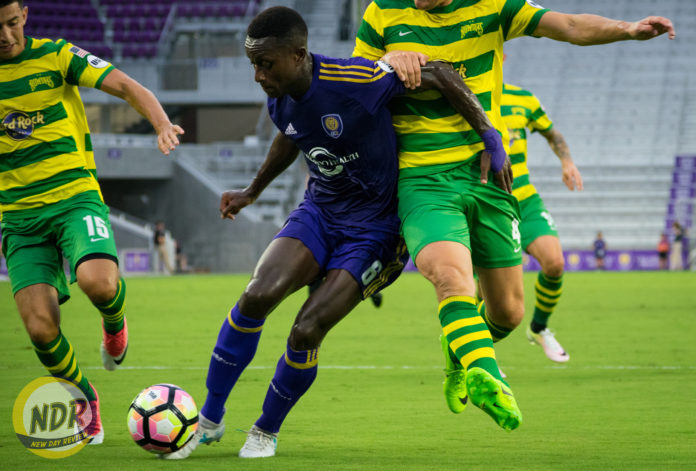 (Photo by Victor Tan / New Day Review)
Match Recap
ORLANDO, Fla. – The second bout of the Orlando City SC-Tampa Bay Rowdies rivalry this season had a new battleground this time out: Orlando City Stadium. Whereas the Rowdies had a penalty kick that lifted their squad to a 1-0 win in St. Petersburg in a season-opening loss for OCB, it was the United Soccer League Lions that scored the game-changing penalty kick.
Orlando City B (5-6-7) drew with the Rowdies (7-5-7) 1-1 behind midfielder Danny Deakin's lone OCB score in stoppage time in front of an announced crowd of 1,504 fans. For head coach Anthony Pulis, it was two points lost rather than a point gained.
"I'm obviously proud of the players for the way they kept going. They didn't give in." Pulis said after the match. "Having said that, and I know this sounds strange, I've just said it to them now, I'm really disappointed 'cause I felt like there was a game there for the taking. I felt like that was another two points dropped because I felt like we controlled the game for long stretches."
OCB took full advantage of the seven minutes of added time, as midfielder Richie Laryea charged into the box from the left in the 95th minute. Just as Laryea stepped into the box, Tampa Bay's Darnell King dove in for a tackle and Laryea's fourth drawn foul. A minute later, the game was tied, courtesy of Deakin's goal from the spot. For the rookie, it was a relief to have finally scored.
"I'm just happy to get that first goal out of the way. I was going through a bit of a drought. I think eight games without scoring," Deakin said after the match. "So, yeah, I mean, obviously coming in at that time, just trying to help the team as much as possible. When the chance came for the penalty, I thought, 'I'm burying this.' So, happy it went in."
Martin Paterson, who appeared in four matches for Orlando City's first team in the 2015, inaugural season, marked his return to Orlando with a goal on an erratic play in the 21st minute. When Lions center-back Seb Hines won the ball from Joe Cole on a slide tackle, the ball rolled to Keith Savage, who sent the ball back to the downed Cole. The Englishman popped back up to his feet, sent a ball into the box to Paterson, who rocketed it first time with his left foot into the top right corner past goalkeeper Earl Edwards Jr.
One of the best chances of the night for the USL Lions came when Rowdies goalkeeper Matt Pickens gifted the ball to forward Hadji Barry in the 72nd minute near the left sideline of the Rowdies' final third. Barry collected the ball and dribbled around the box looking for an opening. When he saw it, he sent a ball near post, ricocheting off the frame and behind goal.
Another chance for Barry came in the 76th minute when he managed to get a cross into the box with three defenders smothering him on the edge of the box. Team captain Lewis Neal collected the ball near the spot and had his shot deflected off target for a corner kick that didn't yield any results.
OCB nearly stunned the Rowdies in added time when a set piece in the middle of the field was sent outside and left to a lonely Fernando Timbó, whose left-footed shot sailed just wide right.
The Rowdies almost equalized in the final seconds of the game when a foul on the left side of Orlando's box allowed a set-piece opportunity. The ball found the back of the net after Rowdies defender Tamika Mkandawire found the ball by the far post. The goal was waved offside, salvaging the draw for the Lions.
"I was just thinking, 'Oh, my God. Is this really happening," Deakin said. "Yeah, I mean, I need to watch it back. I don't know if they gave offside or whatever, but, yeah, I mean, it'd have been a cruel way to lose a game after just equalizing like that."
Man of the Match: Richie Laryea
Laryea completed 85 percent of his 33 passes on the night but saved the game for OCB when he one of his four fouls drawn was inside the box late in stoppage time.
What's Next?
OCB have more than two weeks to rest before they travel to South Carolina to battle the Charleston Battery on July 29.
For Lewis Neal, Rivalry Match with Tampa Bay Was 'Low-key'
The passion of the rivalry showed all night: There were 26 fouls, five cards and 23 tackles for both teams combined on the night. The game started physically with both teams diving in for tackles within the first minute. Two cards were issued to Rowdies players towards the end of the first half. King's  booking in the 43rd minute was followed by another yellow card issued to Alex Morrell in the 45th minute. For Neal, he thought it was a relatively tame match.
"For a rivalry match, I actually thought it was pretty low-key, in general, to be honest." Neal said after the match. "I don't remember too many instances where it got too heated for a rivalry game, in my opinion. But, yeah, in a rivalry game you expect there to be tackles flying around and all that sort of thing, you know, scuffles happening here and there and everywhere. But I thought it was quite calm, to be honest."
Highlights
GOAL @TampaBayRowdies!!! Joe Cole finds Martin Patterson with a stunning through ball and Patterson smashes it past the keeper! 1-0 #ORLvTBR pic.twitter.com/NXbylX10v6

— USL (@USL) July 13, 2017
39′ | 🎯 right at The Landlord. Easy clean up for Earl.

0-1 | #ORLvTBR pic.twitter.com/NtFwyUJXPK

— Orlando City B (@OrlandoCityB) July 14, 2017
65′ | 1..2..3..4..5 defenders and still a pretty close 🚀.

0-1 | #ORLvTBR pic.twitter.com/VFYJR6sX7b

— Orlando City B (@OrlandoCityB) July 14, 2017
77′ | Again, almooost. Got 'em spinning though.

0-1 | #ORLvTBR pic.twitter.com/3WrosH7Xs2

— Orlando City B (@OrlandoCityB) July 14, 2017
Pssst keeps, wrong way… pic.twitter.com/9Sv8K1sOb9

— Orlando City B (@OrlandoCityB) July 14, 2017
This is basically the epitome of 😈. pic.twitter.com/si1rhxDDmU

— Orlando City B (@OrlandoCityB) July 14, 2017
NDR Notes
Deakin scored his first goal for Orlando City in the draw with Tampa Bay.
The last time both teams met was in St. Petersburg where the Rowdies came away with a 1-0 victory on a penalty kick.
Both teams only notched one shot on target.
Deakin's 96-minute goal was the latest goal OCB has scored this season.
Scoring
| | | | |
| --- | --- | --- | --- |
| Time | Team | Goal-scorer | Assisted by |
| 21' | Tampa Bay Rowdies | Martin Paterson | Joe Cole |
| 96' | Orlando City B | Danny Deakin | PENALTY |
 Statistics and Starting Lineups
| | | | | | |
| --- | --- | --- | --- | --- | --- |
|   | Goals | Assists | Shots | Shots on Goal | Possession % |
| Orlando City B | 1 | 0 | 9 | 1 | 62 |
| Tampa Bay Rowdies | 1 | 1 | 4 | 1 | 38 |
Orlando City B Starting XI (4-4-1-1): Earl Edwards Jr. (GK); Zach Ellis-Hayden, Léo Pereira, Seb Hines, Fernando Timbó; Austin Martz, Lewis Neal (C), Paul Clowes, Tony Rocha; Richie Laryea; Hadji Barry
Tampa Bay Rowdies Starting XI (4-2-3-1): Matt Pickens (GK); Zachary Portillos, Tamika Mkandawire, Neill Collins, Darnell King; Keith Savage, Marcel Schäfer; Georgie Hristov, Joe Cole (C), Alex Morrell; Martin Paterson
---
For more on OCB and the I-4 rivalry with Tampa Bay, follow Tommy Cardinal on Twitter at @NDR_TomCardinal.