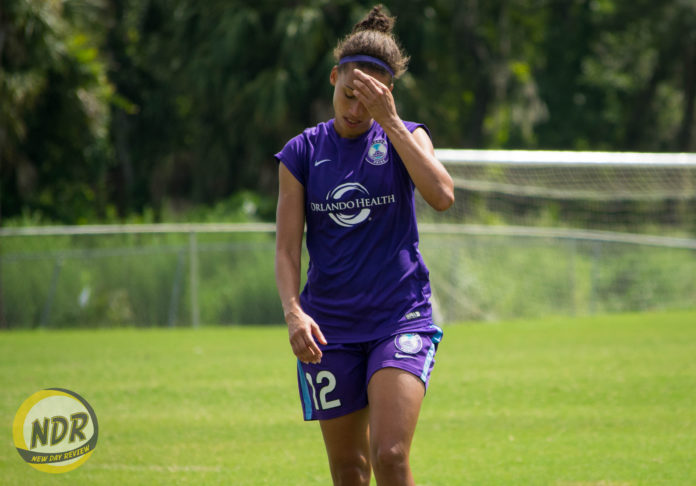 (Photo by Victor Tan / New Day Review)
June 30, 2017 at Seminole Soccer Complex
Availability: HC Tom Sermanni, F Rachel Hill
The Orlando Pride host the No. 2 Chicago Red Stars on Saturday at 5 p.m. as part of Orlando City SC's first double-header. After the Red Stars match, Orlando City B will play FC Cincinnati at 8:30 p.m.
We had a quick turnaround from [Houston]. Three games in a week. So it was difficult to keep up with things, and we had to watch footage of Chicago, who didn't play until 10:30 on a Wednesday night our time. So, you know, having a look at them today wasn't going to be an awful lot in the session. The players really just getting their legs up and working again for the game tomorrow. So it was more important for me to be doing some other work.
Pride forward Alex Morgan is expected to make her 2017 National Women's Soccer League debut in the Chicago match. She will not start but is expected to play significant minutes.
You hopefully you get the ideal situation. But the ideal situation would probably bring her on somewhere between 20 and 30 minutes to go when the tempo of the game's probably died a little bit, and it gives her a chance to get in the game and actually get some game time under her belt. I think if you look, she probably hasn't played a full game from maybe about seven weeks now. So, it'd just be great to get her out on the field and, as I say, get 20 minutes or so.
For Sermanni, the return of Morgan is on the earlier side of her expected return timetable.
It's kind of within the timeline but at the earlier end of the timeline. And, you know, when we were looking at Alex, it was one of those injuries where it was almost got to day-to-day situation where it was going well the beginning of last week, and then it kind of took a little turn for the worst, and then it came back very quickly, and she's been terrific this week and has really pushed on. So, she's looking good and back, as I say, probably a little bit earlier than we thought she might be.
Sermanni sees the addition of Morgan as additional firepower. Forward Marta Vieira da Silva leads the team in goals so far with six.
It just gives us extra firepower up front and the ability to use those strikers in the best way to be most effective, team-wise. And I think, you know, with the type of players that we've got with that pace and that mobility, it's great to have a mixture of those players on the bench because they can change games, and I think we saw that on Wednesday night with Rachel Hill coming on, getting involved heavily in the first goal and scoring the second goal. So, you know, what you want to do is get to a stage where you've got a very strong starting 11 but you've also got a strong bench, and sort of from an attacking perspective, you know, with Alex coming back, we've certainly got that now.
For Sermanni, one of the most invaluable assets on his team is having players who can score.
It's really valuable. The most valuable thing is having players on the team that can score. And if you've got a team where you have multiple players that can score, that is a huge advantage. And I think, if you look at Sky Blue, for example, you know, if you took Sam Kerr out of their team, they'd be saying, "Well, who else is going to score our goals?" Now, when you look at our team, you know, [Chioma Ubogagu's] scored, [Jasmyne Specner's] scored, Rachel's scored, Alex is obviously going to score, Marta's scored, Camila's [Martins Pereira] scored. So all of a sudden, you've got five or six players who are capable of scoring on a regular basis, and that's a huge asset.
For Sermanni, Chicago is a team that has a lot of pace and one that won't play build-up soccer.
It's always hard at the end of a week of three games. But very well organized. Very tough team. They're not a team that would, I would say, plays a lot of build-up type of soccer. You know, they've got a bit of pace up front with Christen Press and Jenny Hoy or whoever else they play up there with Press, and they kind of get it forward early. They pressure the ball well. And, physically, they're very strong. And the other thing that I think Chicago's got is that their team is virtually a carbon copy of the team from last year. When I looked at the team during the week and last weekend, I don't think they had one player that wasn't in their team last year. So, they've built up a great deal of continuity and consistency in their squad, and that, certainly, is a big advantage.
The Pride have won three out of their last four matches.
We keep talking about it amongst the players and realizing the importance of staying in touch. So if we can get a positive result this weekend, we are right in touch with the top of the league. We'd be two points behind Chicago, who are currently in second place. So it's more about—again, I think I said it previously—it's more about us staying in touch. Obviously important to win our home games as well, but, really, this league is so tight that the closer you can stay in touch, the better it'll be when it comes to these critical games near the end of the season.
Hill scored her first goal of her professional career, a game-winner over Sky Blue FC in a 3-2 win on Wednesday.
Well, again, it's just continually growing your game. When she came in, we expected her—I'll be honest, I expected her to be probably a little bit raw than I've actually seen. I think she's already made significant progress in the pro game as a player. Her pace and her mobility is obviously a huge threat. Her willingness to make runs in behind defenses is a huge threat. But I've also started to see another side of her game. Her ability to hold the ball up under pressure. Her ability to keep possession and join players in. And now she's starting to get more confidence and actually running and dribbling at players. So, you know, hopefully if she keeps progressing as she is that we'll be—you know, we are delighted, but we'll be even more delighted.
Sermanni said the Pride didn't sign any duds during the offseason.
Well I think if you look at personnel, we've made sort of significant changes. You know, when we look at the team probably last—most of the games this season, we're starting with probably a minimum of five of the 10 outfield players are different than last year. And I think we've made some really good acquisitions. You know, if you look at who we signed—Ali Krieger, Alanna Kennedy, Camila, Marta, Chi, Rachel Hill. Every one of them has been good for us. We haven't sort of signed any duds so far. And that's, you know, it's not that easy in the game to actually do that, so I think we've done a good job in strengthening this team and bringing better-quality players into our starting 11. And when you look at that quality, what we've done this season is we're starting to—we have created many more chances than we did in games last year when every game was a real battle. So, I think that's a major difference from this year to last year is that we've got more quality, and we've got players capable of scoring goals.
Goalkeeper Ashlyn Harris has been out with a non-contact leg injury since suffering the injury in a 1-1 draw with the Seattle Reign on May 22.
I would say probably a couple weeks. You know, she's in great shape. If she didn't have to kick, she could probably come back now. But she's just, you know, at the stages where she's not kicking fully because of the strain, but other than that, she'll be back and hopefully back in full training next week. And then, as I say, see how she goes from there. But my guestimate would be two weeks' time.
F Rachel Hill
Hill hopes she gets a chance to play Morgan in Saturday's match.
Yeah, I mean, I think we're all feeling really good right now. Having her back is great. I haven't played with her yet, but I'm super excited. I hope to get a chance to be on the field with her, and I think it's great that she's back, and we're all coming together.
After the Chicago match, the Pride will have played three matches in a matter of one week.
I think just the confidence from that win, it gave us just, like, to know that we can come back, we can win, and I think that's all we needed.
For Hill, she feels the team is now hitting its stride.
Yeah, I mean, halfway through the season, we've had our bad games, we've had our good games. So I think now we are hitting that stride, and we're going on a high right now.
Until Morgan arrived in Orlando, Hill had not met her.
Not really. I just met her for the first time when she got back. I mean, she's a great person. She'll be good for our team.
For Hill, the coaching staff was instrumental in giving her the necessary confidence to score the game-winner against Sky Blue.
Yeah, I mean, they give me a lot of confidence that I was doing great, but you're missing one thing, which is scoring, which is absolutely right. So I think just to hear that from them and put that in the back of my head, knowing that I needed to score was important.
I mean, Steph [Catley] played a beautiful ball in, and I happened to be in the right spot. So I come in. So I just jumped up and headed it in.
It was [exciting]. It was incredible. They're all so happy for me, and it feels great to have them there.
It's just cool to go on Twitter and stuff and see all the fans, how happy they are and just getting that is incredible.
For Hill, there's a weight lifted off her shoulders now that she's scored her first professional goal.
Yeah, I mean, hopefully now the weight is lifted off my shoulders, and scoring will come a little bit easier. The pressure's kinda off. So, yeah, I hope to keep scoring, and, I mean, everyone keeps playing great balls in, so it's bound to happen.
---
For more on the Pride and their journey to the top of the NWSL table, follow Victor Tan on Twitter at @NDR_VictorTan.