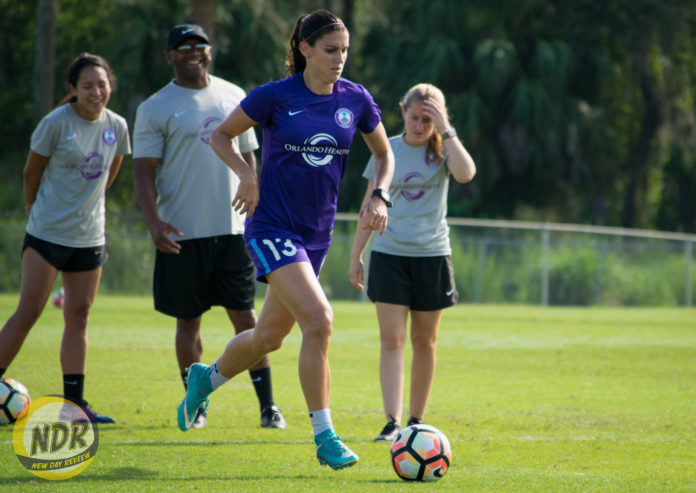 June 16, 2017 at Seminole Soccer Complex
Availability: HC Tom Sermanni, F Alex Morgan
HC Tom Sermanni
The Orlando Pride begin a home-and-home series with the Houston Dash, starting with an 8:30 p.m. matchup Saturday night.
It's interesting. They're a little bit of the unknown, actually, because they've obviously changed coaches over the past couple of weeks. And the new coach has only had one game in charge—a very short notice. Obviously, they've got Carli Lloyd coming back, and they're playing at home. So there's a few sort of unknowns that—the reality with Houston is that probably their position in the league in relation to the type of soccer they play and to the quality of the squad is a little bit false. So we are expecting a very difficult game tomorrow.
When the Pride play Houston on Saturday, it will have been exactly two weeks since Orlando last played a match.
It was good. It was good. It gave the players a break. We know the players went away for four days. It gave them a break from us, us a break from them, and I think that's a good thing at this time in the season. And everybody comes back renewed and refreshed and ready to go. The difficult part of the break, obviously, was losing players to international duty, and we haven't seen our three Brazilian players for the last 10, 11 days, and we'll meet them in Houston this afternoon.
Pride forward Christina Burkenroad has not officially been waived by the Pride, but the team is looking at both domestic and abroad options for her to take.
At the moment, obviously it is a little bit—it's hard to clarify specifically, at the moment, because of some uncertainties around Alex coming back, but, obviously, we're in a position where Alex is coming back, and we need to make room in the roster. At the same time, it's very important for us to try and look after all of our players as best we can and trying to get them opportunities in different places. So, at the moment, we're looking at opportunities for Christina, whether it be in [the National Women's Soccer League] or whether it be somewhere overseas.
She has not officially been waived because I don't think, officially, we have signed Alex because we're still waiting for the process to get finalized.
For Sermanni, getting Morgan back onto the field is the "most important" objective for the team now.
Yeah, she's looking great. She's been out there running this morning, and I think the key thing that's most important for us, with Alex, is obviously to try and get her back on the field as quickly as possible. But we need to get her back on the field as safely as possible. So we need to make sure we get her rehab completely right so that when she walks back out on the field for us that she's ready to go and that we don't risk her breaking down again.
Sermanni sees adding Morgan to the Pride again as an bonus to an already-productive attacking squad.
Well, it's gonna add, I think, an extra dimension of her attacking abilities. I think we already have a great deal of mobility and attack and somebody like Alex coming back into the team…will add to that further. I think the other thing is that, you know, if you look at our team this year compared to last year, I think we're creating significantly more chances. We're dominating games much more than we did last year. So when you've got a player like Alex in a team like this, I think we'll create a lot more chances for her, and I think she'll do very well in this team, particularly having someone like Marta [Vieira da Silva] supplying her with chances.
No, it's really exciting. It's fantastic. And, you know, if you look, when we get Alex back—as I say, you know, I think we are doing fairly well. That's no disrespect to the players that we've got because, you know, I think if you look across our attackers at the moment, they're all producing excellent performances, all producing goals and assists. But, obviously, bringing someone like Alex back gives everybody a huge boost—the players, the team, the club, the supporters. So there's a whole range of plus sides, if you like, with Alex coming back into the team.
For Sermanni, reintegrating Morgan is "no problem."
That's no problem, really. I think she'll—I mean, she's been part of this club since Day 1. Although she had her little respite in France, she's still been very much part of this team and part of the club. And we've still got a large core of players that were here last year. And if you look at how easily and how well our Brazilian players kind of came into the team, I think there won't be any issue with Alex coming in and gelling with them right away.
The Pride are 2-1-2 in their last five matches.
(jokingly) You're putting me under pressure, aren't you, straight away of bringing that up. You either bring up a losing record or a winning record to put me under pressure.
I didn't know that 'cause I don't kind of look at those kind of things, to be honest. It's just important—you know, I've spoken about this earlier. I thought early in the season, when we weren't getting results, we were still doing a lot of good things. And it's just been a case of chipping away, chipping away, trying to get our tactics right, trying to get our formation and selection right. And we're still in the process of doing that. I think what you start to see is the players becoming more cohesive, the team becoming more solid, and then we're starting to finish things off that we didn't do quite do at the start of the season. So the key thing for us is hopefully to continue taking that into the next sort of phase of games.
F Alex Morgan
Morgan trained with the team for the first time on Friday.
It's so good to be back. Actually, today was like my first training with the team. I was able to do warm-up and passing and then some fitness on my own, so, it's just so nice to be back. I obviously had June 17, like, on my calendar as my first game back, but that'll be prolonged a little bit, but I'm just happy to be back with the girls.
While the club officially stated that Morgan would be out for three to four weeks, Morgan said doctors haven't given her a specific date.
Right now, we haven't said—you know, the doctors haven't set like a specific date or anything just because it's like a re-injury, but it wasn't like as bad as the first time, so I'm back running and everything. So, every day I'll just be able to do a little more, and I have my own personal goals, but I want to make sure that I'm like 100 percent and ready to go before I put myself in a vulnerable position.
For Morgan, it's been exciting but difficult to watch this year's Pride team develop.
Yeah, it was really fun just seeing the team add and build layers and bring international and domestic players of such great quality, and obviously I'm really good friends with Ali [Krieger]. I've played with Marta before, some other great Brazilians and players that have come to this team this year. And so it's been fun to watch them, but I've missed this team a lot, and it's been difficult to watch from France. So, I'm just happy to be back with the team.
Morgan has played with Marta before. In Morgan's rookie year in the NWSL, the two played together for the Western New York Flash.
Yeah, we haven't played together since my rookie season in 2011, and that was during the World Cup year, so I—we maybe played a handful of games together. So I'm really looking forward to it. She's, you know, five-time Player of the Year, and she's a player that everyone loves to watch. She's so crafty, and I know she's gonna be, you know, feeding some amazing balls in for me and scoring a ton of her own. So I'm excited to get on the field with her.
For Morgan, integrating back into the Pride will be "pretty fluid."
I think it'll be pretty fluid to get integrated into [the] team. There's obviously a couple of newer players, but a lot of the players I just spoke about, I've played with before. And then we have a big core of players that were here last year. So, I think it'll be a week or so, and we'll be back into it.
Looking back, Morgan was "glad" she took the opportunity to play in France at this point in her career.
France was really fun. I'm glad that I took the opportunity to go there at this point. But I'm really happy to be back. I feel like I learned just a different style of play. I played with some players of the top caliber around the world. Got to know some players who haven't played in the U.S. So that was fun to, like, get myself out of the comfort zone and kind of learn new style of play, try to understand the language and understand a coach that speaks no English, and I speak no French. It was difficult and challenging and fun, but it was a five months that I'm happy I did, and now I am ready to back and get started with the Pride.
Morgan said she was always determined on returning to Orlando.
No, no I made a commitment, at the time that I decided to go to France, that I would be back in June after the transfer window opened, and I always was going to stick to that.
At this moment, Morgan is unsure if she'll play overseas again. Right now, she's focused on playing for the Pride.
I don't know. I—right now, I'm really happy with, you know, what I accomplished and what the team accomplished in France, but I'm thinking about this season with the Pride and trying to get that extra push to make the playoffs, to get more points and this middle third of the season, and so I'm really just focused on the Pride right now.
Morgan sees more talent and more chemistry in the Pride's second-year squad.
You know, last year was our inaugural season, so this year I see so much talent on the field. I see so much more chemistry, and I really want to be a part of that. It was really difficult watching games at midnight or 2 in the morning and seeing them drop a couple of games and not pick up as many points as I feel like the team deserved. So I'm ready to get back in here and try to help the team as much as possible and try to pick up more points to get into that top four of the table.
While in France, Morgan appreciated the benefit of not having to travel long distances like in the U.S.
I tried because I knew nothing going into the season with Lyon. So, I tried to learn a little bit. Well, obviously, I'm still very limited, and I really enjoyed the city. I enjoyed like walking around and didn't use my car that often 'cause I lived like right in the city center. And just soccer-specific, it's difficult playing in the U.S. because we have such a big county, so some of our games are a six-hour flight, and you don't get that in Europe. So the travel is the one thing I would say was a plus there.
For Morgan, France was an experience she enjoyed, but there's nothing that compares to being home.
Yeah, I mean, I lived by myself in France, and the girls are amazing. You know, my team was really awesome and welcoming, but there's nothing like my family, like my husband, my dog, my friends here on the team. I just—I missed everything about Orlando and just that feeling of being home, of like just being part of a community that I'm used to, that I'm comfortable with, that I feel like absolutely at home with. So, I just missed that whole aspect of it.
The heat has been difficult for Morgan to adjust to.
This is my second day training in the heat, and it's really difficult. Like, I am not used to it. So, I need to definitely adjust, and I think it will be a week, and then I'll be fine. But, right now, it's extremely challenging for me.
Morgan had to adjust to a different style while playing overseas in France.
In France, they play like a lot of one-two touch. Like, no one really sits on the ball for too long. It's all about finding the space like in front of the back-line. In the U.S., a lot of our style, historically, has been finding the space in behind, more often than not. And so I had to change up my runs a little bit from always trying to look in behind first to like checking to the ball and making runs, diagonal runs with other forwards. And I also had to learn how to play in the three front on the left and the right. In Champions League final, I started on the right side. I didn't get as much time as I wanted in that final because of my injury, but I had to adjust to different positions, and I think that just opened up—just developed my style and my play a lot more.
Compared to last season, Morgan sees increased quality in the Pride this year.
I think the quality just continues to increase. You know, Tom feels more comfortable with the players. I think the players just are gelling really well together. I really enjoy—I enjoyed watching the games, as difficult as it was not playing with them. The first part of the season, I loved watching them. You know, it's—the possession is high, the passing accuracy is higher than last year, so it's exciting to see those numbers continue to increase—not that I'm a big stats person, but it's fun to watch them play, you know. And not get the results, it's probably pretty frustrating because I think, at times, they did deserve a lot more points than the table shows right now. So, I think that's gonna continue to progress through season.
While overseas, Morgan kept in touch with her Pride teammates, encouraging them before and after games.
I kept in touch with a lot of my teammates, and, before most of the games, I wished them all luck. Just checked in with girls to see how they were feeling, how they were doing, and, obviously, for some girls who maybe got a start, who hadn't been starting, or maybe got benched, should have been starting previously—you know, I tried to connect with those sort of players and just wanted to keep up with the team because I knew I would be, you know, gone for a third of the season, but I wanted to come back in and make the transition as fluid as possible. And so it was important just to keep in touch with the girls and with Tom. There's just been full transparency with Tom from last November, December, and he's been extremely supportive, and I'm so appreciative of that. And, now, coming back in here, it's like I've been here the whole time with Tom. He's just really supportive, and, you know, it helps just having a coach that is fully behind all his players.
---
For more on the return of Morgan to the Pride, follow Victor Tan on Twitter at @NDR_VictorTan.