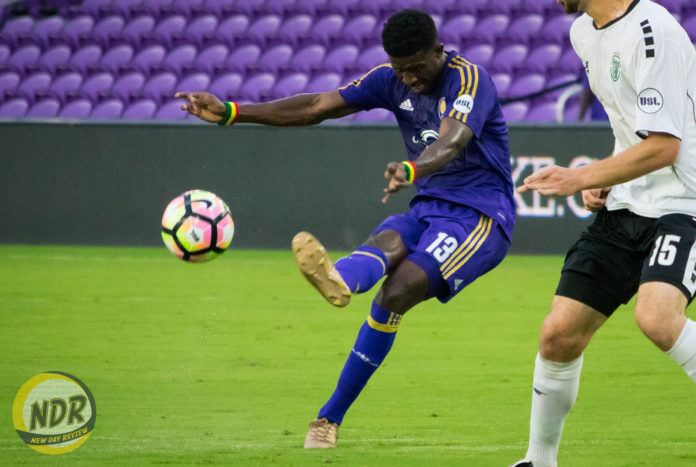 (Photo by Victor Tan / New Day Review)
Match Recap
ORLANDO, Fla. – Orlando City B battled to a 1-1 draw against the Rochester Rhinos (4-1-4, 16 points) Wednesday night in Orlando City Stadium in front of an announced crowd of 967 fans. For head coach Anthony Pulis, it was a "frustrating" night.
"I thought it was a frustrating evening, to be honest. We knew—well we had a really good idea of how Rochester were gonna come and play, how they were gonna set up, but our decision-making in possession was disappointing, I think, at times." Pulis said after the game Wednesday. "Obviously we had a lot of possession, but I don't think we did enough with it. Like I said, we just had a brief chat with the players, and we're gonna go through the video 'cus this will be a real good learning experience for them."
OCB (4-4-4, 16 points) enjoyed 55 percent of the possession and passed the ball more accurately throughout the game but couldn't get three points in their only home game in the month of June.
In the 23rd minute, midfielder Richie Laryea delivered the ball past Rochester's defense into the middle of the box. Forward Hadji Barry used his pace to outrun two defenders to get on the ball, dribbled past Rochester goalkeeper Tomas Gomez and slotted it into the open net to record his second goal in OCB's last two games. For Barry, it feels good to be doing his job.
"As a striker…every game you go into, you wanna score goals. That's your job out there," Barry said after the game. "And I feel good right now—you know, two games, two goals. But I wanted to get the three points. That's the most important thing. We wanted to get the win."
Rochester struck back quickly when a low cross into the box was mishandled by goalkeeper Josh Saunders. The ball bobbled out of the hands of the outstretched keeper and was promptly rifled into the back of the net by forward Antonio Correia in the 25th minute.
Man of the Match: Richie Laryea
Laryea's physicality made an impact, as he drew eight fouls for OCB Wednesday night. He finished with a shot (one on goal) and three tackles and recorded the assist to Barry for OCB's lone goal of the match. He also completed 92.3 percent of his 26 passes.
What's Next?
OCB travels north to face Toronto FC II next on June 14 at noon.
Josh Saunders Makes Orlando City Debut
Saunders, who led Major League Soccer with 123 saves in 2015 with New York City FC, returned to the pitch for the first time in 2017. The 36-year-old goalkeeper has a lengthy résumé, including three MLS Cups, and was signed as a backup to Joe Bendik for the senior team.
For Pulis, the reason for Saunders starting over the United Soccer League's leader in saves in Earl Edwards Jr. was simple.
"[First-team head coach] Jason [Kreis] wanted Josh to get a game," Pulis said. "Simple as that."
Saunders allowed the equalizer from a poorly handled cross shortly after the USL Lions took the lead, but he also saved the tie with saves in the 81st, 88th and 91st minutes. Pulis acknowledged Saunder's performance in his first action in 2017.
"To be fair to Josh Saunders, he's kept us in it there at the end," he said. "I think he'll be the first to admit he obviously—he made a mistake for the first goal, but he's made three or four fantastic saves at the end where—again, we're pushing numbers forward to try and get the winner, and, again, that always leaves you vulnerable. It leaves you a little bit open at the back, and they countered pretty well."
Richie Laryea's League-leading 6 Yellow Cards 'Worries' Anthony Pulis
Laryea's physicality made an impact, as he made a return for OCB after his suspension due to yellow-card accumulation. In the 64th minute, Laryea was given another yellow card, his sixth of the year, which ties him for most in the USL.
For Pulis, these fouls aren't malicious but foolish.
"Yeah it is a little bit [worrying], to be honest," Pulis said. "I don't think they're malicious fouls. I think they're silly fouls more than anything. To have six yellows at this stage of the season isn't ideal, to be honest, and that's something we're gonna have to address. He's missed a game already."
Even though Laryea drew a game-high eight fouls, Pulis said the ref should have given him more.
"Should have been double, by the way. It should have been a lot more." Pulis said about the fouls Laryea drew. "Well, look, Richie's dangerous. I mean, he's obviously got a really good turn of pace and the understanding, now, of him picking up little pockets in between the lines. He's done a better job of this season.
"And when he gets in there and he gets turned and he starts running at defenders, he's difficult to defend against, which you've seen tonight. I just wish he had a little bit more protection at times from the referee tonight."
Post-game Interviews
Highlights
18′ | A little Bermuda Triangle action going on here.#ORLvROC | 0-0 pic.twitter.com/x6kLMaMHFX

— Orlando City B (@OrlandoCityB) June 7, 2017
32′ | A little around the world action.#ORLvROC | 1-1 pic.twitter.com/qOrDWAZWkZ

— Orlando City B (@OrlandoCityB) June 8, 2017
56′ | Danny with a blaaaast of a free kick. Keeper right there though.#ORLvROC | 1-1 pic.twitter.com/45XLVCHhN9

— Orlando City B (@OrlandoCityB) June 8, 2017
82′ | Boom bang. Saunders coming up big, twice!#ORLvROC | 1-1 pic.twitter.com/qgNDsoIXfl

— Orlando City B (@OrlandoCityB) June 8, 2017
So close @RichieLaryea_, so close… 😈 pic.twitter.com/bQ2pEExNT0

— Orlando City B (@OrlandoCityB) June 8, 2017
89′ | Snuffed and smothered.#ORLvROC | 1-1 pic.twitter.com/RKphkrjbW3

— Orlando City B (@OrlandoCityB) June 8, 2017
NDR Notes
Saunders made his first appearance of 2017.
Laryea is now tied for most yellow cards in the USL with six.
Barry has recorded two goals and one assist in his past two games.
Scoring
| | | | |
| --- | --- | --- | --- |
| Time | Team | Goal-scorer | Assisted by |
| 23' | Orlando City B | Hadji Barry | Richie Laryea |
| 25' | Rochester Rhinos | Antonio Correia | n/a |
 Statistics and Starting Lineups
| | | | | | |
| --- | --- | --- | --- | --- | --- |
|   | Goals | Assists | Shots | Shots on Goal | Possession % |
| Orlando City B | 1 | 1 | 6 | 4 | 56% |
| Rochester Rhinos | 1 | 0 | 9 | 5 | 44% |
 Orlando City B starting XI (4-4-2): Josh Saunders (GK); Zachary Ellis-Hayden, Seb Hines, Zach Carroll, Scott Thomsen; Richie Laryea, Lewis Neal (C), Austin Martz, Jordan Schweitzer; Hadji Barry, Danny Deakin
Rochester Rhinos starting XI (5-3-2): Tomas Gomez; Joseph Farrell, Raymond Lee, Jordan Dover, Todd Pratzner, Ryan Felix; Ryan James, Kenardo Forbes (C), Sofiane Tergou; Antonio Correia, Darius Madison
---
For more on OCB and its journey to the USL playoffs, follow Tommy Cardinal on Twitter at @NDR_TomCardinal.