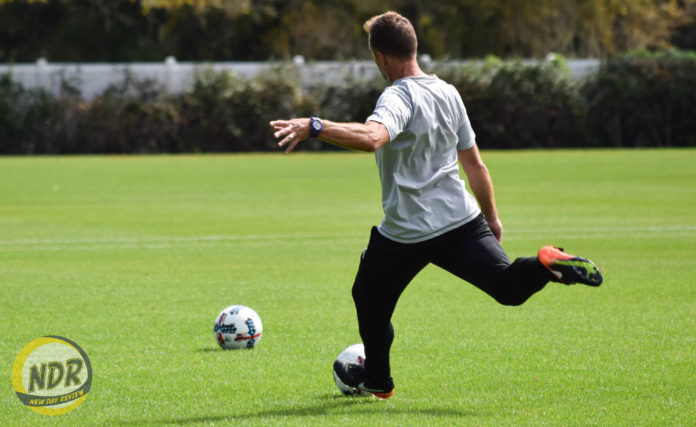 ORLANDO, Fla. – Jason Kreis is in the middle of his second season as Orlando City SC's head coach. He's led the Lions to an unprecedented start in their Major League Soccer history, winning six of the first 12 matches. City didn't reach its sixth win in the 2015 season until June 24 and didn't reach its sixth win in the 2016 season until Aug. 28.
Now, Kreis has been treated with perhaps American soccer's highest honor, as he's been nominated for election to the National Soccer Hall of Fame, his club announced Wednesday. The 44-year-old has been nominated in the player category.
In 1995, Kreis was selected by the Dallas Burn in the inaugural MLS draft. He spent nine seasons in Dallas, where he led the team in scoring for six seasons and holds the franchise record for games played (247), games started (227), minutes played (20,290), goals (91) and assists (65). Kreis earned league MVP honors in 1999.
He was Real Salt Lake's first-ever player, joining the expansion side in 2004. After three seasons as a player, Kreis was named head coach in 2007, leading the team to its first MLS Cup championship in 2009 and to another final in 2013. Kreis' No. 9 jersey was retired on July 4, 2011, the first MLS player number to earn the honor.
Per the club, to be eligible for election as a player, an individual must be retired for at least three full calendar years but no more than 10 full calendar years. Additionally, the player must have either played in at least 20 full international games for the United States (if played prior to 1990, the game requirement is reduced to 10) or played at least five seasons in an American first-division professional league and named to a postseason league All-Star team at least once.
Voters may submit up to 10 names per ballot, nad players must appear on at least 66.7 percent of ballots to be elected.
The voters include all past and present full men's and women's national-team coaches, all active MLS and NWSL coaches with a minimum of four years' experience, MLS and NWSL management representatives, MLS and NWSL commissioners/executive directors, U.S. Soccer CEO/secretary general, U.S. Soccer president, designated media members and other hall-of-famers.
Below is the full list of nominees.
Chris Albright*
Chris Armas^
David Beckham*
Gregg Berhalter
Danny Califf*
Joe Cannon*
Steve Cherundolo*
Brian Ching*
Jeff Cunningham
Tina Frimpong Ellerston*
Eddie Gaven*
Amado Guevara*
Kevin Hartman*
Frankie Hejduk
Chris Klein
Jason Kreis^
Eddie Lewis
Kate Sobrero Markgraf
Pablo Mastroeni*
Clint Mathis
Tiffeny Milbrett
Heather Mitts
Jaime Moreno
Ben Olsen
Pat Onstad
Leslie Osborne*
Steve Ralston
Ante Razov
Tony Sanneh
Briana Scurry
Taylor Twellman
Aly Wagner
Josh Wolff
* On the ballot for the first time
^ On the ballot for the final time