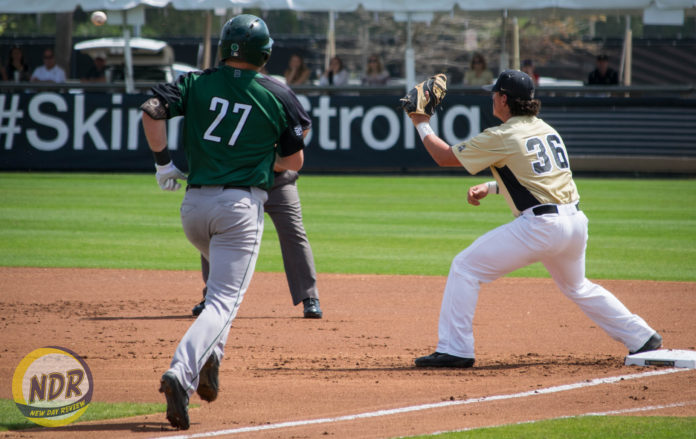 March 30, 2017 at Jay Bergman Field
HC Greg Lovelady
Lovelady enters his first season as the head coach of the University of Central Florida.
I think it's something that allows the kids freedom to enjoy themselves and understand that, for me, if they're having fun and enjoying themselves and not scared of me or scared of failure or scared of the moments that they're gonna be able to maximize their ability. And, again, I think that we've seen a lot of that where the kids are just playing fast and playing free. We've made mistakes, and that's okay. That's part of the game. I think when you allow that, I think, it allows for growth, and it allows the kids to be able to make mistakes and not be worried that if you do that, they're not gonna play, or that they're gonna get yelled at. Obviously changed a lot of the nutritional stuff. Kids' bodies have changed. I think that's allowed them to maximize their physical abilities and keep them on the field, and they've been running a little bit faster, hit the ball a little harder, throw a little harder, throw harder and longer in games. So, I think just a mix of all that stuff. I think, at the bottom of it, the kids are just having fun and enjoying themselves, and when you're able to do that, you allow yourself to play the game at a high level.
The Knights have amassed a 20-6 record before conference play begins Friday.
I really didn't have many expectations. It's really hard to have expectations when as much as you see the kids practice and stuff, competition's like a totally different beast. And you just don't know how kids are gonna do when the lights turn on, and there's always kids that play above what you're expecting, and there's always the opposite. So, our goal is to get better every single day, and I feel like we've done that. I feel like you're always worried. For me, the mental game is so big, and I've tried to throw so much at them in eight months. And I told the kids. Like, I'm not gonna hold back. I'm not gonna wait until next year or wait 'til I recruit all my—like, these are my guys. And I believe we have the talent to do well, so I've tried to throw a lot at them. We've had some downs and played some games where I didn't feel like we were as good as we should be. And, again, how they reacted to that was really positive. I've seen a lot of maturation just from the kids over the last eight months but especially in the last couple weeks. And so we're getting better. Obviously, the wins make it a lot more enjoyable for them and for me. I mean, the goal is just continually get better and try to be the best we can when we get to the tournament, so we've definitely done that over the course of the season so far.
In his first season, Lovelady said he's given his players a lot to handle.
I changed the culture, so I'm changing nutritionally. I'm changing the way that we practice. I'm changing what the expectations are at practice. I'm changing a lot of that stuff. And then they're having to learn the other coaches as well and what they're trying to do. So, from that standpoint, you're changing it. Then you're changing just the system. So you're throwing all that at them. And then mentally, you're trying to teach them that failure is okay and that losing, if you're doing it the right way, is okay—which isn't a very popular belief. You get judged on wins and losses, which in the end of the game, we all do, but we try to judge ourselves on the standard a lot. And so getting them to understand that. And just the mental game on not allowing outside influences or things that are out of our control affect how we feel or affect how we play. And so trying to educate them on that and, so, understanding that, "Hey, if you strike out your first at-bat, you still have more at-bats." Even if you're 0-for-4, like, that fifth at-bat matters. You know, your role, just dominating your role and being great at your role, is a big part of how we're gonna be successful. And it's not whether you're the closer or the eighth-inning guy or the seventh-inning guy. It's when you go out there, you just be the best that you can possibly be and be great at that role, then, as a group, we're all gonna be able to be successful. So, just a lot of mental-game stuff that on a daily basis, they're learning how to handle success but how to handle failure and how to handle adversity and then what it's gonna be like when they deal with me on an every-day basis. And, again, practice is totally different, and I think that I've gotta make sure that though that what I'm teaching them, what the expectations are that I show that all the time. And so, you know, I'm sure they thought one thing, but they're like, "Alright, the game starts. We might see a different guy now." So they're having to learn that I'm no different, that I'm gonna be the same guy every day. And, again, they can fail and understand that. There's been some times where you've seen some failure in things, and they've come in the dugout and peaking out the corner of their eye like, "What are you about to do?" I'm not gonna do anything. Like, we're gonna go try to win the next pitch and play the next inning. So, again, just them becoming comfortable with that and learning that, and I think that's allowed us to be successful. But it's just a lot in eight months. That's something that when you're building a program, kids are being a part of for three or four years. And they're teaching that to the younger guys, and, so, it just works really, really well. When you're trying to do it with everyone's new to it, it's just not as easy to grasp all of it. They've been learning. I've thrown a lot at them, but they've done a great job, and, obviously, the success proves that.
UCF is 18-4 at home and 2-2 in away games.
[The mindset] doesn't change on how we're gonna go about our business or how I'm gonna be in the dugout or anything like that. It changes that conference is, at the end of the day, what's most important. It's how you get into the NCAA tournament, how you do in conference, and if you can win the conference tournament and be a conference champion. And that's our ultimate goal is to try to win championships. So, I think we understand that maybe there's more on the line now. But that's about it. Everything else is gonna be the same. We're gonna play the same way. We're gonna react and act the same way. We're gonna go about our business the same way, and nothing changes because one of the big things we talk about is we're gonna play against the ball and not worry about who's in the other dugout. Worry about our standard, and if we play against that standard and the other team beats us, then they're more talented or the baseball gods weren't on our side. And if we win the game, then the opposite. That's all we care about, and whether it's Houston or South Florida or UConn or Tulane or East Carolina, it doesn't matter who we're playing. It's just we're gonna worry about us. That's what we've been doing since Game 1, so none of that changes.
Entering the season, Lovelady half-jokingly said he felt pressure because of how the other first-year UCF coaches were doing.
I joked around with [UCF women's basketball head coach Katie Abrahamson-Henderson] about it at the Christmas party 'cus I said, "Man, you guys are putting a lot of pressure on me. I get to go last." Her and [UCF men's basketball head coach Johnny Dawkins] and [UCF football head coach Scott Frost], they had such great years and turned around in such a quick way. Jokingly said I felt the pressure a little bit. And probably I do. I definitely do. I mean, obviously you wanna do well. You want to prove [athletic director Danny White] right that he hired the right guy, but I know that there's only so much I can control in one year, so you just go out and do the things that I believe in and trust the things that I coach and trust the process and just allow things to fall the way they do.
A big difference for the 2017 UCF squad is the mental-game aspect.
Well, I mean, the pressure starts to go up, and that's exactly when you need the mental game the most. Those types of situations, those types of games that we gotta revert back to our training, revert back to the practice and revert back to the mental game and be able to go out there and just play the game one pitch at a time and worry about the things that we can control. So, obviously, as the you get farther along in the season, the games become more pressure-packed and more important. And, again, that's why you're practicing all this, and that's why we talk about it so much and that we don't stress the wins and losses. We stress about getting better so that hopefully we're more mentally prepared than we were on Game 1 so that we can go out in these more-pressure type situations and just play the same type of game, play the same way. And we're not gonna get geeked up 'cus it's Houston now. We understand the importance of the games and that it's a big series, but we'll go out and play with the same intensity that we've played all the other 26 games.
The Knights have suffered two two-game losing streaks this season: one against Florida State University and one against Dartmouth College.
There's gonna be times when things go wrong and things hit the fan and you don't play the right way. Mental game comes into play big time in that because you wanna stop that from snowballing into something bigger. So, we go on a two-game losing streak. And even though it was only a two-game losing streak, we really didn't play well for about three or four games. And we had two choices: We could panic and freak out and abort all the things that we had learned in the last eight months and say, "Okay, well, now that things are starting to get more pressure-packed, nothing's working, let's go back to the way we thought we were doing before or whatever the case is." Or we look inward, we go to each other, we look for help from each other, and we practice harder, and we just go out there grind it and get through it and trust the mental game and not try harder or try a different way. We just keep doing the same things we're doing. And then we were able to turn right out of it. And so you turn a three- or four-game bad streak, and you end it. And you start getting back to the way things were. But I think without the mental game, then that turns into a six- or eight- or 10-game streak where you're not playing so well. This is gonna happen again. It can happen multiple times. You just never know. But I feel like we're more prepared now. We've seen that when things go bad what we've done and how we didn't change anything and how the coaching staff didn't panic. We just worked, and we just expected the same out of the guys and kept judging ourselves against the standard. So, if that happens again at some point, that we lose a couple games in a row, or we don't play well, the kids…have been prepared now and gone through it that they can just bounce back and just work hard and not panic and trust their mental game, and we'll get out of it.
The biggest bad habit that Lovelady and his new staff had to help their players break was an eating one.
I mean, nutritionally was bad. Just them staying away from McDonald's and Taco Bell. Just thinking that calories was good was probably the biggest or the worst habit that we had to get out of them, which is understanding what they put in their body is extremely, extremely important and that we gotta make  better choices. And we gotta stay away from McDonald's. No offense to McDonald's.
IF Matthew Mika
Mika has seen a lot of quality work from his teammates in the first half of the season.
You know, all of our pitchers and our hitters, we've been practicing a lot, taking a lot of pride in everything we do. And during our games, the pitchers have just been dominating the strike zone, and the hitters have been really getting fastball counts and just hitting the ball real good and scoring a lot of runs.
Mika leads the team in stolen bases, going 13-for-14 on the season so far.
I like to create a little havoc on the bases. I like to be annoying, I should say. Any way I can to score a run or help the team out.
When asked about specific roles, Mika said everyone has the same role.
Everybody has the same roles. Everybody's expected to go in and have great at-bats and compete and just hand the bat to the next guy.
A big part of the culture change for Mika has been the nutrition aspect.
Coach Lovelady's really, really big into nutrition, and it's helped us a lot throughout the year so far. Lot of people changed body-wise, and everybody looks good. Everybody feels good. And we just have a lot more fun on the field. So, that's been helping us a lot.
We're having a lot of fun. Even in the locker room before games, we're just getting real hyped for games and practices. We come out here and work hard every day. So we get to see it on the field, and it's been paying off for us.
The Knights host the Houston Cougars in a three-game weekend series starting on Friday to start off American Athletic Conference play.
Well, we know that Houston is off to a really good start, and this is a big conference series for us. They have a stud guy that's throwing against us tomorrow. They got great players, and we're just gonna come out here and compete and hopefully take this series from them.
For Mika, the season can only get better.
We had a little hump against Dartmouth, but we bounced back, and I think as the season goes on, we're only gonna get better. So, it's looking real bright for us.
IF Rylan Thomas
Thomas leads the team in home runs and RBIs so far this season with six homers and 29 RBIs.
I've just been staying relaxed; staying within myself; getting myself into good counts; finding myself pitches to hit, and I've been lucky to have guys on base every time I come up. So, just hats off to those guys for getting on for me and just doing my job.
Lovelady wasn't the coach that recruited Thomas.
My relationship with Coach is a developing process, and we've come to be real close. He didn't exactly recruit me, but, just coming in, I just felt welcomed already even though we hadn't talked prior to this. So, I mean, it's real awesome to come in and have a good relationship with your coach already. And, I mean, as far as comparing things, I obviously wasn't here, but everything right now has just been awesome. We're working hard. Everyone's having a good time. So, just starting off good.
For Thomas, the thing he enjoys most with this team is how loose and free the environment is.
Honestly, I'd have to say just the overall atmosphere of our locker room and our dugout and everything. Coach likes to keep it real loose. And so I think that frees us up to have fun and play loose and, in turn, makes us play real well.
Thomas said he and his teammates are treating the Houston games and all other subsequent games like the most important days of the season.
We're treating it like the most important day of our season every day, so coming out and playing Houston—I mean, they're a good team, but we've had good days every day leading up to this. So, our hard work's paying off for us, so we just gotta keep on coming out and playing hard.
When asked about being satisfied with where the team is at so far, Thomas said his team isn't satisfied yet.
Can't really say that we're satisfied. You gotta come out every day hungry wanting more and more and more. So, I mean, we're not satisfied right now, no. We would like to be satisfied in the tournament, you know, making it to the end and winning all the games we have.
When asked about how his and his team's approaches might change, Thomas said there isn't a change.
Nothing's gonna change. We're just gonna keep on coming out, playing one pitch at a time and just executing everything that we've been working on.
For the freshman Thomas, the mental game has helped him significantly.
The mental game's a huge part of our success so far this year, I believe. For me, personally, it's definitely helped me out and just helped me get through days. When days kinda drag on, you just gotta have tough mental game and know that you're gonna keep on coming out, and everything that we've done prior with our trainer Jaime [Burleson], like, he's prepared us really well for the road ahead. So, I think everyone's feeling good and ready for the next step.
Lovelady gave his players a reading list at the beginning of the season that helped his players learn more about the mental game.
I mean, he provides us with these books at the beginning of the season, and we just continuously go back to 'em and just re-read stuff that we read prior to this and just kinda keep digging back and finding stuff that can help you out for your current problems that you're having now.
For me, it's just staying within myself, not trying to do too much. Like earlier in the season, I'd come up [with] guys on base, and I've just been so anxious to try to drive 'em in, and sometimes you get outside yourself. And that's when problems happen. But, in the book Mental Game and stuff like that, it kinda teaches you to stay within yourself and believe in what you have and believe in the hard work that you've done prior.
Thomas went to high school at Windermere Prep in Windermere, Florida.
Most of the time, lots of my family comes out. And, I mean, it's cool to see them. They didn't get to see me play much when I was younger, so it's cool for them to come out and see me play on a bigger stage.

I mean, I like to be close to my family. They're always really encouraging of me and keep me humble, but it's just good to have 'em around.
LHP Bryce Tucker
For Tucker, he feels his team is in a good position.
We've definitely hit a good stride, and it's feeling good. I mean, we've tallied a lot of good wins lately and just feeling good going into this weekend. It's going to be really exciting.
We've done really well. Looking back, that's good we got the 20 wins, but now we just gotta keep looking forward and not worry about the 20 wins. Worry about the 20 games you got going forward and this weekend more importantly.
One thing that helps Tucker prepare to have quick, remarkable outings is the environment of feeling freer.
Lot of things are different. Definitely a lot more loose. Just having a good time being with each other and just a good group of guys to be with. Just having a lot of fun and just playing baseball. So, it's definitely going good so far.
For Tucker, his mindset, no matter the task, is to just do his job.
I mean, my mindset's just really going and do my job no matter what it is. Whether it's the ninth, the third, the eight—just my job's to go and get three outs, and if they ask me to get three more, I'll do that. I mean, it's just gotta be as simple as that really.
Tucker has seen a noticeable, physical difference in his team since Lovelady took over.
Well, it's helped a lot. I mean, just being healthy every day. I mean, a lot of water intake. Just better foods, better bodies. As you can see, a lot of guys have lost a lot of weight, and it's brought velocity and just really made every player into the best version of themselves, which is really good, and I think that's been a big part of us as a whole, really. It's done a lot for us.
Tucker had high expectations entering the season.
Goals are obviously to go to College World Series and win that and be the best team in the nation, but, I mean, short-term goals are to be the best team in your conference and then, from that, to win the conference tournament and so on and so forth. But definitely to win it all and just win as much as possible 'cus, at the end, winning's really everything.
Houston is so far 19-5 this season.
Well, I mean, we obviously need to win this weekend, but we don't need to go in and anymore pressure to it. I mean, at the end of the day, it's just a baseball game. And that's how we gotta treat it. We gotta just play loose, play fun and don't play any different than we have. And, I mean, you think of it like that, it's really simple to say, but that's just how we gotta go in thinking [about] it.
Last season, the Knights went 8-16 in the conference.
It's relatively the same guys. It's just everybody's playing with a little bit more confidence, a little more loose, and, I mean, more fun, I guess. Just kinda loving the game of baseball every day, coming out here and being with your friends really.
For Tucker, the mental game has helped his consistency.
The mental game's a big part. It allows us to take our failures, like, what they are and be able to have a strong mindset and come every day with the same mindset and do good with that. You have a good mindset, you play good, and that's it.