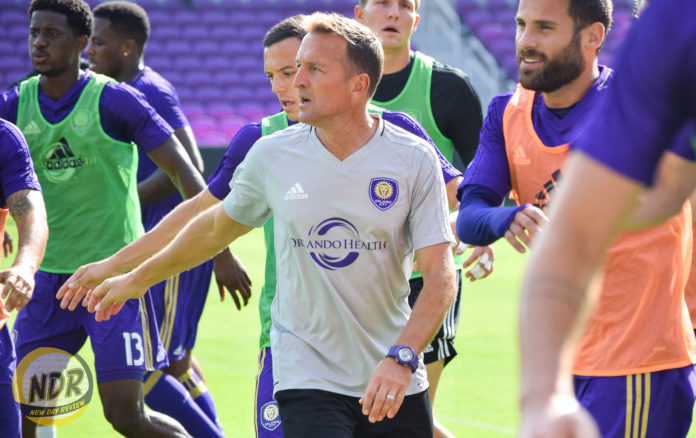 ORLANDO, Fla. – Ahead of his second season, Orlando City SC head coach Jason Kreis and his staff recruited a plethora of veterans capable of holding their own both on the pitch and in the locker room. His new additions include the likes of midfielder-turned-right-back Will Johnson, Ricardo Kaká fill-in Giles Barnes and first-year Major League Soccer center-back Jonathan Spector.
But those aren't the only veteran leaders City's roster has; add Orlando City familiars Joe Bendik and Antonio Nocerino to that list as well. With so many voices on the pitch, it can sometimes be difficult following directions. But that's not the the case for Kreis' squad.
"Speaking from my playing experience to tell you that I'd rather have more guys out there talking than less. And also from the ultimate leader of the team, that's what I like," Kreis said after training Wednesday. "I'd rather come in and say, 'No, actually, you're saying the wrong thing. This is the right thing to be saying,' than trying to get somebody to speak."
With so many new experienced, veteran additions, sometimes a team's dynamic can change. But headed into City's first away match of the season against Columbus Crew SC, City defender José Aja hasn't seen a difference in how the team prepares for away matches.
"We're preparing the same always," Aja said via a translator after training Wednesday. "Same preparation as last year. We focus on our physical status, and we're just focusing on getting the results. It doesn't really change anything for us."
Barnes, who played extensively for the Houston Dynamo and briefly for the Vancouver Whitecaps before joining Orlando City, sees home and away matches as similar when it comes to how he believes teams should prepare.
"To be honest, I think you should approach every single game with exactly the same manner, whether you're at home or away," Barnes said after training Wednesday. "The objective is still to get three points. So, by any means necessary, you're not always going to win pretty. As I said, it's gonna go to hard work.
"There's a saying: 'The harder you work, the luckier you get.' So, that's what you're gonna need throughout the season."
For Kreis, having a host of newly added veterans to his squad doesn't necessarily change how the team prepares; though, it could affect the team's overall performance.
"I think that we're always gonna have a particular focus and a particular objective that we're gonna go into every road game and game plan, so to speak," Kreis said. "I do think [having many new veterans] doesn't change our preparation, but perhaps it'll change the performance, meaning can the players understand and deliver what the game plan is? And then it's a question of was the game plan the right choice?
"So, I would think that with the number of veteran players and leaders that we have now in the group, we've got a higher level of comprehension about what we want to do."
Orlando City (2-0-0, 6 points) travels to face Columbus (2-1-1, 7 points) on Saturday for a 4 p.m. matchup.