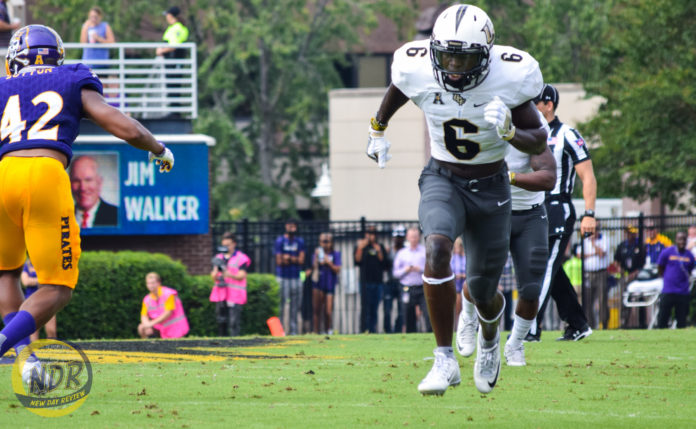 The University of Central Florida will be without two promising talents to start the 2017 season.
According to a report by the Orlando Sentinel's Shannon Green, sophomore receiver Tristan Payton and redshirt freshman Nevelle Clarke were suspended after failing NCAA-mandated drug tests at the team's Cure Bowl appearance in the 2016 season. Payton and Clark will both miss a minimum of six games. Per Green, the original punishment was a full season before the rule was changed in 2014.
"We hold our athletes to the highest standard, and they're going to have consequences if they don't live up to that standard," second-year UCF head coach Scott Frost said, per Green. "We're going to do everything we can for those two young men, and, hopefully, they learn the lesson."
At the start of the 2015 season, the year the Knights went 0-12, then-UCF running back Will Stanback was dismissed from the team because of drug-related issues.
Last season, Payton was suspended for one game. Frost cited that Payton was serving the suspension for an undisclosed violation of team rules. In 2016, Payton averaged 11 yards per catch for 132 yards and a touchdown on 12 receptions. He also threw the Knights' longest touchdown pass of the season, a 72-yard bomb on a trick play to Tre'Quan Smith.
Clarke finished 2016 with 14 total tackles in seven appearances.
The Knights continue spring football with their second of 15 practices on Wednesday. That'll be followed by the Knights' pro day.